Fresh tomato season is upon us so, it's time to make my EASIEST Authentic Spanish Gazpacho Soup Recipe. When the weather starts heating up I turn to this delicious cold soup which is a traditional gazpacho recipe from Spain.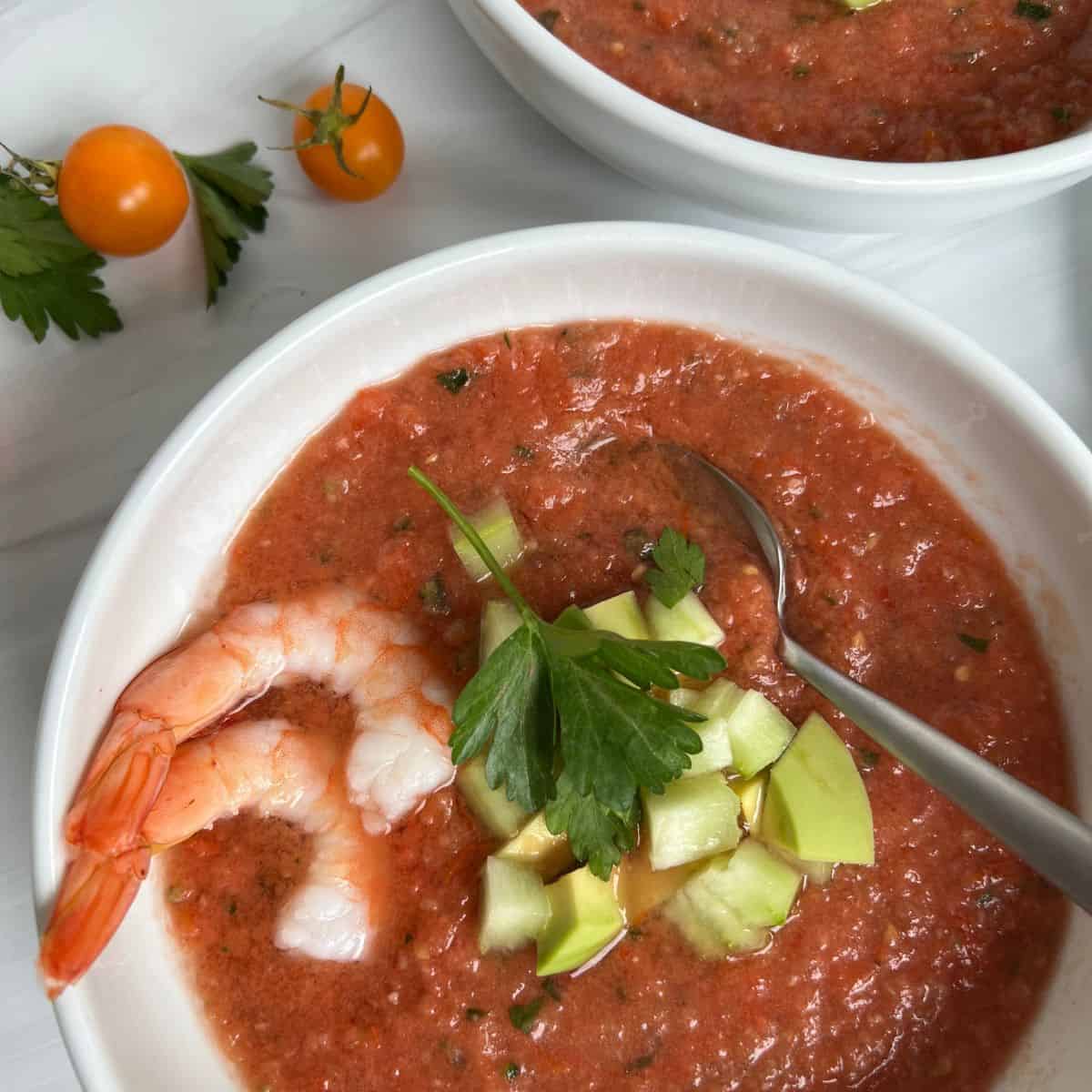 Traditional Spanish gazpacho recipes originated in Seville, Spain which is in southern Spain. It is made with humble but essential ingredients like tomatoes, cucumbers, onion, peppers, sherry vinegar, and olive oil. In Spain, this soup is served smooth, not chunky like it is in the U.S. All of the pulp is strained out for a silky texture. Since this tomato soup is chilled, it is perfect for a hot summer day and is easily made in a blender or food processor. For me, this is the best gazpacho recipe and uses ingredients that are fresh from the farmers' market and is perfect for this time of year.
I have made many variations on this gazpacho but this is the easiest recipe and it pairs well with my gluten-free chicken salad recipe.
Jump to:
Ingredients
Fresh ingredients are used in this classic gazpacho recipe and they are simple ingredients such as: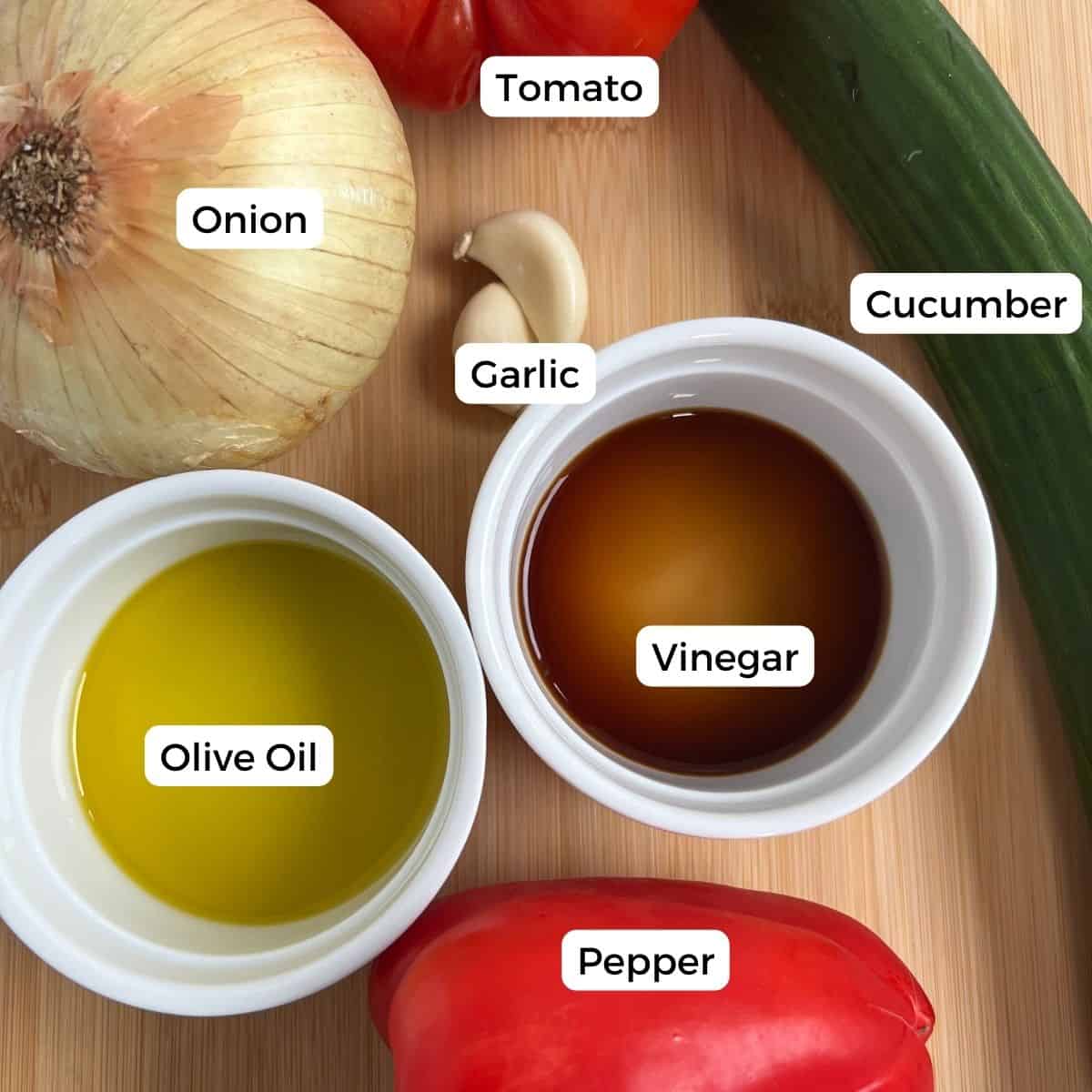 ripe fresh tomatoes
cucumbers
mild white onions
garlic cloves
sherry or wine vinegar
extra-virgin olive oil
sea salt
See the recipe card for quantities.
To make this recipe follow these simple instructions:
Chop your ripe tomatoes, mild onions, and your bell peppers or cubanelle peppers. 
Add the ingredients to a blender and blend to a chunky state.
Slowly, while the blender is running, add your sherry vinegar or red wine vinegar, along with extra virgin olive oil and sea salt.
You will notice that your summer soup will turn orange or a light pink color. Chill until cold.
Hint: I use the freshest tomatoes I can find, usually from the farmer's markets near us. I love heirloom tomatoes for this recipe.
Variations for Easiest Authentic Spanish Gazpacho Soup Recipe:
Herbs - you can easily add fresh herbs such as parsley to your gazpacho. I love adding a touch of parsley on top.
Toppings - there are many variations that you can use to top your gazpacho such as:

chopped tomato
chopped cucumber
chopped onion
chopped avocado
shrimp or other cooked seafood
fruit such as mango or apple
sour cream
chopped hard-boiled egg

Drizzle for the top: Add a drizzle of olive oil on top of the soup for some added luxuriousness
Serve - Instead of serving this in a small bowl, consider presenting this Spanish soup in shot glasses.
Other Gazpacho variations: A few other Spanish gazpacho recipes are:

green gazpacho
cucumber gazpacho
gazpacho with V8 added or with any brand of tomato juice added (this is not authentic)
gazpacho with a thick slice of white bread added

Tomatoes - They should be very ripe and soft, almost to the point of being overly ripe with some super soft spots. If you buy some that are not quite there yet, leave them out on the counter for a few days (do NOT put tomatoes in the fridge!). My favorite type of tomato to use in this recipe is an heirloom tomato, especially in the summer when they are at their peak freshness.
Peppers - In Spain they use GREEN (not red) cubanelle peppers, also known as Italian frying peppers. Most American recipes call for green bell peppers. They are different. Italian peppers have a thinner flesh and are less juicy. They are NOT spicy and they are more flavorful than a bell pepper. You can substitute a bell pepper if you have to but if you want to make a more authentic gazpacho, Italian peppers are the better choice.
Onions - this recipe calls for a mild white onion. I have used red onions or even shallots in this recipe. It will depend on how spicy you prefer your gazpacho. My favorite onions to use are the Vidalia onion when they are in season.
Equipment Needed
You need a high-speed blender, Cuisinart, or hand-held blender for this recipe. I use my blender but I have used my Cuisinart if I don't feel like pulling my blender out of my cabinet.
Storage
By definition, this gazpacho should always be served cold. Store it in the refrigerator until you are ready for your meal however, if you make it a day ahead it will taste even better. Leftovers should be stored in an airtight container in the refrigerator for one to two days as the taste will start to disintegrate.
This gazpacho soup recipe can be frozen. For easy lunches, freeze it in individual containers. You can also freeze an entire batch, but it is always better when eaten fresh.
Top tip
I personally like my gazpacho to have a "zing" to it. So, I prefer using red wine vinegar and 2 garlic cloves. It is all about personal taste so create the recipe and then add ingredients to your liking.
FAQ
Why serve gazpacho soup chilled?
The coolness of the soup is designed to cool you down on a hot Spanish day however, gazpacho can be served warm, but it is definitely made to be served cool.
Is gazpacho healthy? 
But the benefits of gazpacho go beyond the temperature. Made from tomatoes and vegetables, it carries numerous health benefits, too. It's a source of Vitamin vitamin A, Vitamin vitamin C, and Vitamin vitamin E, along with several other minerals and nutrients. Get the recipe

What is the difference between gazpacho and tomato soup?
While both have tomatoes, gazpacho is typically served cold and tomato soup is served warm. Gazpacho is also made from raw ingredients and the ingredients in tomato soup are cooked before serving.
This homemade gazpacho soup is an authentic gazpacho recipe from the south of Spain. It uses beautiful summer produce and is an easy gazpacho recipe that is a traditional recipe!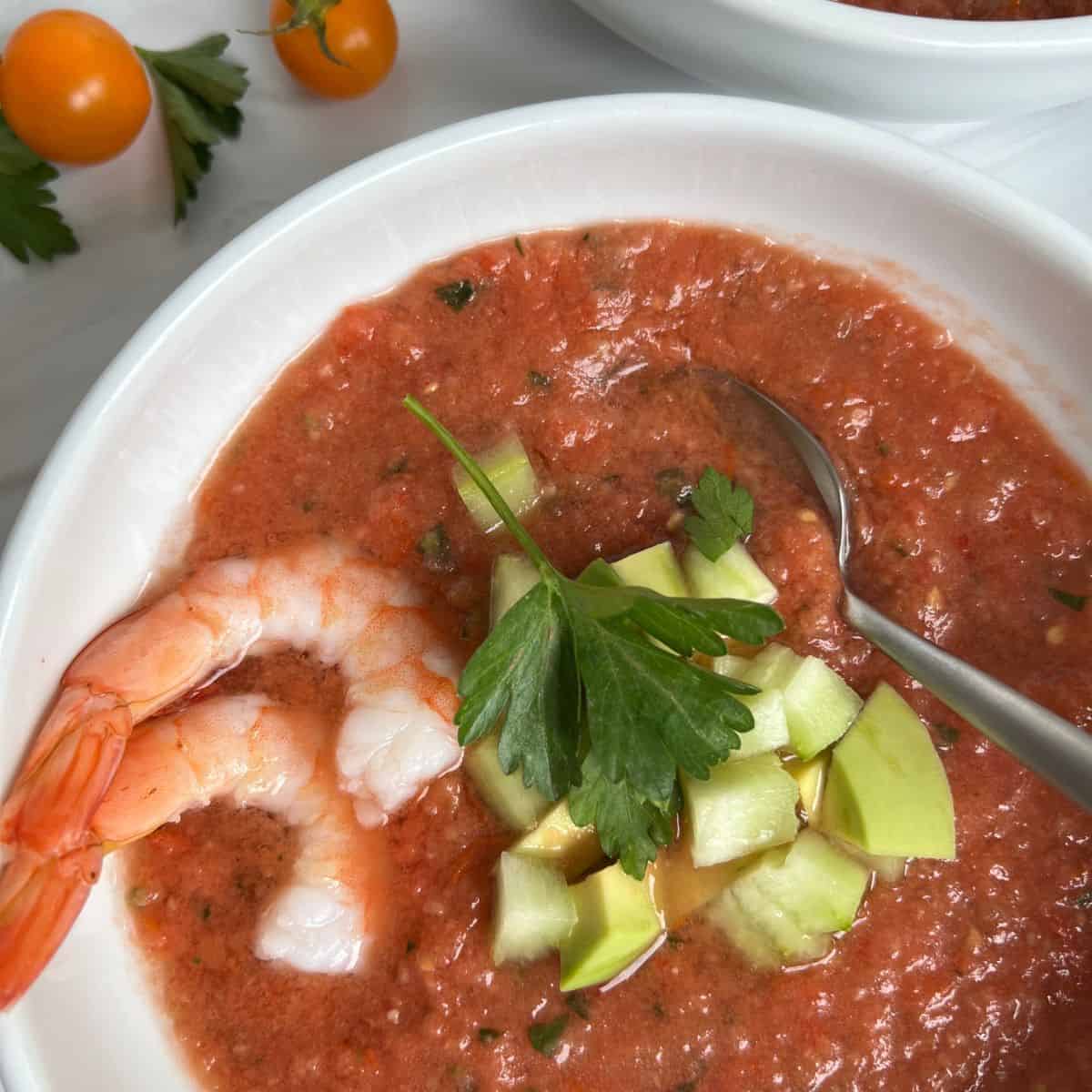 Related
Looking for other recipes like this? Try these:
Pairing
These are my favorite dishes to serve with [this recipe]: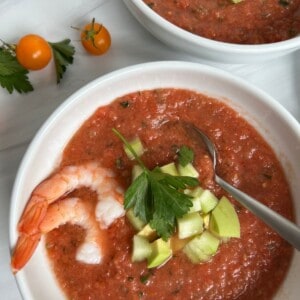 The Easiest Authentic Spanish Gazpacho Soup Recipe
Gazpacho is perfect for when the weather is warm and you are looking for a light, cold, soup. This gazpacho is served everywhere in Seville, Spain where the recipe originates from. This version has no bread and is creamy from just the vegetables.
Print
Pin
Ingredients
2

lbs

ripe tomatoes

cored and roughly chopped

1

pepper

cored, seeded, and roughly cut

1

cucumber

about 8 inches long, roughly cut into chunks (peel if desired)

1

small mild onion

peeled, and roughly cut into chunks

1

clove garlic

2

teaspoon

sherry vinegar

or more to taste

1

teaspoon

sea salt

½

cup

extra-virgin olive oil

or more to taste, plus some for drizzling
Instructions
Combine the tomatoes, pepper, onion, cucumber, and garlic in a blender. If neccesary work in batches.

With the motor running, add the vinegar, olive oil, and salt. The mixture will turn bright orange or dark pink.

Strain the mixture, if desired, through a strainer or food mill, pushing it through with a spatula. Discard the solids.

Before serving, adjust the seasonings with salt and vinegar. Serve.
Notes
I do not peel my cucumber. I also like to switch up the vinegar for red wine vinegar or balsamic vinegar to change the flavor. You can also add 2 cloves of garlic if you would like more garlic. 
As for the peppers, my husband hates anything spicy so I use green pepper. However, my original recipe calls for an Italian frying pepper (cubanelle) or any other long green pepper such as Anaheim. 
Nutrition
Calories:
302
kcal
|
Carbohydrates:
13
g
|
Protein:
3
g
|
Fat:
28
g
|
Saturated Fat:
4
g
|
Polyunsaturated Fat:
3
g
|
Monounsaturated Fat:
20
g
|
Sodium:
596
mg
|
Potassium:
687
mg
|
Fiber:
4
g
|
Sugar:
8
g
|
Vitamin A:
1945
IU
|
Vitamin C:
36
mg
|
Calcium:
43
mg
|
Iron:
1
mg
Print
Pin
Did you make this recipe?
Be sure to follow @asweetthyme on Instagram and tag @asweetthyme. You can also post a photo of your recipe on our Facebook page! I appreciate you soooo much!