If you would like a simple side dish that is perfect for company or dinner for your family then look no further than this Roasted Carrots With Tahini and Carrot Top Gremolata Recipe. Simple ingredients, elegant in appearance, and a healthy vegan carrot recipe you have to try.
Here's a simple recipe for roasted carrots we've been enjoying for the past few years and has shown up on Thanksgiving as one of our side dishes. The first time I made these, the carrots just seemed to magically disappear and they are great the next day, served cold! I love the combination of flavors- a lemon garlic tahini sauce topped with a gremolata made with carrot tops, parsley, orange, and cumin.
These ingredients highlight the inherent sweetness of the carrot, instead of contrasting it. It looks decadent, all the while remaining vegan, and can be served as a main dish or main course for a vegetarian. While this recipe uses basic ingredients, it's an easy way to serve a vegetable that you know will have a delicious flavor.
This recipe pairs well with these Boneless Beef Short Ribs or is served as an elegant brunch side dish along with this French Toast. I use the Lemon Garlic Tahini Sauce on these Green Beans as well.
Jump to:
What Is Gremolata?
Gremolata is a classic Italian garnish known for its bright and zesty flavor. It is typically made from just three simple ingredients: fresh lemon zest, garlic, and finely chopped parsley. Gremolata is used to add a burst of flavor and freshness to a variety of dishes, especially in Italian cuisine. In this dish, we are using a small amount of both parsley and carrot tops. However, you can substitute other herbs. See my notes below.
Ingredients For Roasted Carrots with Gremolata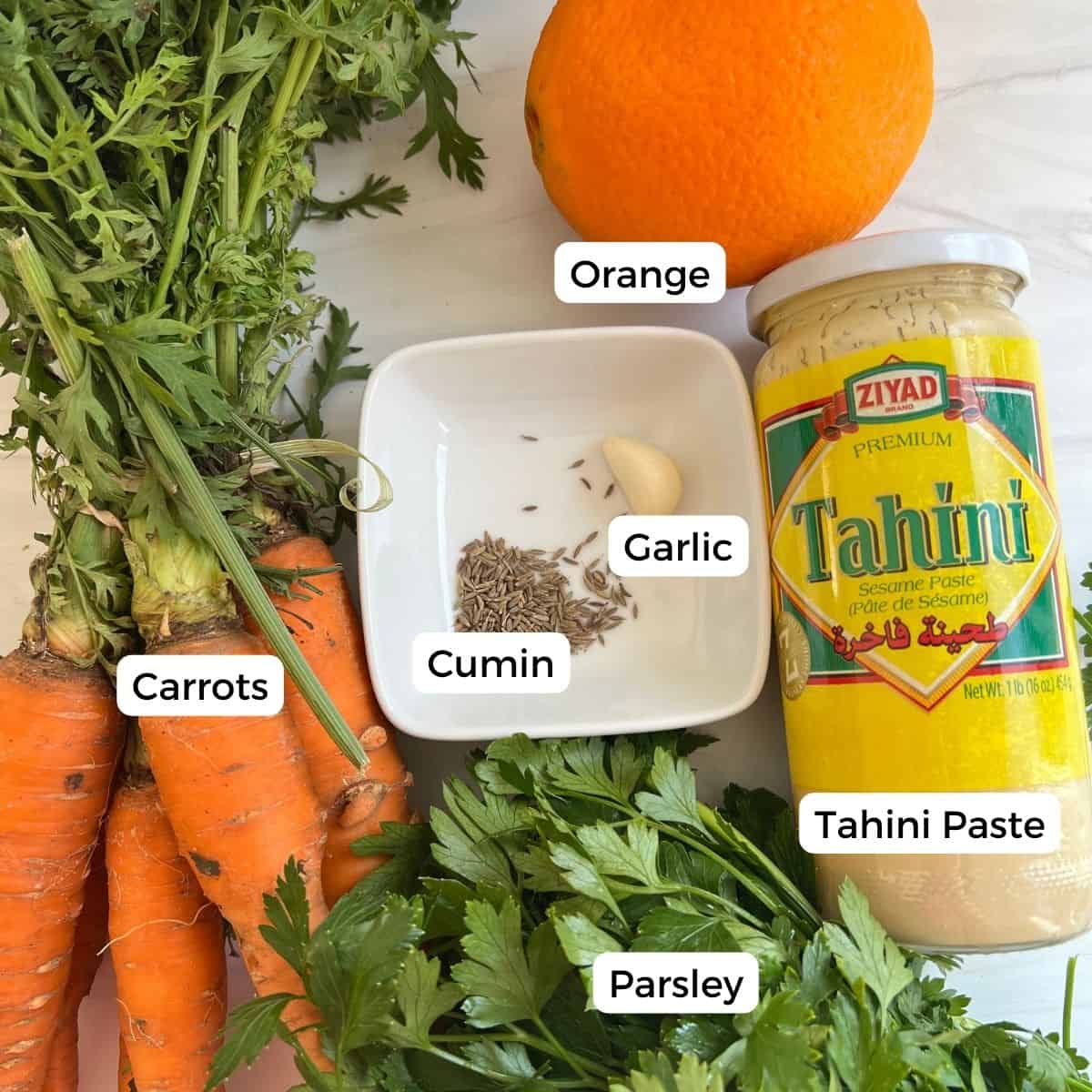 Whole Carrots with carrot tops
Olive oil
Kosher salt
Parsley
Orange
Garlic
Cumin seeds
See the recipe card for quantities.
How To Make Vegan Roasted Carrots Recipe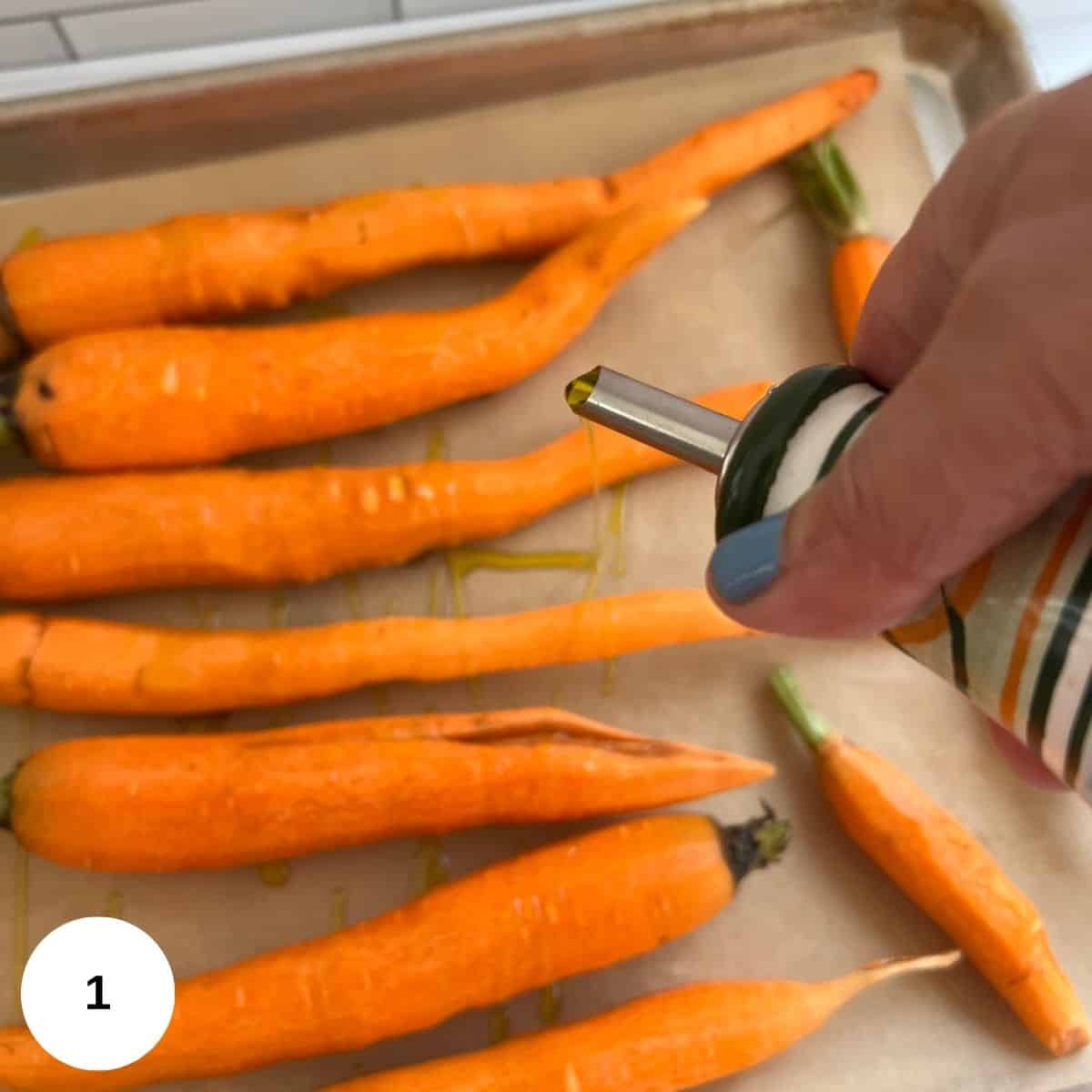 Preheat your oven to 425 F and line a baking sheet with parchment paper. Wash the carrots and their tops well. Slice the tops off the carrots and reserve them. Place the carrots on the baking sheet, drizzle with olive oil (or other mild oils like canola oil) and salt then roast for 30 minutes.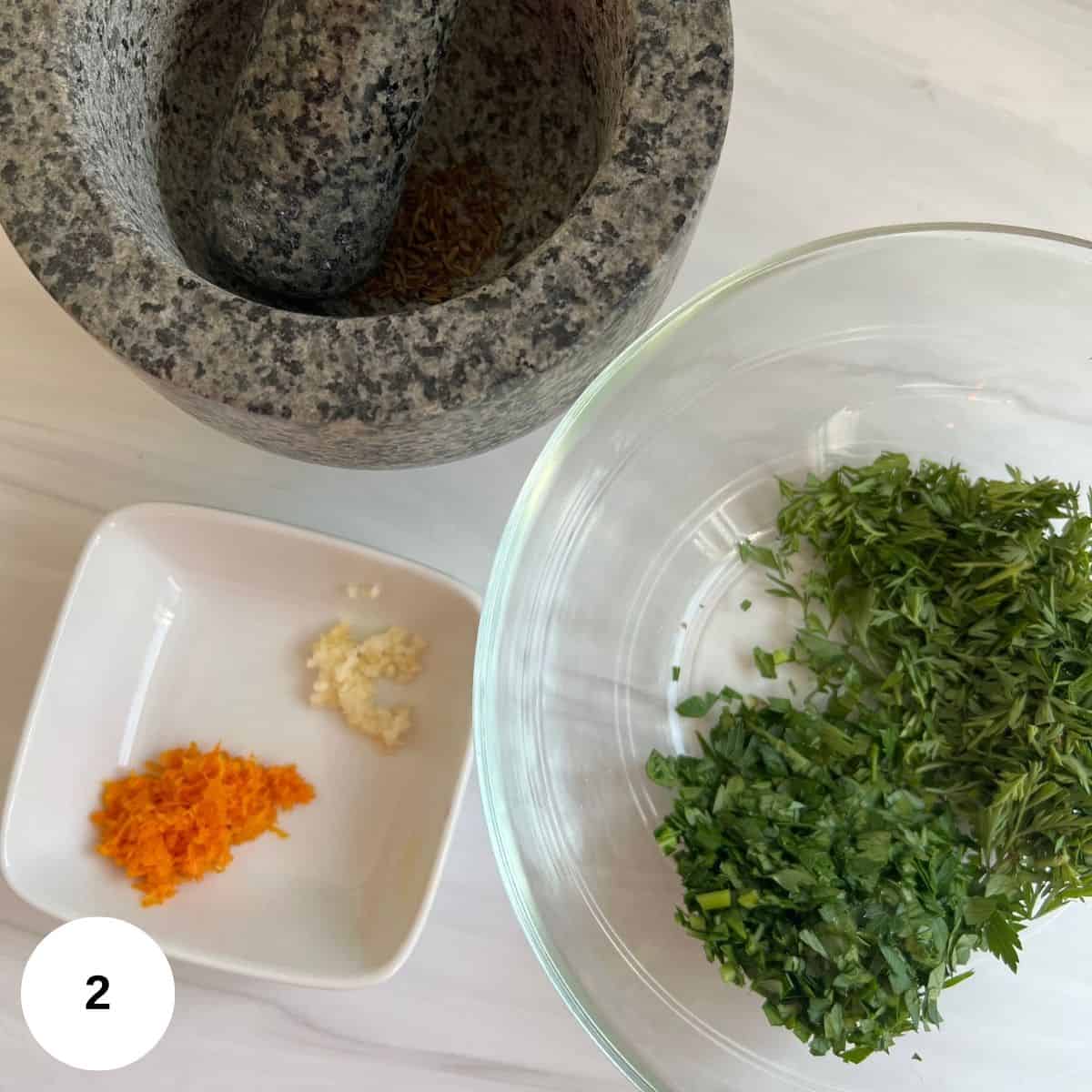 Make the gremolata by chopping the carrot tops and parsley and placing them in a large bowl. Add the toasted cumin, garlic, salt, and orange zest.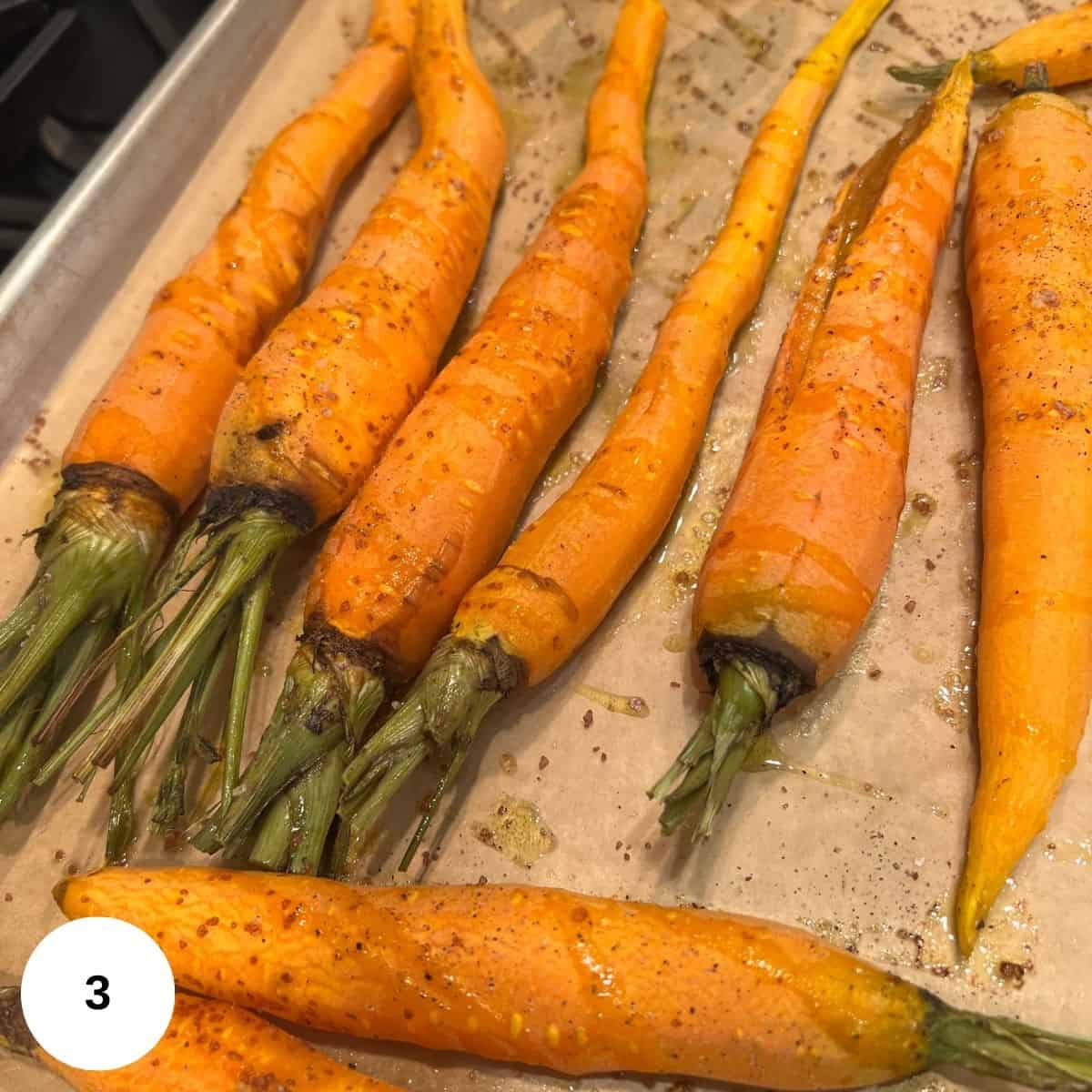 Toss the warm carrots with the gremolata.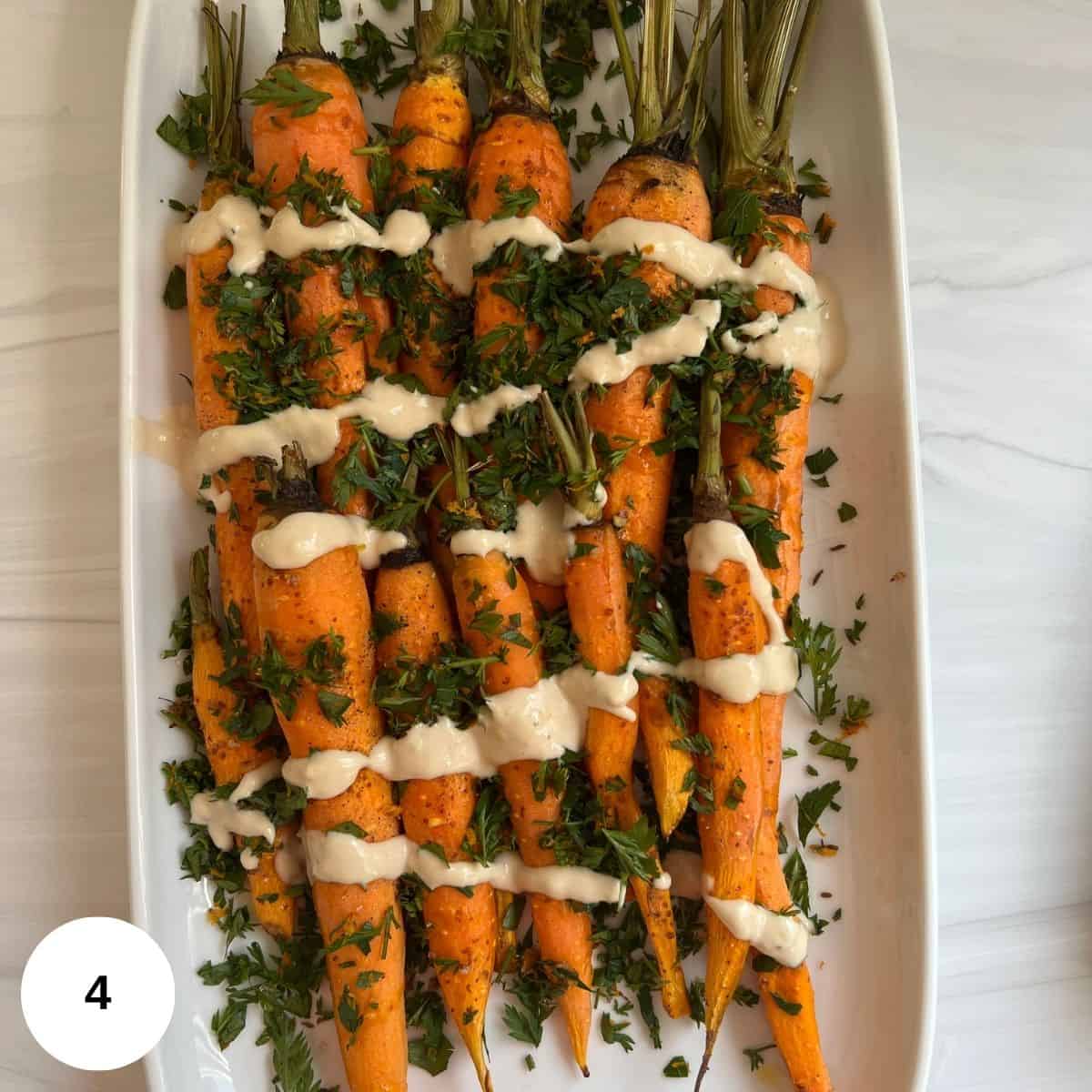 Top the carrots with the tahini sauce and pomegranate seeds if you desire.
Hint: You do not need to peel the carrots as long as you wash them thoroughly.
Substitutions And Variations For This Vegan Side Dish
Spice things up - Adding some heat is a great way to elevate these carrots. Add some chili flakes, red pepper flakes, Aleppo pepper, or cayenne pepper to the gremolata to spice things up.
Seasonings - There are so many other ways you can add incredible flavor to carrots. Powdered garlic, paprika, thyme, and rosemary can all be used to elevate them. The tahini sauce will add a nutty flavor while remaining creamy and delicious.
Sweeten - If you would like to sweeten up this dish, add a drizzle of honey or balsamic vinegar while they are roasting.
Olive oil - Why not try flavored olive oil with the dish? Garlic-infused, basil-infused, lemon-infused, or any Mediterranean-flavored oil would work.
Fresh herbs - if you cannot find carrots with carrot tops, use fresh parsley and add in some other fresh herbs like basil or thyme. You can chop all of the herbs in a food processor instead of by hand if you wish.
Carrots - If you cannot find carrots with carrot tops at the grocery store, substitute other herbs or use all parsley instead of the tops. You can use baby carrots in this dish but I truly don't recommend that. Whole carrots will roast better.
Decoration - If you want to jazz up this dish for company, lightly sprinkly pomegrante seeds on top at the end.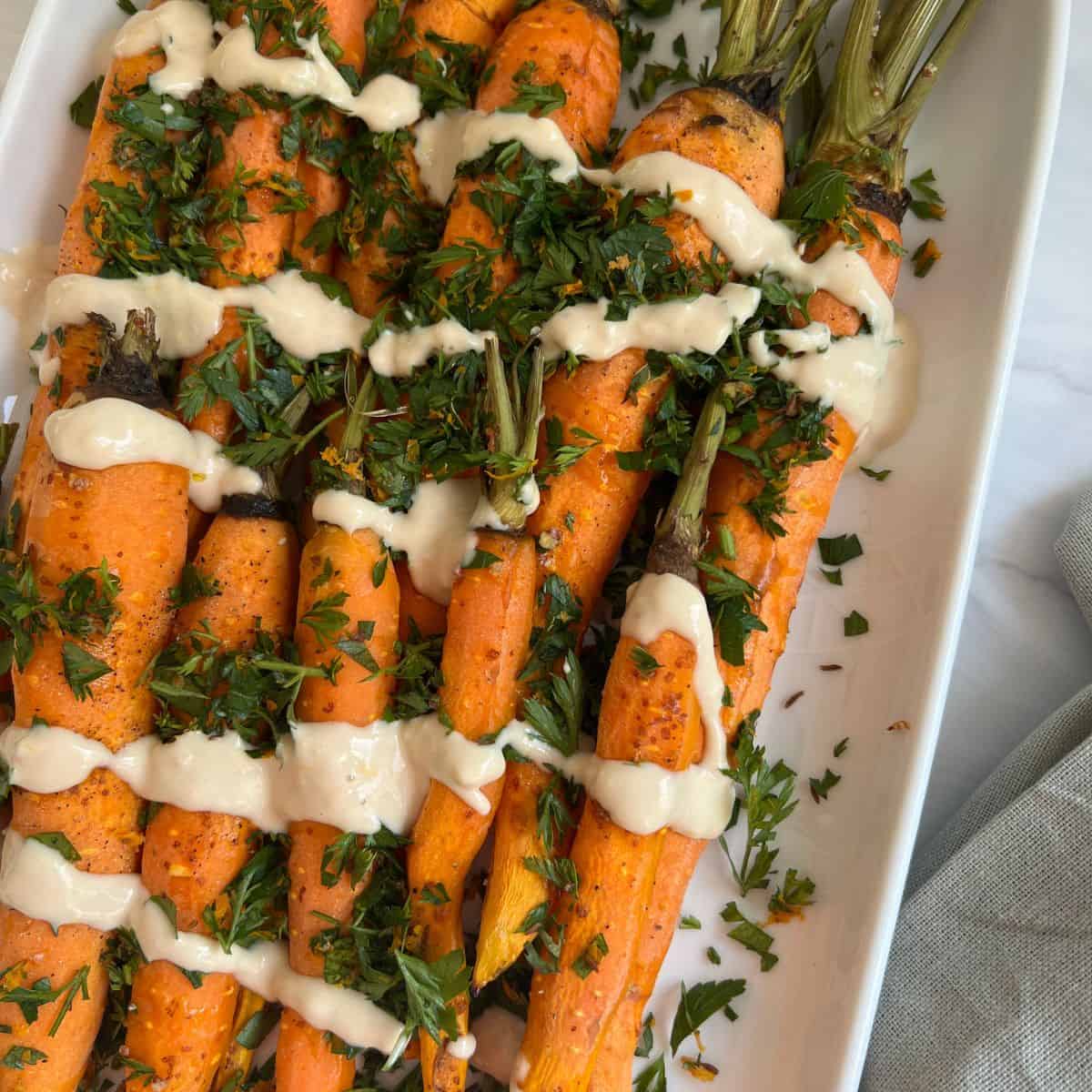 Storage For Roasted Carrots
This is a dish that is best made and served right away or at room temperature. You can store leftovers by allowing the carrots to cool completely and then placing them in an airtight container. You will need to store them in the refrigerator and it will last up to 3-4 days. Reheat in the microwave or oven.
This dish cannot be easily frozen. You can freeze raw carrots in chunks if you want to prepare some fresh ones to use another day.
Top Tip For My Favorite Carrot Recipes
Keep an eye on the carrots while they are roasting. You want the carrots to be caramelized but not burnt. This will bring out their natural sweetness.
Frequently Asked Questions
Do I have to parboil the carrots before roasting?
No, you don't! You can simply add the carrots to the baking tray with oil and seasoning and let them roast. You do need to keep an eye on them so that they don't overcook. 
Help, my carrots are hard, What can I do? 
If your carrots seem hard or tough when you pull them out of the oven then they are undercooked. Move them around the baking tray and pop them back in the oven for a little longer. 
Are carrots good for you? 
Yes, they are! Carrots are packed with vitamins and nutrients and are a great vegetable to add to your diet to help with many different health issues. 
Related
Looking for other recipes like this? Try these:
Pairing
These are my favorite dishes to serve with [this recipe]: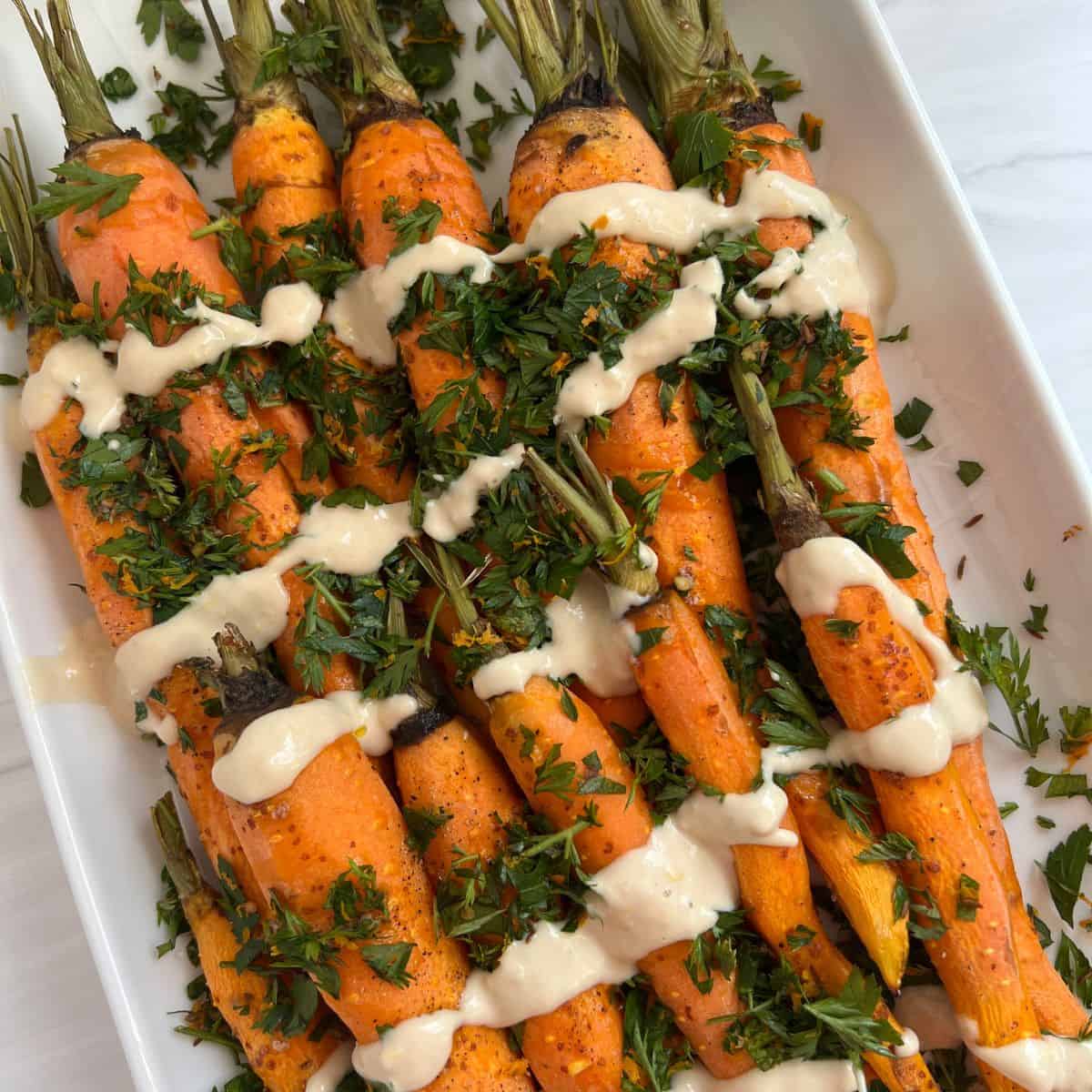 This is the perfect side dish to serve when you have company or for your family. When serving my family I just omit the pomegranate decoration! I love to serve this carrot dish as the perfect root vegetables for our fall and winter table.
Lastly, if you make this recipe be sure to leave a comment and/or give this recipe a rating! Above all, I love to hear from you guys and always do my best to respond to each and every comment. And of course, if you do make this recipe, don't forget to tag me on Instagram! Looking through the photos of recipes you all have made is my favorite!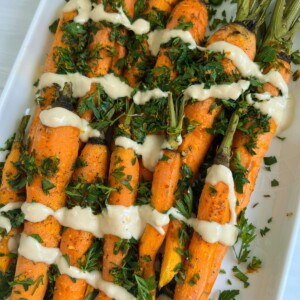 Roasted Carrots With Tahini and Carrot Top Gremolata Recipe
If you would like a simple side dish that is perfect for company or dinner for your family then look no further than this Roasted Carrots With Tahini and Carrot Top Gremolata Recipe. Simple ingredients, elegant in appearance, and a healthy vegan carrot recipe you have to try. 
Print
Pin
Ingredients
Carrots
1

lb

carrots with tops

¼

cup

extra virgin olive oil

sea salt

pomegranate

for garnish if desired
Gremolata
¼

cup

carrot tops

chopped

¼

cup

parsley

chopped

1

garlic clove

minced or grated

1

teaspoon

orange zest

½

teaspoon

cumin seeds

toasted

¼

teaspoon

sea salt
Instructions
Preheat the oven to 425 ℉ and line a baking sheet with foil or parchment paper.

Wash the carrots and the carrot tops. Dry them. Slice the tops off and reserve for the gremolata.

Place the whole carrots on the prepared baking sheet. Drizzle with the olive oil and sprinkle with salt.

Roast for 25-30 minutes until the carrots are carmelized, tender, and brown on the edges.
Make the Gremolata
Chop the carrot tops, measuring out ¼ cup. Place into a mixing bowl.

Chop the parsley and measure out ¼ cup. Place into the mixing bowl.

Add the garlic, orange zest, and toasted cumin seeds.

Reserve a small amount for decoration.
Once Roasted
Let the carrots cool slightly then add most of the gremolata while still warm from the oven. Keep the reserved gremolata for decoration.

Place on a serving platter.

Add the reserved gremolata,

½ recipe of lemon garlic tahini sauce

, and pomegrante seeds if using.
Notes
Notes: Make sure you reserve some gremolata for use as a decoration. 
I mix the gremolata with clean hands instead of a spoon. I find that I can combine the herbs easier. 
The pomegranate seeds are optional. I only use these when serving company. They make a terrific decoration on the plate. 
Nutrition
Calories:
173
kcal
|
Carbohydrates:
12
g
|
Protein:
1
g
|
Fat:
14
g
|
Saturated Fat:
2
g
|
Polyunsaturated Fat:
2
g
|
Monounsaturated Fat:
10
g
|
Sodium:
227
mg
|
Potassium:
393
mg
|
Fiber:
3
g
|
Sugar:
5
g
|
Vitamin A:
19266
IU
|
Vitamin C:
16
mg
|
Calcium:
60
mg
|
Iron:
1
mg
Print
Pin
Did you make this recipe?
Be sure to follow @asweetthyme on Instagram and tag @asweetthyme. You can also post a photo of your recipe on our Facebook page! I appreciate you soooo much!