I love to entertain. It's just that simple. When a holiday or special birthday rolls around, I am the one in the family who hosts. This past New Year I was blessed with having all three of my boys back in our house for a few special days. We celebrated the holiday season together and brunch was the highlight, which included these blistered Green Beans with a Lemon Tahini Dressing.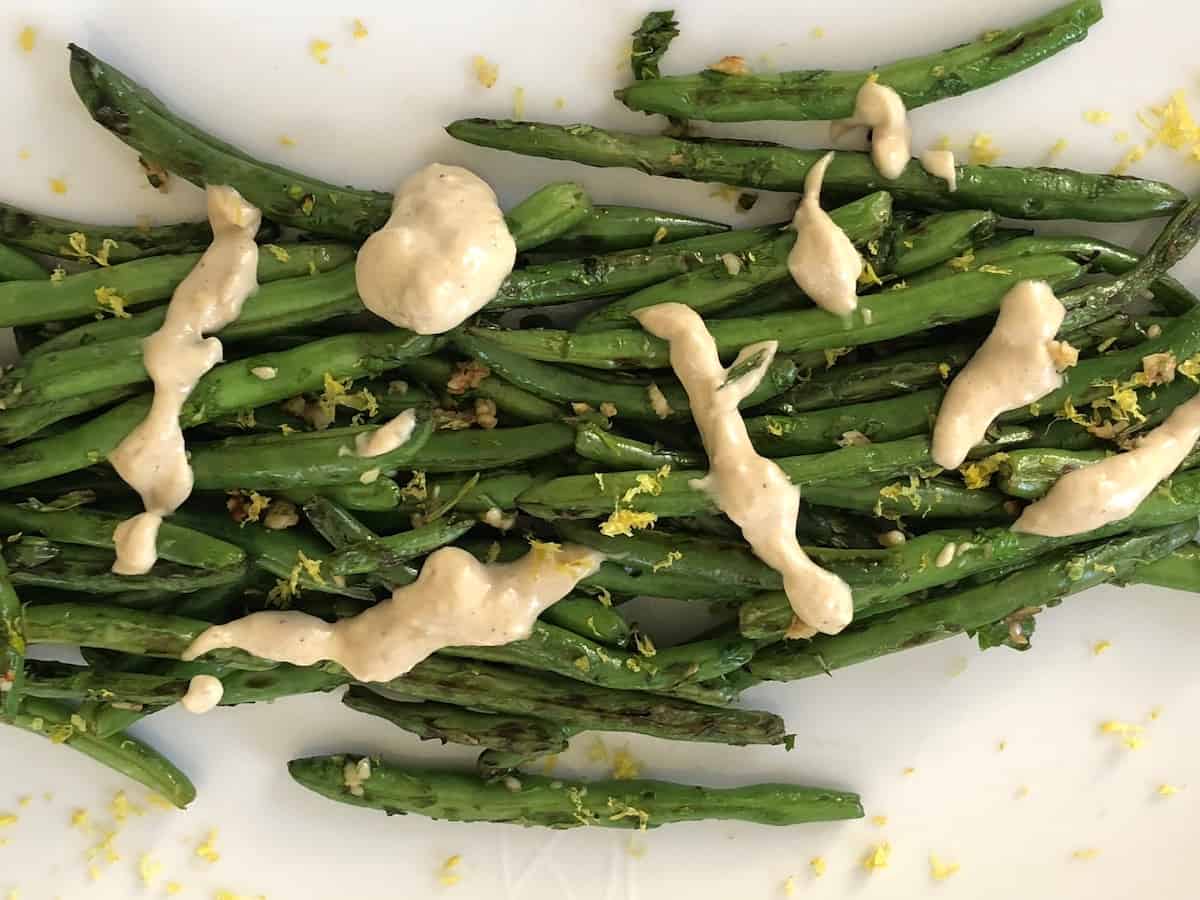 I also serve these green beans for many holidays. They are easy to prepare and I make the tahini sauce a day or two ahead. I also will make the green beans a few hours before the company arrives as these are just as good at room temperature as they are warm.
I have made them many times and they are a hit in our home. One of my boys is a vegetarian and he can't get enough of these!
What is Tahini
Tahini is a Middle Eastern condiment that can be used alone, like with falafel or shwarma or added in with other ingredients to make a sauce. It is vegan and made from ground sesame seeds. It is also mild in taste, keto, dairy-free, and easy to use!
Tahini can be found in most grocery stores or health food stores. It is considered a nut butter but one that is extremely healthy for you. I use it and combine lots of other ingredients into it for many different types of sauces.
Ziyad is one of my favorite brands but I have also gotten Whole Foods version and it's terrific as well.
Ingredients
green beans
olive oil
tahini
lemon
garlic
rosemary
parsley
salt and pepper
Hints for an easy prep
These green beans with tahini dressing are easy enough for a weeknight dinner or you can double the recipe for a crowd. When doubling the recipe, cook only half of the green beans along with only half of the spices and garlic. Wipe out the pan and then continue with the rest of the green beans and spices. These can be served warm or at room temperature. Store your leftovers, if you have any, in the refrigerator.
Other Ways to Prepare The Green Beans
I have cooked green beans in many different ways. You can steam them and top them with the sauce, roast them (top with olive oil and salt) in a 425-degree oven, or blister them on the stovetop as described below. It's your choice!
FAQ's
What is Tahini made of?
Tahini is made of ground sesame seeds.
Is Tahini vegan?
Yes, tahini is vegan.
Is Tahini spicy?
No, tahini is mild in taste.
Is Tahini dairy free?
Yes! tahini is dairy free and can be used on a keto diet.
Does Tahini need to be refrigerated?
There is a bit of debate and I would also tell you to check the label of the brand you are using. However, I never refrigerate my tahini which allows the oil to stay liquid.
Green Beans with a Lemon Tahini Dressing
Beautiful blistered green beans with a light, citrusy lemon sauce. Excellent for a crowd or an easy weeknight dinner.
Print
Pin
Ingredients
1

tablespoon

tahini

½

t

grated lemon zest

3

t

lemon juice

1

T

warm water

Kosher salt and pepper

1

T

olive oil

1

lbs

green beans

trimmed and halved

3

cloves

garlic chopped

1

t

rosemary

chopped

1 ½

T

parsley

chopped
Instructions
Make the dressing: Whisk the tahini, water, zest, and juice with salt and pepper to taste until smooth. You may need to add more water to create a saucelike texture.

Heat 2 T of olive oil in a pan over medium heat. Add half of the green beans and saute' until brown, blistered, and wrinkled in spots. About 6 minutes. Add garlic and continue to saute' until lightly brown. Add half of the rosemary and parsley, along with a touch of salt to combine. Transfer to a platter and and then repeat with the rest of the green beans.

Drizzle the green beans with the dressing. Grate some lemon zest over the top.
Did you make this recipe?
Be sure to follow @asweetthyme on Instagram and tag @asweetthyme. You can also post a photo of your recipe on our Facebook page! I appreciate you soooo much!