This Easy Keto Bone Broth Recipe in an Instant Pot or Slow Cooker is a true culinary champion. Whether savored on its own or playing the starring role in nutritious soups and saucy creations, it's the only broth recipe I use in my kitchen.
And guess what? Making it in the Instant Pot is a breeze, and it'll have you celebrating its speed compared to using other methods.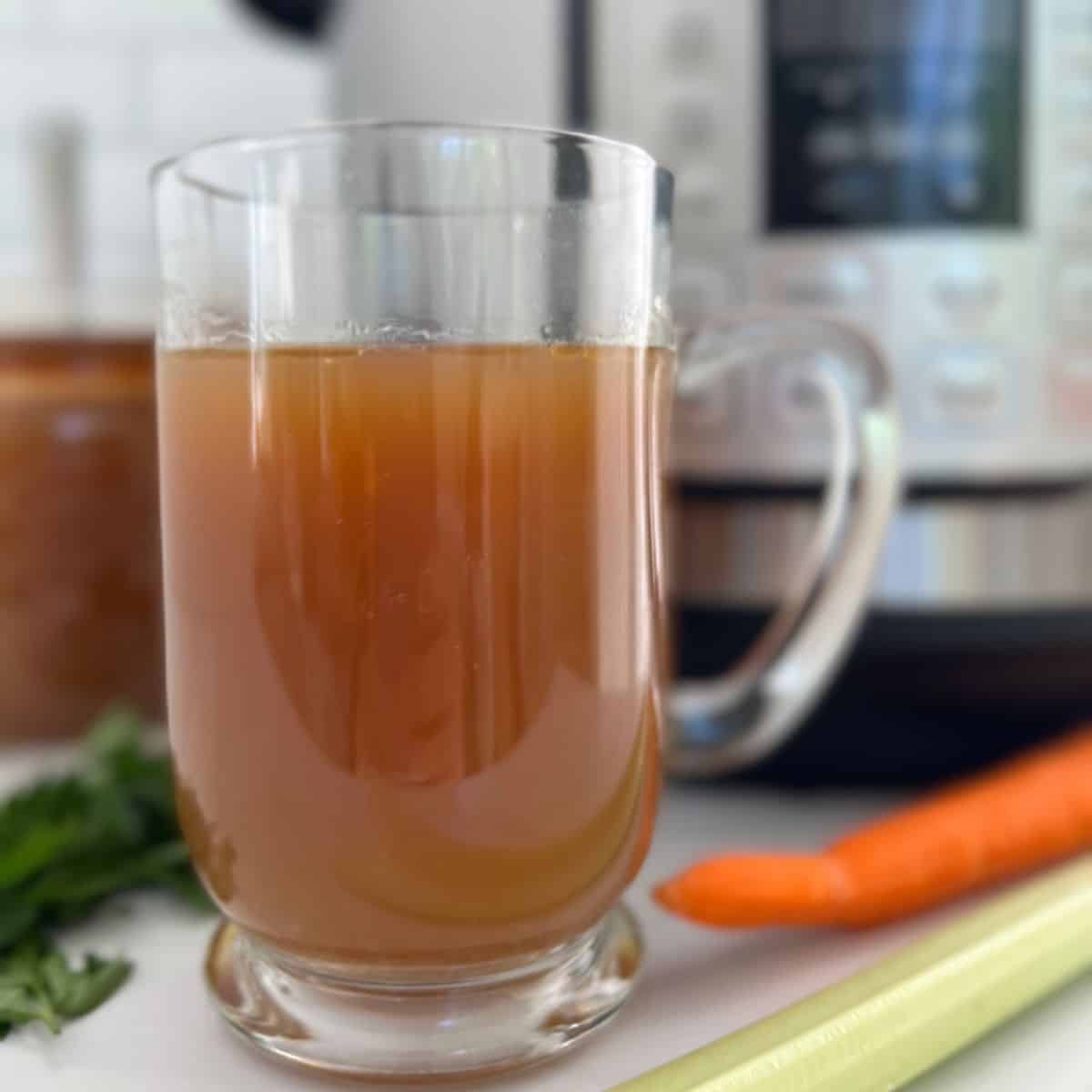 Bone broth is almost as old as mankind. It is a broth that is simmered for hours using the bones of animals (including the ligaments), vegetables, herbs, and spices. When simmered for hours, it becomes a nutrient-rich, savory liquid that has collagen, gelatin, minerals, and other beneficial compounds from the bones and connective tissues. It is a highly flavorful and nutritious broth which is why I use it as a base for almost all of my soups and any dishes that require broth.
What is the difference between stock, broth, and bone broth?
Broth is created by cooking meat and vegetables for a short period of time. It's light in color and is used in order to give more flavor than water. It can be eaten alone but it is typically not seasoned with herbs and spices. You can find many varieties of broth in the grocery store. 
Stock and bone broth are truly the same thing. Both are simmered for long hours with vegetables, herbs, and spices thrown in to flavor the stock. They will have a gelatin-like consistency once cooled as they contain collagen. Bone broth, or stock, has more health benefits than broth and is said to help boost your immune system.
What is the best method for cooking bone broth? Slow cooker, on the Stove Top, or Instant Pot?
While all three of these methods work great, the Instant Pot will shorten your time significantly. I will give you instructions for a homemade bone broth recipe in the slow cooker as well as the pressure cooker.
What kind of bones do you need in order to make instant pot bone broth?
You can use any type of bone from any animal you wish, even the turkey bones that are left over from Thanksgiving. My favorite hack is to start with purchased cooked rotisserie chicken (preferably organic and I use ones from Whole Foods) and take the meat off of the bones. I save the meat and use it for other meals, and just use the bones for bone broth. I also will either use chicken legs, wings, or feet depending on what I can easily find at our local grocery store. For a more flavorful broth, I also use a beef soup bone which will help add some depth to the stock. The bones can be frozen, raw, or cooked. It doesn't matter.
What are the benefits of bone broth?
Gut health– Online, you see the term leaky gut all over the internet. While it isn't a medical term, many people have chronic stomach pain or intolerances coming from unknown causes. Bone broth is filled with gelatin and collagen, which many health professionals claim can help repair the stomach. See this source.
​Skin and hair - Collagen supposedly helps to beef up the cells of your skin and hair giving your skin a brighter, fuller, appearance. It also can help with healthier hair.
Joint Health - You may have heard of Glucosamine. You can find this vitamin supplement in pill form at your drugstore. It is used to help protect your joints from pain and to keep them healthy. Bone broth has Glucosamine.
Amino Acids - Amino acids help you to recover from a workout and they can help with digestion and organ function. Most bone broths have a high level of Glutamine, Arginine, Proline, and Glycine.
This recipe is used in all of my soup recipes like my Lentil Soup or my Ribollita Soup. I have also used it for side dishes like my Mushroom Skillet!
Jump to:
Ingredients for Keto Bone Broth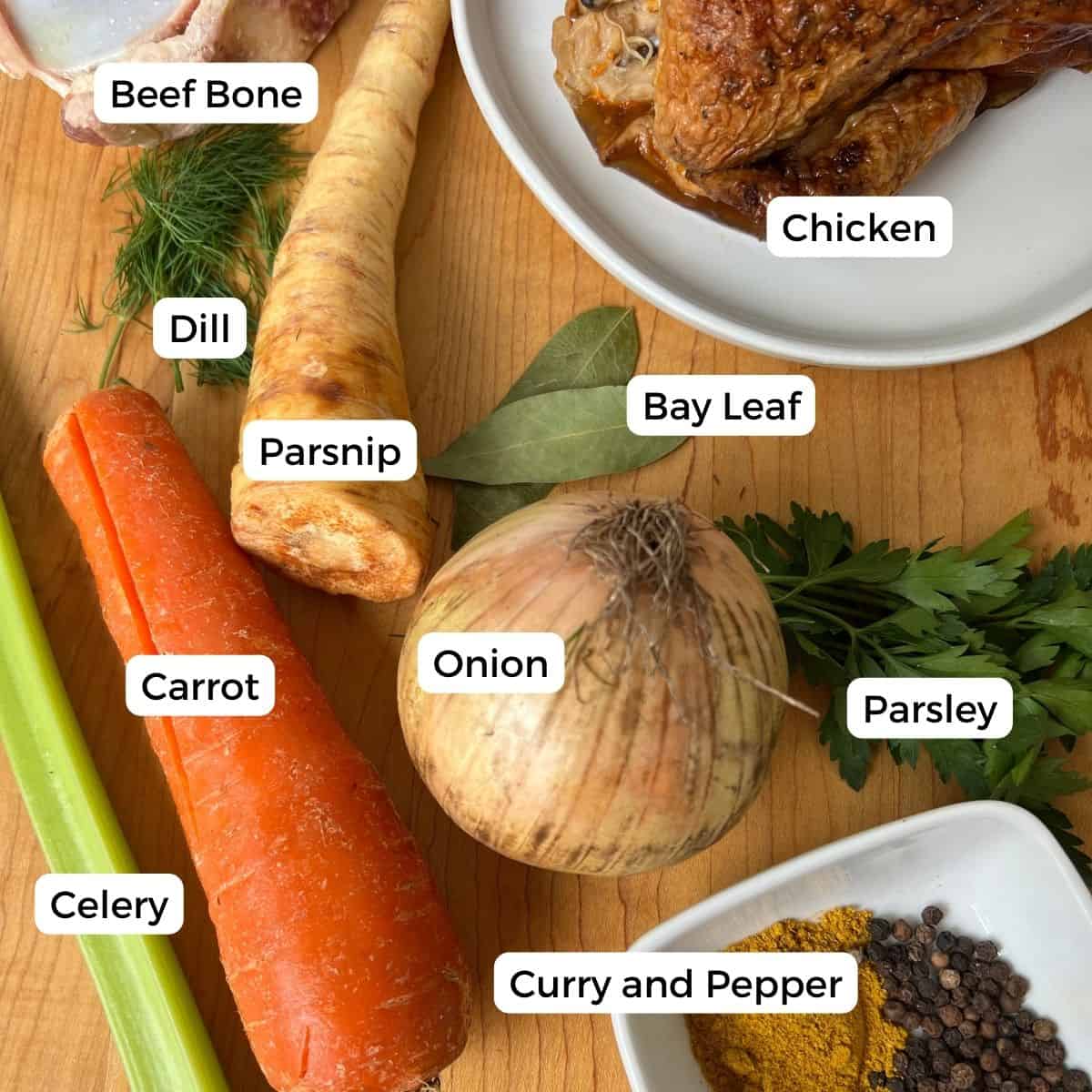 Chicken wings or legs
Chicken bones
Beef soup bone
Onion
​Carrots
Celery
Parsley
Dill
Bay Leaves
Curry
Apple Cider Vinegar or Lemon
Black Pepper
See the recipe card for quantities.
How to Make Keto Broth Recipe In An Instant Pot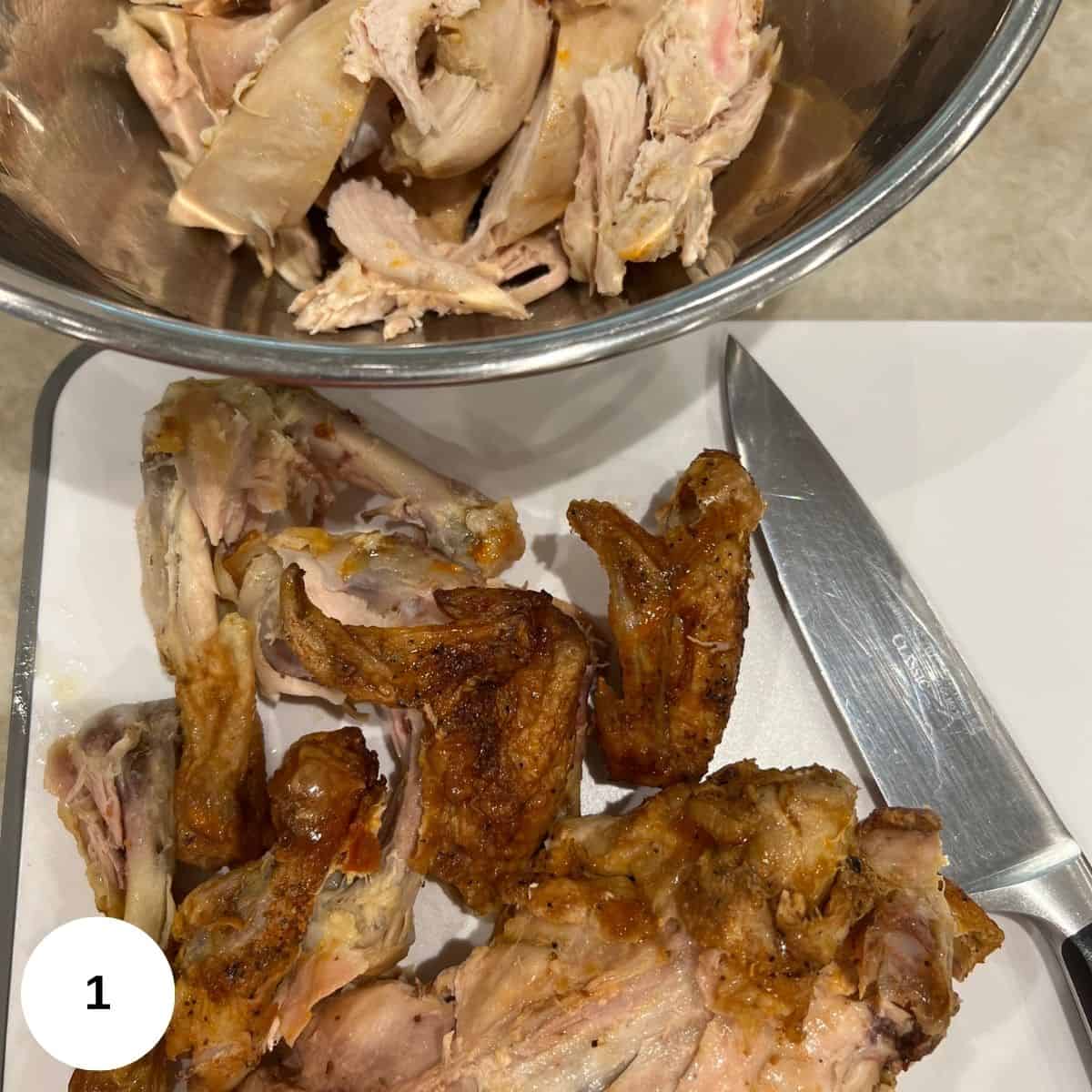 Take the meat off of the rotisserie chicken carcass and reserve it for another use. Place the chicken bones, and beef bones, along with the wings or legs into the pressure cooker.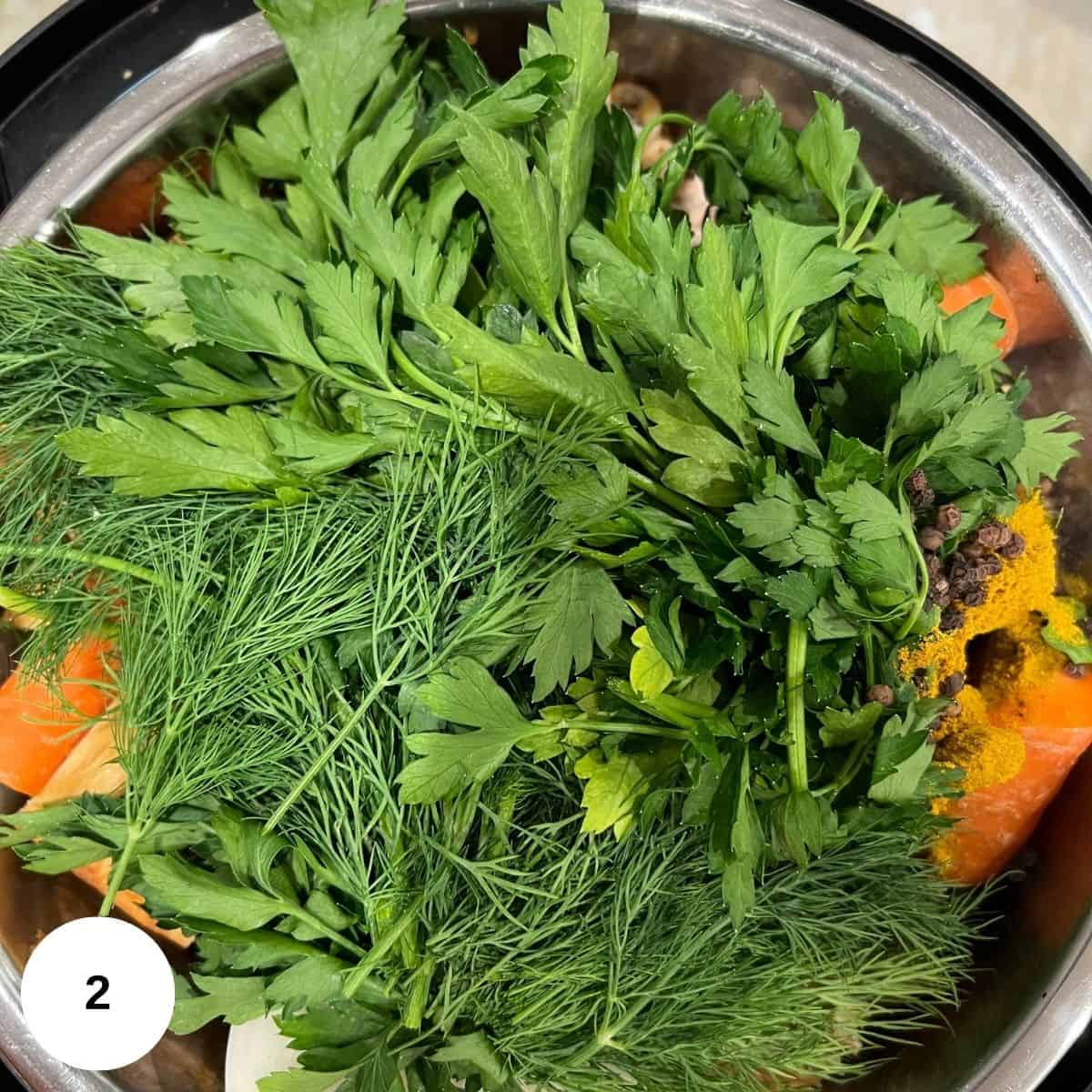 Add the vegetables, fresh herbs, spices, and apple cider vinegar. Cover with enough water to reach the line near the top of the pot.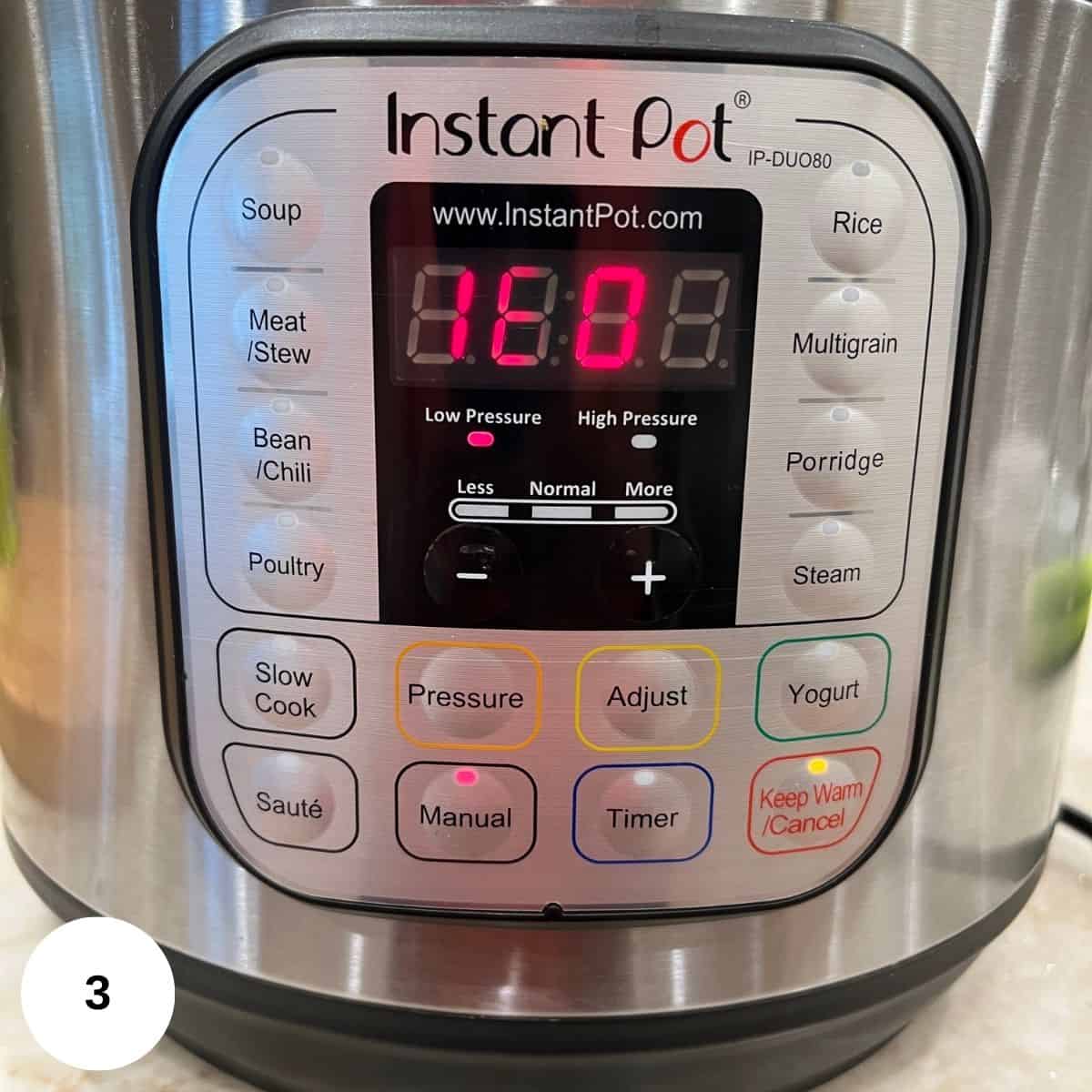 Set the Instant Pot to low pressure for 180 minutes and start cooking.
​Once the instant pot is finished, allow it to cool down before releasing it. Strain and store.
How to Make A Bone Broth Recipe In the Slow Cooker
Add all ingredients to a crockpot (bones, scraps, fat, etc). Cover with water and cook on low for at least 12 hours (16-18 is best).
You may need to adjust the amount of water depending on the size of your crockpot. You can fill to the top of the crockpot!
Allow broth to cool slightly, and run through a fine mesh strainer into a large pot or container.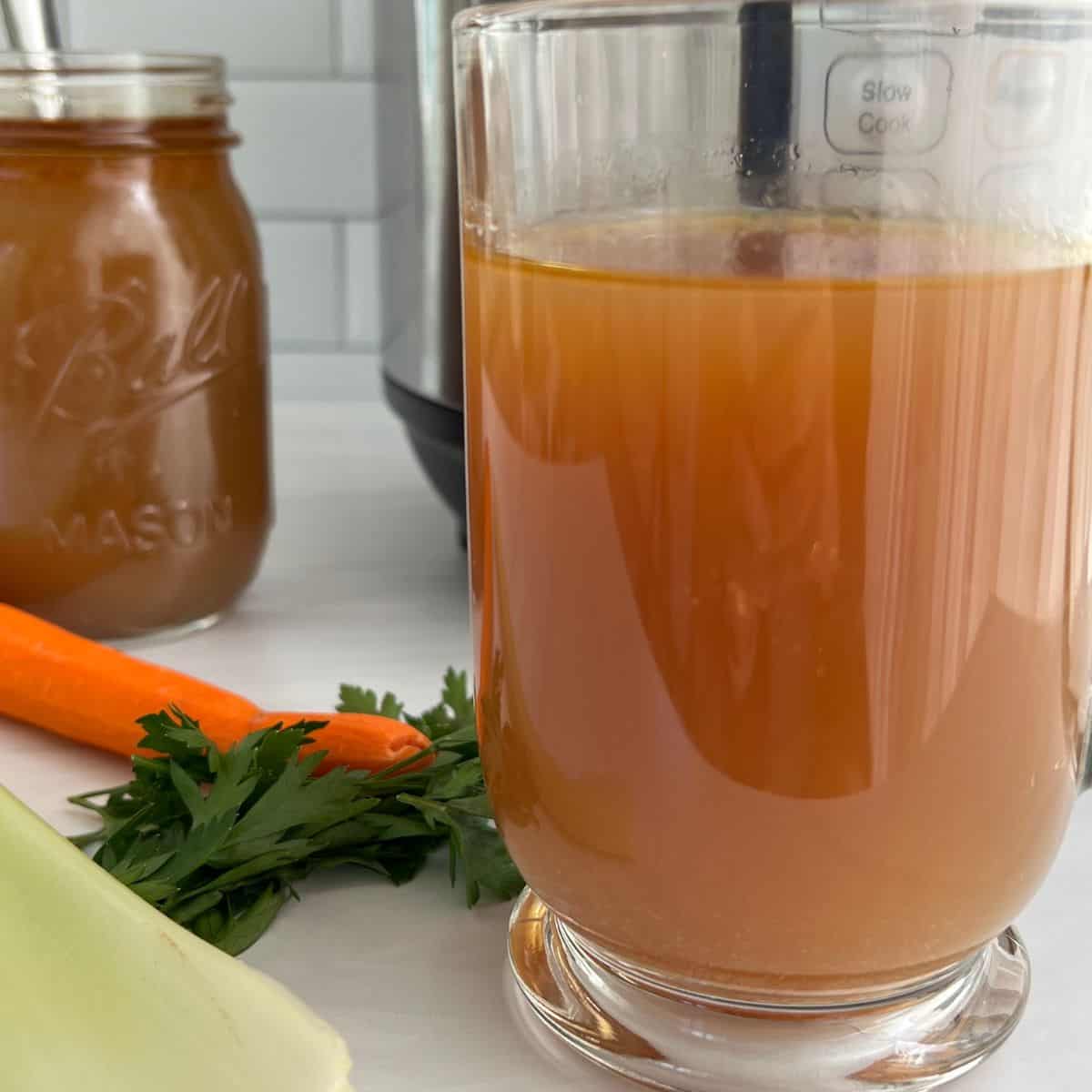 What Can I Substitute or Vary for the Instant Pot Bone Broth?
Bones – You can use any bones from an animal. Chicken, beef, lamb, pork, turkey, and even bones from fish. In this recipe, I add both chicken and beef bones. I do this as the depth of flavor is outstanding. This bone broth tastes like a chicken stock but is deeper and more delicious. However, any animal bones will work. If you are using raw beef bones, I highly suggest roasting them first by placing them in a roasting pan and roasting them for 30-45 minutes at 425 degrees Fahrenheit.
Veggies – Carrots, celery, onion, and garlic add flavor to the broth but are not necessary.
Seasonings – You can add salt, pepper, or whatever other herbs you'd like to the broth. My personal favorites are dill, parsley, bay leaf, and curry. Don't knock the curry powder until you taste it. You won't taste curry but you will get more depth from the soup! I don't add salt when I use rotisserie chicken. I find that the end result is too salty
Apple cider Vinegar vs lemon – Some people add apple cider vinegar to their broth to help coax the nutrients out of the bones. This is not necessary, but it will help to make sure that the stock is gelatinous, which in turn means more collagen. If you don't have apple cider vinegar, you can use half of a lemon or the juice of a whole lemon in its place. I do this interchangeably.
Added Stock - I like to add some of these added bases to the water to make sure that the flavor is ramped up.
Equipment Needed:
My favorite way to make bone broth is with an Instant Pot. If you prefer a slow cooker I like this one.
How to Store Pressure Cooker Bone Broth
Store the cooked stock in an airtight container in your refrigerator for up to two weeks. You can freeze your stock for up to six months. I like freezing the stock in ice cube trays so I can add a little at a time.
Top tip
This recipe is really very simple. Use high-quality ingredients like grass-fed or organic meat. Use fresh herbs and do not add salt. If you feel you want to amp up the flavor, I suggest using some added broth. I like the chicken base by Cook's Delight.
Ways to use this Easy Bone Broth Recipe:
Bone broth is a versatile ingredient that can be used in a variety of ways:
Soup Base: The most common use for bone broth is as a base for soups and stews. It adds depth of flavor and a rich, savory quality. Chicken bone broth is used for chicken soup, while beef bone broth is great for hearty stews.
Risotto: Instead of using plain water or stock, you can use bone broth to cook risotto. It enhances the flavor and creaminess of the dish.
Gravy: When making gravy for dishes like roast chicken or turkey, use bone broth for a more flavorful and nutritious option.
Sauces: Bone broth can be used as a base for sauces and gravies, such as mushroom sauce or red wine reduction. It adds richness and depth of flavor.
Braising: Use bone broth to braise meats like short ribs or pot roast. It infuses the meat with flavor and keeps it moist during cooking.
Cooking Grains: Replace water with bone broth when cooking grains like rice, quinoa, or couscous. It adds extra flavor to the grains.
Drinking Broth: Some people enjoy sipping on warm bone broth as a nutritious and soothing beverage.
Casseroles: Bone broth is used in casseroles to provide moisture and flavor to the dish.
Bone broth's rich, savory flavor and potential health benefits make it a valuable ingredient in the kitchen. Experiment with these various ways to use bone broth to enhance your meals and enjoy its nutritious qualities.
Frequently Asked Questions:
Is it okay to drink bone broth every day? 
The amount of bone broth that you should drink each day would depend on both your nutritional needs and your health goals. When first getting started, start by drinking 1–2 cups per day as part of a balanced diet, then increasing your intake gradually over time. 
What type of bone broth is the healthiest? 
Beef bone broth is better for gut health, sleep, and mood-boosting.
Chicken bone broth is better for joints and tendon pain. It may be better for skin health. It tastes lighter than beef stock and is more versatile. 
Can you reuse the bones to make another batch of bone broth? 
Yes you can, however, you run the risk that you will not get all of the vitamins, collagen, and gelatin on the second round of stock. 

Is chicken bone broth good for the keto diet?
Bone broth is low in calories, high in fat, and low in carbs, making it a keto-friendly food. On the ketogenic diet, bone broth is used in place of snacks during the day.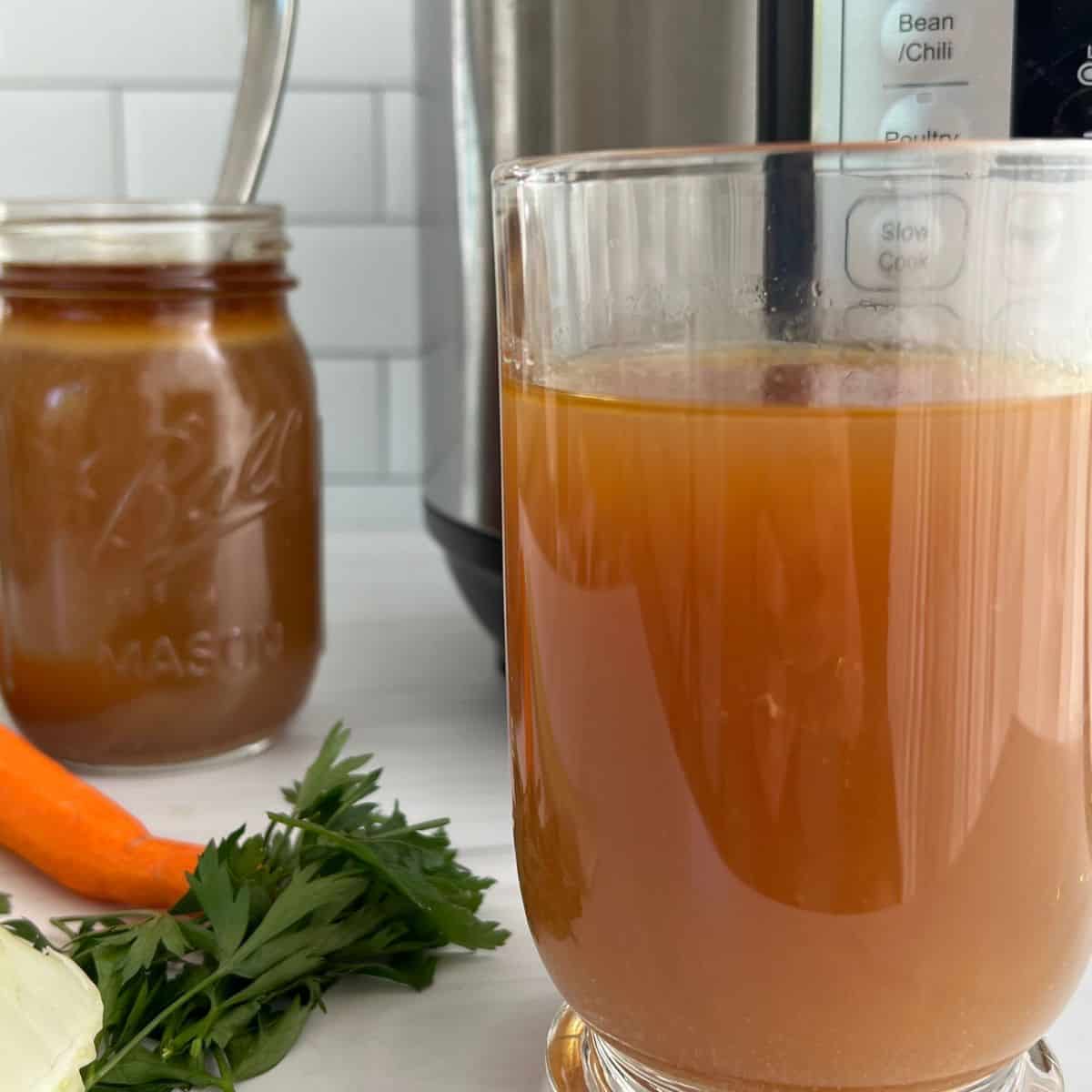 Having a high-quality bone broth on hand is a great way to use up leftover bones. Using a variety of bones from a variety of animals will change the flavor of your stock. I have found that the best way to get great flavor is to use both beef bones and chicken bones for a combination of flavors.
While I tend to eat soups in the fall and winter time of year, I make this keto bone broth recipe all year round. If you haven't made a homemade broth yet, now is the time to try your hand at your own bone broth! It is one of my essential recipes that has amazing benefits in our diet.
Related
Looking for other recipes like this? Try these:
Pairing
These are my favorite dishes to serve with [this recipe]: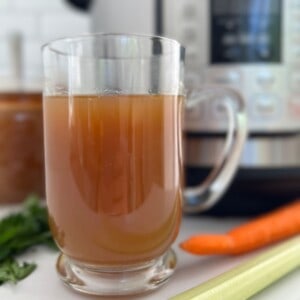 Easy Keto Bone Broth Recipe in an Instant Pot or Slow Cooker
This Easy Keto Bone Broth Recipe in an Instant Pot or Slow Cooker is a true culinary champion. Whether savored on its own or playing the starring role in nutritious soups and saucy creations, it's the only broth recipe I use in my kitchen.
And guess what? Making it in the Instant Pot is a breeze, and it'll have you celebrating its speed compared to using other methods. 
Print
Pin
Ingredients
3

rotisserie chicken carcasses

1

pkg

raw drumsticks, wings, or feet

3

carrots

3

celery stalks

1

onion

1

parsnip

2

bay leaves

1

bunch

parsley

1

bunch

fresh dill

¼

cup

apple cider vinegar

1

teaspoon

peppercorns

2

teaspoon

curry powder

2

tablespoon

chicken base

optional

1

tablespoon

beef base

optional

1

beef soup bone
Instructions
Place all of the bones into the instant pot.

Add the vinegar and all of the vegetables and spices.

Add enough water to cover everything by 1 inch.

Bring the instant pot up to full pressure then reduce the heat to low and cook for 3 hours. Allow the pressure to naturally release.

Strain and store in the refrigerator.
Nutrition
Calories:
276
kcal
|
Carbohydrates:
0.03
g
|
Protein:
41
g
|
Fat:
12
g
|
Saturated Fat:
3
g
|
Cholesterol:
144
mg
|
Sodium:
521
mg
|
Sugar:
0.03
g
Print
Pin
Did you make this recipe?
Be sure to follow @asweetthyme on Instagram and tag @asweetthyme. You can also post a photo of your recipe on our Facebook page! I appreciate you soooo much!
Lastly, if you make this recipe be sure to leave a comment and/or give this recipe a rating! Above all, I love to hear from you guys and always do my best to respond to each and every comment. Additionally, if you do make this recipe, don't forget to tag me on Instagram! Looking through the photos of recipes you all have made is my favorite!