I first introduced this Tomato, Nectarine & Mozzarella Salad Recipe a few weeks ago while my family was over enjoying Father's Day. Nectarines are just starting to come into our farmer's market and I thought pairing them with my tomato burrata salad would make for a delicious combination. I was right!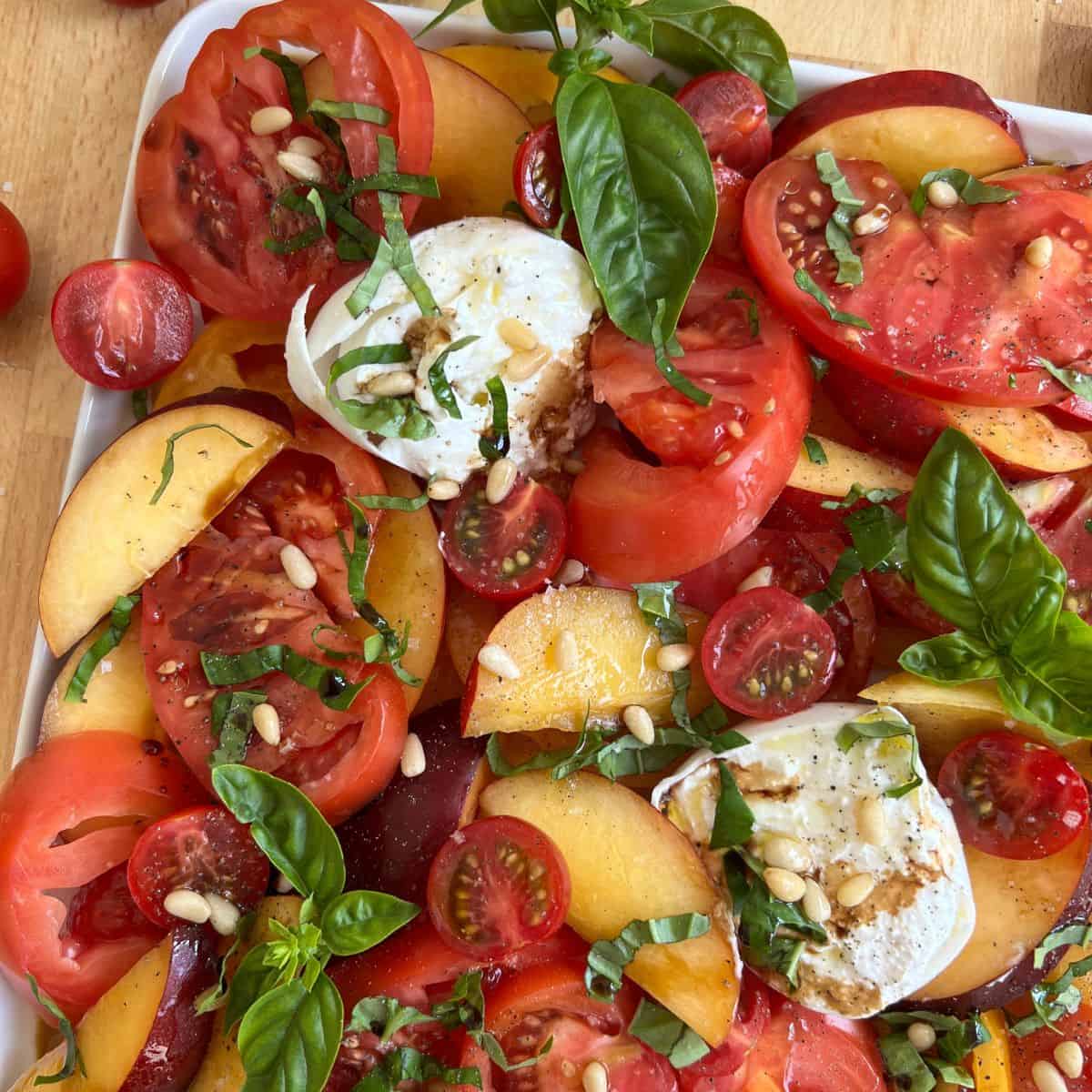 Nectarines are typically popular during the summer months. They are seasonal and often enjoyed from late spring to early fall. The peak season for nectarines will vary slightly depending on the location, but generally, they are most abundant and flavorful during the months of June, July, and August.
This was inspired by a typical Caprese salad that contains tomato, basil, and mozzarella or burrata. The picture shown above contains burrata but you can easily swap it out for mozzarella. I first saw this recipe here.
Jump to:
Ingredients
I started with my Caprese Salad with burrata which is essentially a tomato burrata and basil salad but wanted to add nectarines to the mix which adds sweetness. I have seen tomato and burrata salads that included peaches so I didn't think I was that far off the mark.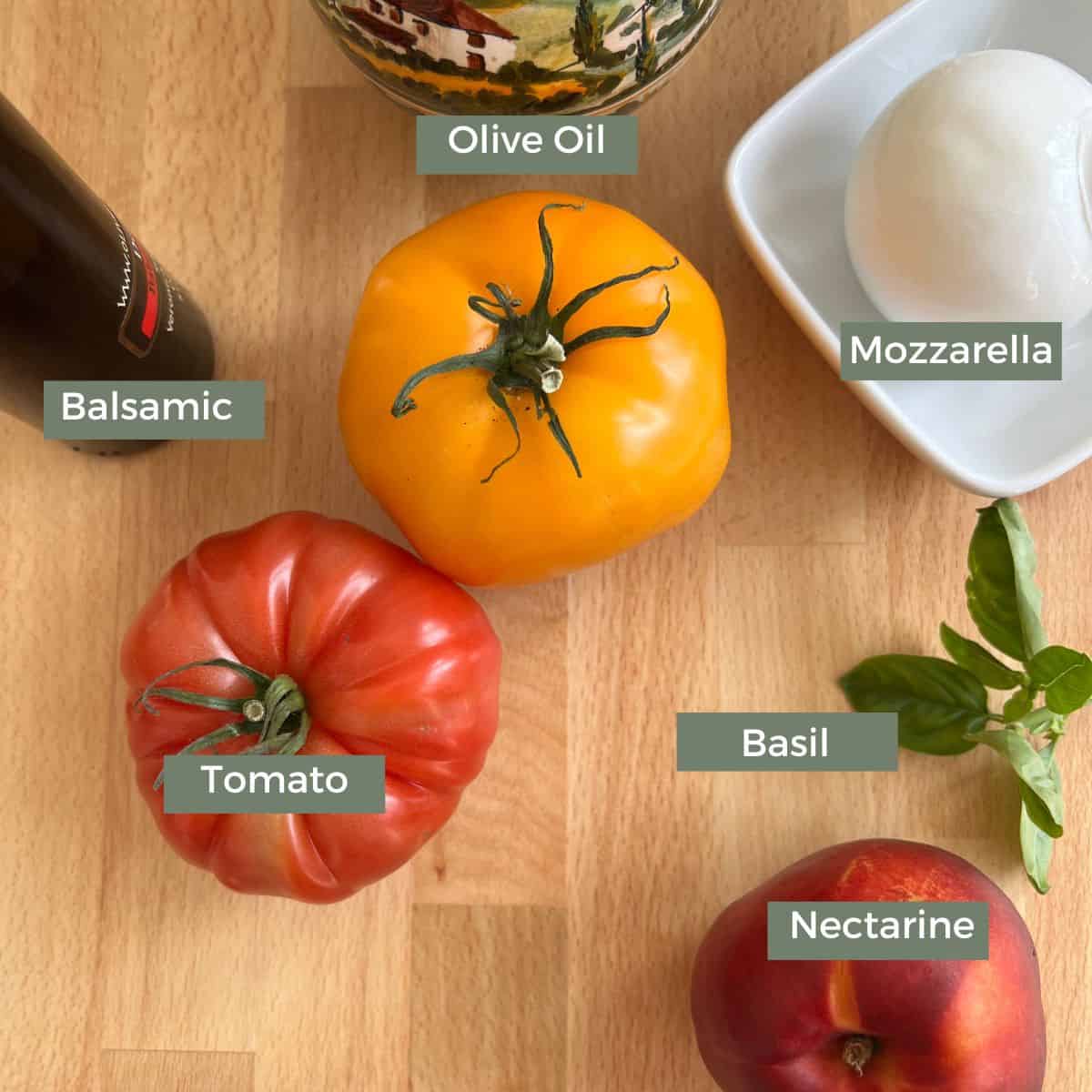 tomatoes
nectarines
mozzarella
basil
olive oil
balsamic vinegar
sea salt
See the recipe card for quantities.
Instructions
The salad is extremely easy to make and you can throw it together in a matter of minutes by doing the following:
Slice the tomato in half. Take out any visible seeds. Slice or quarter your tomato to your liking.
Slice the nectarine into quarters.
Take a bunch of basil and pick the leaves off of the stems.
Stack the leaves and then roll them up. Slice across the basil to create a chiffonade cut.
Hint: I used a serrated knife to cut all of the ingredients except the mozzarella. Using a serrated knife will help you make more precise knife cuts. The one that I use is this one.
Variations
There are a few variations that you can use for this Tomato, Nectarine & Mozzeralla Salad Recipe:
Dressing: Instead of a basic balsamic vinaigrette or just drizzling balsamic as I do in this recipe, consider making a herb-infused dressing. Blend together fresh herbs like basil, mint, or parsley with olive oil, lemon juice, salt, and pepper. Drizzle this over the salad for an extra burst of flavor.
Arugula or mixed greens: Add a bed of arugula or mixed greens as a base for the salad. This will provide a fresh and peppery contrast to the sweetness of the nectarines and the creaminess of the mozzarella.
Prosciutto or bacon: If you enjoy a savory twist, consider adding some thinly sliced prosciutto or crispy bacon to the salad. The saltiness of the meat pairs well with the sweetness of the nectarines and the creaminess of the mozzarella.
Toasted nuts: For added crunch and nuttiness, sprinkle some toasted nuts like almonds, walnuts, sunflower, or pine nuts over the salad. This will provide a delicious texture contrast.
Red onion or shallots: Thinly slice some red onion or shallots and add them to the salad for a touch of pungency and a slight bite. They will add depth to the overall flavor profile.
See this quick Italian dressing on my website if you would like to change this up even further!
Equipment and Ingredients
Equipment and ingredients matter in all of your recipes. Here are a few that I love and use in this tomato burrata salad:
Knife: I have a wide variety of knives in my arsenal. When cutting tomatoes, I love to use a serrated knife as it cuts clean and sharp. The knife I use is a Wustoff 5" Serrated Knife like this one.
Olive Oil: While you can use grocery store olive oil, I love one that is higher in polyphenals, which are an anti-oxidant and extremely healthy for you. I buy my olive oils from an olive oil store, usually Georgetown Olive Oil or Olive Fusion.
Balsamic Vinegar: I am a huge fan of using high-quality balsamic vinegar. I purchase my vinegar at the same time as I grab my olive oil from the two stores mentioned. There are several grades or ages of vinegar. For this recipe, I chose the Dennisimo or a good 25 year aged. By doing that I don't need to boil down the vinegar to make a syrup like the instructions read. A good balsamic will list the first ingredient as grape-must and will not include other kinds of vinegar mixed in.
Sea Salt: Sea salt is a finishing salt and actually adds flavor. My favorite is this one.
Storage
The prepared tomato, nectarine & mozzarella salad can is best eaten the day it is prepared. While you can prepare this and store it overnight, the tomatoes will become watery so I do not recommend it.
Top tip
Play around with this salad! Sub out the nectarines for peaches, add a dressing, add lettuce and try it different ways. You won't be disappointed.
FAQ
What is the difference between a nectarine and a peach?
Nectarines tend to be smaller than peaches They also have thin, smooth skin and firmer flesh. Peaches have thicker, fuzzier skin and softer flesh.
What is the difference between mozzarella and burrata?
Burrata is essentially a shell of mozzarella wrapped around a mixture of cheese curds and cream and then formed into a ball.  Mozzarella has a more delicate taste and firmer texture than burrata. Burrata is softer and more flavorful and wonderful spread on crusty bread.
How long does burrata cheese last in the fridge?
Placed in an airtight container and covered with water, burrata should be stored in a refrigerator for up to five days
Is Tomato Nectarine & Mozzarella healthy?
Yes, any Caprese salad is healthy. It is made of natural ingredients such as fresh mozzarella cheese and tomatoes. This recipe is super easy to make and the perfect healthy meal or side dish.
The next time you're seeking a light and flavorful salad, look no further than this tomato, nectarine, & mozzarella salad recipe. Whether enjoyed as a side dish or a main course, this salad embodies the essence of summer and will surely impress your family and guests. Give it a try, and let the flavors of the season dance on your taste buds.
Related
Looking for other recipes like this? Try these: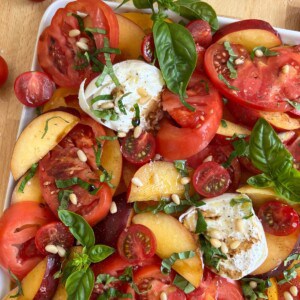 Tomato, Nectarine & Mozzarella Salad Recipe
This Tomato, Nectarine & Mozzarella Salad will transport your taste buds to summertime and is the perfect side-dish.
Print
Pin
Ingredients
3-4

tomatoes

sliced

2-3

nectarines

sliced

1

ball of fresh mozzarella

sliced

¾

cup

fresh basil leaves

sliced into a chiffonade

extra virgin olive oil

enough to drizzle

sea salt and pepper

2

tablespoon

balsamic vinegar

reduced to a syrup
Instructions
Slice the tomato in half. Take out the seeds, if necessary, then slice and set aside.

Slice the nectarines into wedges and set aside.

Slice the mozzarella into slices or wedges, or use a burrata ball and slice this in half and set aside.

Using your basil, take the leaves off of the stems. Layer the leaves into a pile and then roll it up. Slice through the roll creating a chiffonade and then set this aside.

Arrange the tomatoes, nectarines and the mozzarella onto a platter. Scatter the basil on top. Drizzle olive oil and balsamic on the top. Add salt and pepper to taste.
Nutrition
Calories:
212
kcal
|
Carbohydrates:
46
g
|
Protein:
7
g
|
Fat:
2
g
|
Saturated Fat:
0.3
g
|
Polyunsaturated Fat:
0.4
g
|
Monounsaturated Fat:
0.1
g
|
Cholesterol:
1
mg
|
Sodium:
63
mg
|
Potassium:
1336
mg
|
Fiber:
9
g
|
Sugar:
37
g
|
Vitamin A:
4973
IU
|
Vitamin C:
62
mg
|
Calcium:
88
mg
|
Iron:
3
mg
Print
Pin
Did you make this recipe?
Be sure to follow @asweetthyme on Instagram and tag @asweetthyme. You can also post a photo of your recipe on our Facebook page! I appreciate you soooo much!