This Baked Eggplant Parmesan Recipe Without Breadcrumbs puts a healthy spin on the traditional eggplant parmesan recipes making it both healthy and delicious. Not only is this gluten-free and can be made vegan, it is baked and not fried! A truly delicious way to enjoy eggplant at its best without sacrificing healthy habits.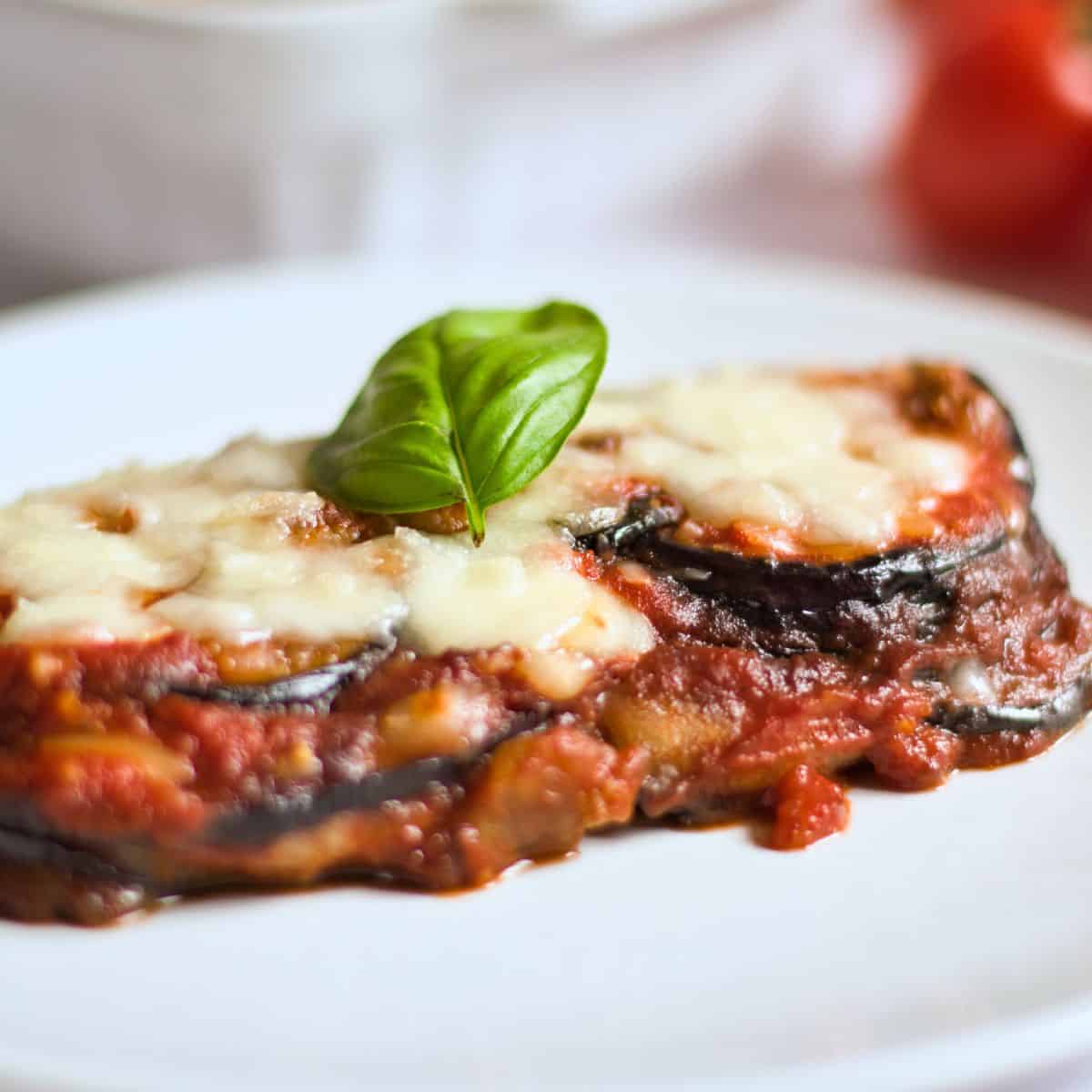 Traditional Eggplant Parmigiana
A classic eggplant parmesan, that you find in a restaurant or that many make at home, it is a tedious process. You dip eggplant slices into an egg batter and dredge them through a breadcrumb mixture. You then fry the slices until golden brown before adding the sauce, cheese and baking.
In the past I have tried using panko breadcrumbs, however, my goal currently is to try to eliminate as much gluten as possible from my diet. I have tried other coatings as well like gluten-free flour, almond flour, and coconut flour and I can't say that I fell in love with the recipe. So, I decided to eliminate the bread crumbs which also eliminates the egg, making this a vegetarian or even vegan version.
In addition to tasting wonderful, it's made with fresh ingredients with nothing canned other than the sauce. There are only 10 ingredients, so you can actually taste all of them as they come together for this main course.
I love eggplant parmesan and used to order it in restaurants all the time. However, both the calorie and the carb count were very high. This is lightened-up version that is low in carbs, low in calories, and easily made for a weeknight meal.
As for side dishes with this Baked Eggplant Parmesan, you can serve it with a simple salad dressed with my favorite Italian dressing, or my Hearts of Palm salad alongside some garlic bread.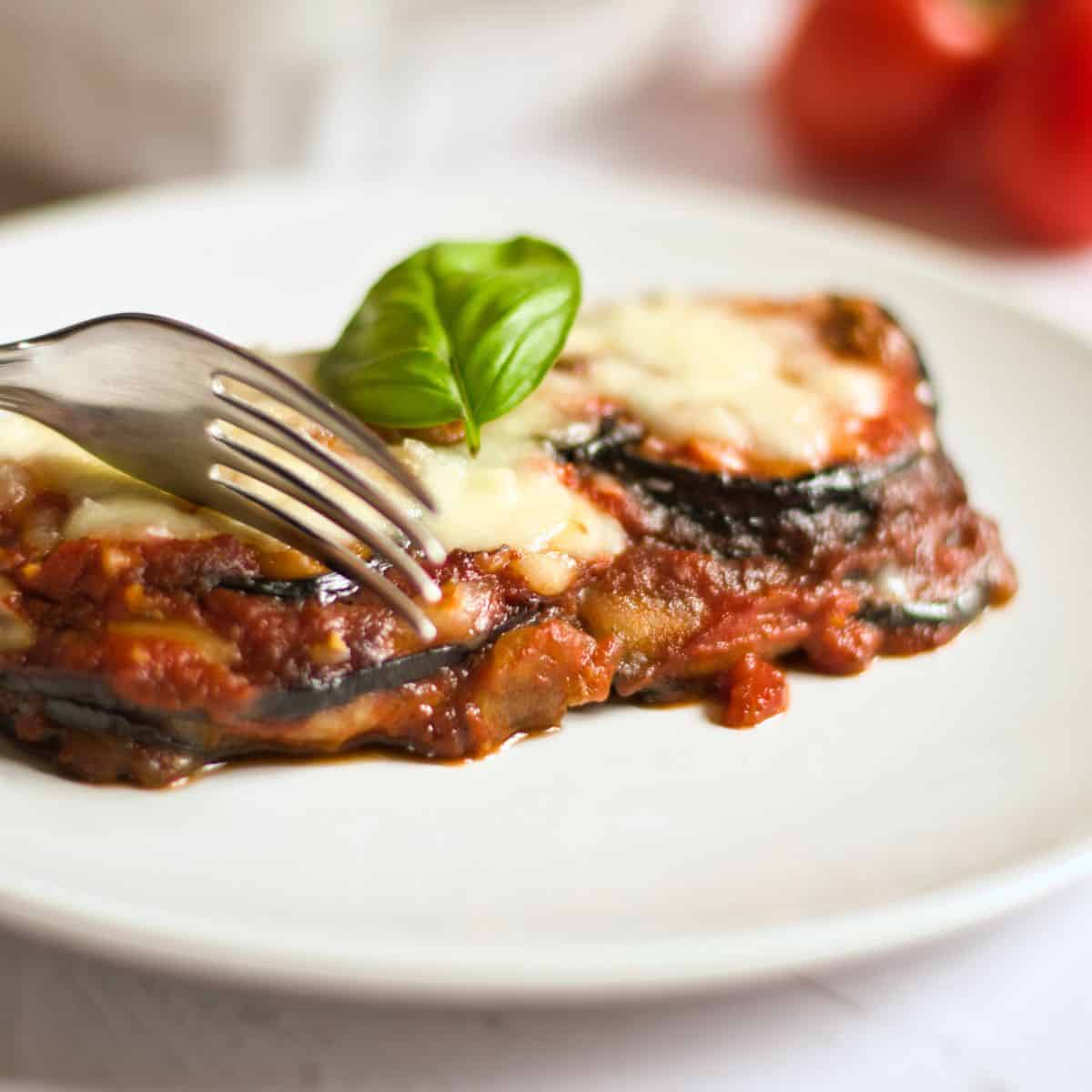 Jump to:
Why I love this Healthy Eggplant Recipe:
It can be made both Vegan and Gluten-Free.
It has a delicious Italian flavor.
There are no eggs or other messy frying that is needed.
This is perfect for leftovers.
An easy recipe using super simple ingredients.
A healthier version of the original Italian recipe.
This makes a wonderful recipe that is great for a make-ahead dish. Just prepare it the night before and stick it in the oven the next day.
It is a low-carb easy oven-baked eggplant parmesan that works for Keto dieters or anyone wanting to reduce carbs without feeling deprived.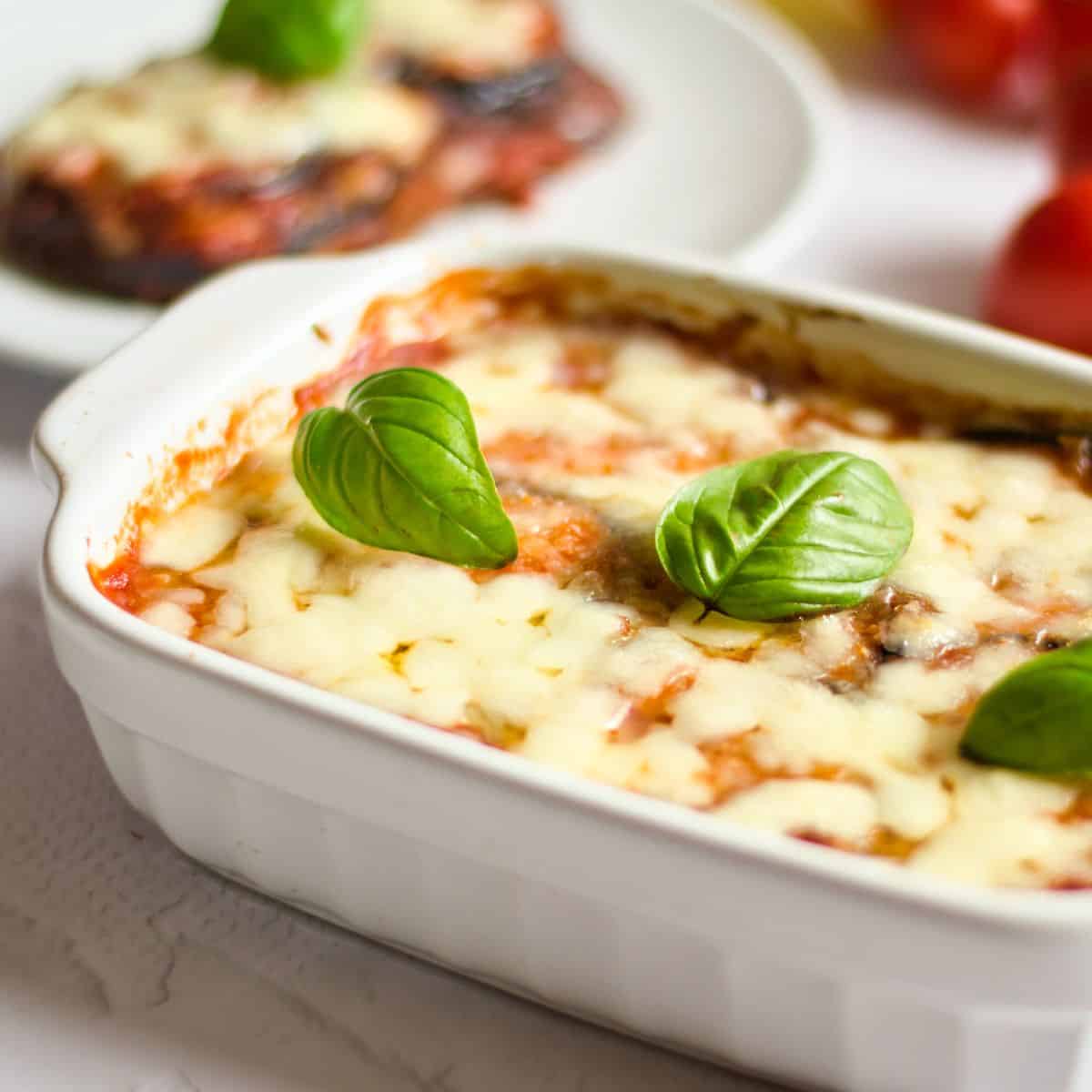 Wonderful Recipe for Entertaining
This easy recipe is super simple to make. I always make enough for leftovers the next day.
If you have a crowd to feed, you can double or even triple this recipe. Just make sure you start out with a pan that's big enough for everything to fit or make it in two pans.
For a potluck, make a couple of pans of it. Regardless of how much you make, there's a good chance you'll run out.
For this recipe, I used a 9" x 13" baking dish. Make sure to spray or oil the bottom of the pan. You don't have to, but it makes cleanup much easier.
Ingredients needed for Baked Eggplant Parmesan
This easy eggplant parmesan without breadcrumbs only requires a few simple ingredients. Grab everything from your local grocery store!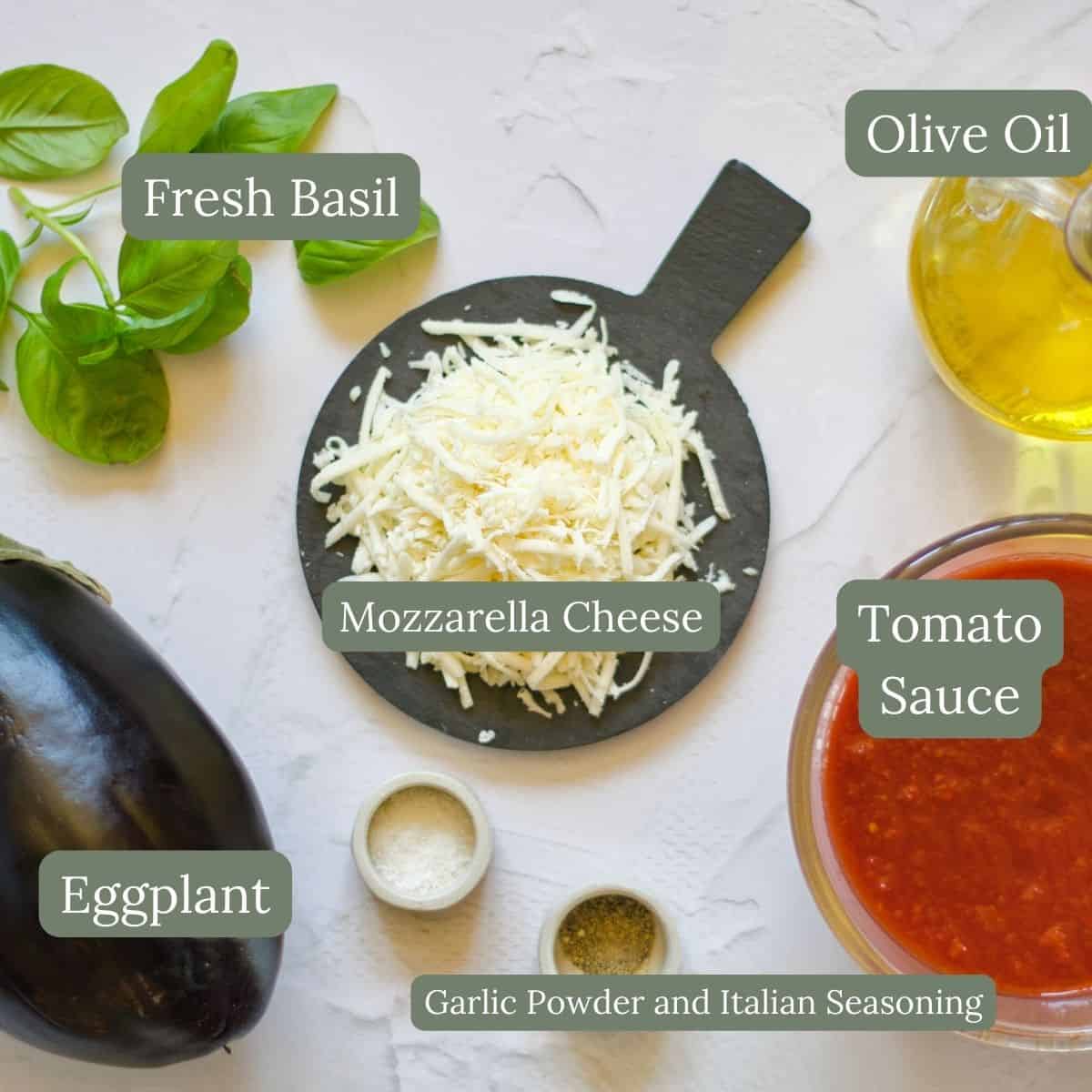 Large eggplant - You will want to use approximately 2 large eggplants or 3 medium eggplants for this vegan eggplant parmesan recipe. Choose an eggplant that has shiny skin, and is a bright, vibrant black/purple color. If the eggplant has wrinkled or dull skin, it's probably old. Pick an eggplant that's slightly firm to the touch – not one that feels mushy or soft.
Fresh mozzarella cheese or vegan mozzarella cheese - Use vegan mozzarella cheese and vegan parmesan cheese on top of the layers of tomato sauce and eggplant.
Tomato sauce - Using a good quality marinara sauce is important in this baked eggplant parmesan recipe. Make sure the sauce is thick and not runny. You can either start with canned or jarred tomato sauce, use a homemade sauce, or use a store-bought marinara. My favorite store-bought marinara is Rao's.
Salt and pepper
Extra virgin olive oil - Use a high-quality extra-virgin olive oil
Fresh basil - Look for fresh basil in the grocery store. If you want to add to the herbs, you can also add some fresh thyme.
Parmesan cheese - you can use vegan parmesan cheese
Garlic powder
Italian seasoning
See the recipe card for quantities.
How to make this Healthy Eggplant Recipe
If using tomato sauce: heat the sauce over medium-low heat and add basil leaves, salt & pepper to taste, along with a tablespoon of olive oil. Once it starts to simmer, turn off the heat and let it rest.
For the eggplant, cut off the ends and slice the eggplant into eggplant rounds. Take a grill pan and heat it on high for a few minutes. Grill each eggplant wheel on both sides to remove the bitterness.
Assemble: Using a baking pan, take a little olive oil and oil the bottom. Next, pour a couple of tablespoons of sauce over the bottom of the dish so it has a thin layer of sauce. Place a single layer of eggplant, then layer olive oil, Italian seasoning, garlic powder, parmesan cheese, and mozzarella cheese on top of the slices of eggplant. Repeat until you reach the top of the pan.
Bake in a preheated oven for 35-45 minutes until the cheese is bubbly and the eggplant looks cooked. Add more parmesan cheese to the top layer if you desire.
Hint: If there is excess moisture after the eggplant has cooked, pour it away from the casserole pan.
Baked Eggplant Parmigiana Variations or Substitutions
Fried eggplant: If you prefer to make the fried version of the classic eggplant parmesan, you can still keep it healthy by dredging the eggplant rounds in a little water (or almond milk) and egg mixture then just dip the slices into an almond flour (or coconut flour) Italian seasoning and parmesan cheese mixture. Lightly fry them in a little olive oil or cook them in your air fryer.
Turn the eggplant on its side: Instead of stacking the eggplant rounds, you can turn them on their side and stack them sideways in a pan. Place the mozzarella slices in between.
Add fresh vegetables: Add some fresh vegetables to the stack. Mushrooms, fresh tomatoes, or peppers make a nice change.
Add more herbs: You can easily add pesto, chives, thyme, oregano, or even onion powder to this dish.
Meat: Feel free to add pepperoni, or even some ground beef into the layers! It will be delicious.
Make it Vegan: Use vegan cheeses for the mozzarella and the parmesan.
Storage
Store the eggplant parmigiana in the refrigerator covered with plastic wrap for 1-2 days. If can be frozen once cooked and thawed in the fridge before re-heating.
Tips
Make sure you cut the eggplant rounds into ¼ inch slices that are even so that the eggplant cooks consistently
You can make this extra cheesy by adding more cheese. It will up the calorie count but it tastes wonderful. I will add buffalo mozzarella instead of firm mozzarella, which gives this more creaminess.
Grilling the eggplant or cooking it in some form will help with taking the bitterness out of the dish.
Allow the dish to rest after cooking and before serving to prevent the dish from becoming too watery.
FAQ
Can you freeze baked eggplant?
Yes, just put it into an airtight container.
Do you need to peel the eggplant for eggplant parmesan?
No. The peel is completely edible but as the eggplant matures the skin becomes a bit tougher. It is totally up to you however, I do not peel my eggplant.
Do you have to salt eggplant before cooking it?
No you do not. Salting the eggplant is another way to cut the bitterness of the vegetable. However, grilling or cooking the eggplant prior to using it in a parmessan recipe will do the same thing.
Related
Looking for other recipes like this? Try these:
Pairing
These are my favorite dishes to serve with [this recipe]: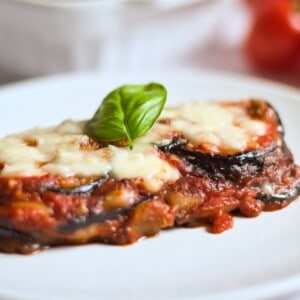 Baked Eggplant Parmesan Recipe Without Breadcrumbs
This is a super healthy vegetarian dish that can be made vegan. It's simple and easy to make for a weeknight supper.
Print
Pin
Ingredients
2 ¼

lbs

eggplant

sliced into ¼" rounds

1 ⅓

cups

mozzarella cheese

or vegan mozzarella cheese

2

cups

tomato sauce

or jarred marinara

salt and pepper

to taste

extra-virgin olive oil

to taste

fresh basil

1

teaspoon

Italian seasoning

1

teaspoon

garlic powder

parmesan cheese

for the top
Instructions
Preheat the oven to 375℉.
Sauce
If using plain tomato sauce from a can or jar, start by heating it on the stove over medium-low heat.

Next, add about 6 leaves of basil, salt and pepper to taste, and a tablespoon of olive oil.

Once it starts to simmer, remove it from the heat and rest.
Eggplant
Trim the top and bottom ends off with a sharp knife.

Using a sharp knife or mandoline, slice the eggplant into rounds that are ¼" in height.

Take a grill pan or light your outdoor grill. Turn the heat to high for about a minute.

Grill the eggplant rounds on each side until tender and the excess water has evaporated.
Assemble
Oil a 9x13 pan (or a small size if you want the stack higher) with olive oil.

Place a couple of tablespoons of the sauce on the bottom of the pan and spread it all around.

Then cover the pan with the eggplant rounds.

Top with a drizzle of olive oil, some italian seasoning and garlic powder. Add some chopped fresh basil if you desire.

Top with the mozzarella cheese.

Repeat the same process until reaching the top of the casserole dish.
Bake
Place into the oven and bake for 35-50 minutes until the cheese has melted and the eggplant is soft and tender.

Let rest for 5-10 minutes. If you have excess water you can pour it off.

Store the casserole in the refrigerator for up to 2 days. Can be frozen and reheated.
Notes
I will easily double this recipe to make sure that I have leftovers! I love using a jarred marinara as well so that the cooking time is reduced. 
Nutrition
Calories:
209
kcal
|
Carbohydrates:
23
g
|
Protein:
12
g
|
Fat:
9
g
|
Saturated Fat:
5
g
|
Polyunsaturated Fat:
1
g
|
Monounsaturated Fat:
3
g
|
Cholesterol:
29
mg
|
Sodium:
820
mg
|
Potassium:
992
mg
|
Fiber:
10
g
|
Sugar:
14
g
|
Vitamin A:
850
IU
|
Vitamin C:
14
mg
|
Calcium:
237
mg
|
Iron:
2
mg
Print
Pin
Did you make this recipe?
Be sure to follow @asweetthyme on Instagram and tag @asweetthyme. You can also post a photo of your recipe on our Facebook page! I appreciate you soooo much!