If you are looking for a baked cinnamon apple recipe, this Easy Portuguese Baked Apples With Cinnamon Recipe will be one that you make every fall. During the fall season when apples are plentiful, or when you have gone apple picking, this simple recipe will become a staple in your house.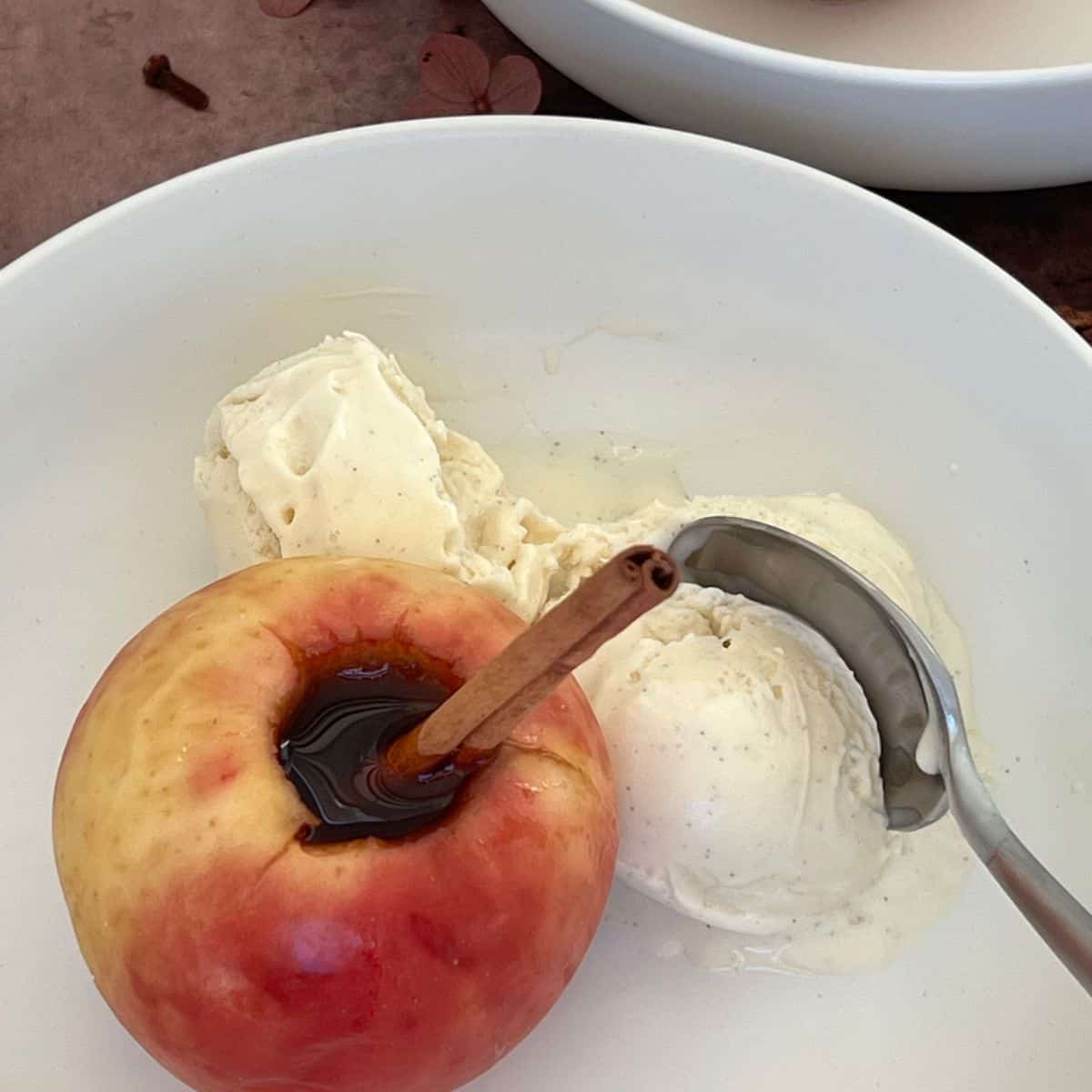 When our son graduated with a Master's degree from a prestigious school in Paris, France we took him after graduation to Portugal prior to his starting work. We spent almost two weeks exploring the northern part of Portugal from Porto to Lisbon. The country is beautiful and if you have a chance to visit, run don't walk!
We spent two nights in the town of Evora, Portugal which is just west of Lisbon. There we had an opportunity to take a cooking class. We made beautiful appetizers, side dishes, chicken for dinner, and of course several desserts. It was an afternoon we will never forget. Sophia, our teacher, had invited us to her home. She grew all sorts of herbs and vegetables outside her door and had a separate kitchen for classes and family celebrations. It was spectacular!
This simple dessert was one of the highlights of our meal. Port, especially a tawny port, is well known in Portugal but is lesser known in the U.S. Apples are abundant in the summertime in Portugal as they are here in the fall. These two flavors are a match made in heaven.
This was inspired by my Apple and Cranberry Torte Recipe and my Sparkling Apple Cider.
Jump to:
What is Tawny Port?
Tawny Port is a fortified wine full of decadent flavors similar to caramel, plum, and raisin. It has a well-balanced sweetness that complements desserts and is the perfect way to end a meal.
There are many varieties of aged ports like 10-year, 20-year, 30-year, and above. The longer the port has had to age, the sweeter you will find that port to be. I have been able to easily find a 20-year Tawny Port but it's been more difficult to find one older in the stores near me. It is a sweet dessert wine that pairs easily with slightly more savory desserts like this apple recipe. If you would like more information about ports, this site offers a terrific explanation.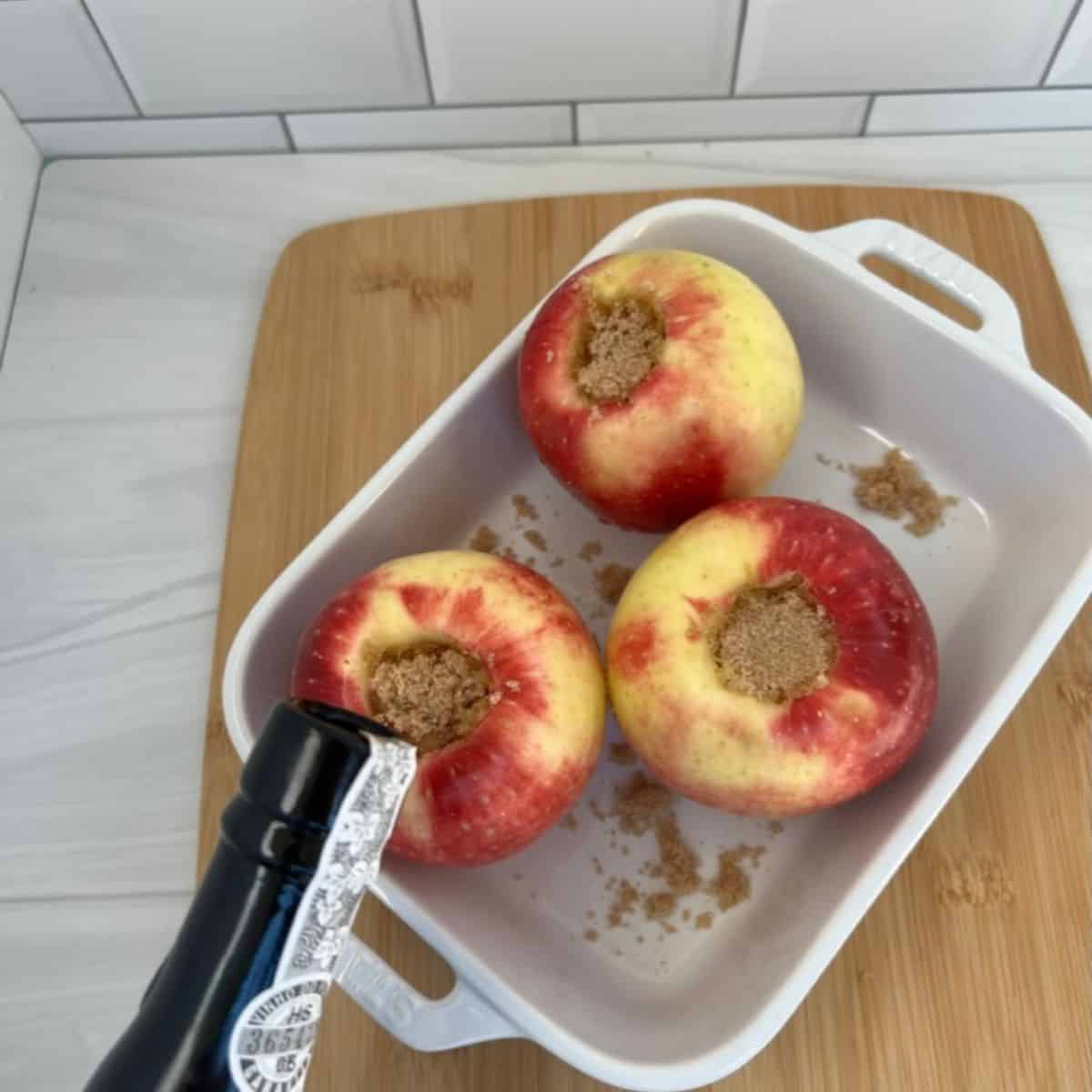 What are the best apples to use in this Baked Apple recipe?
While you can use any apples you have on hand, the best apples for baking are:
Granny Smith apples
Rome Beauty apples
Honeycrisp apples
Braeburn apples
Jonagold and Jonathans apples
Pink Lady apples
Fuji apples
Gala Apples
I always have a lot of apples after I have gone apple picking in the fall and this easy recipe is wonderful during the apple season. The size of the apples won't matter but large apples are easier to work with.
Ingredients for Baked Apples With Cinnamon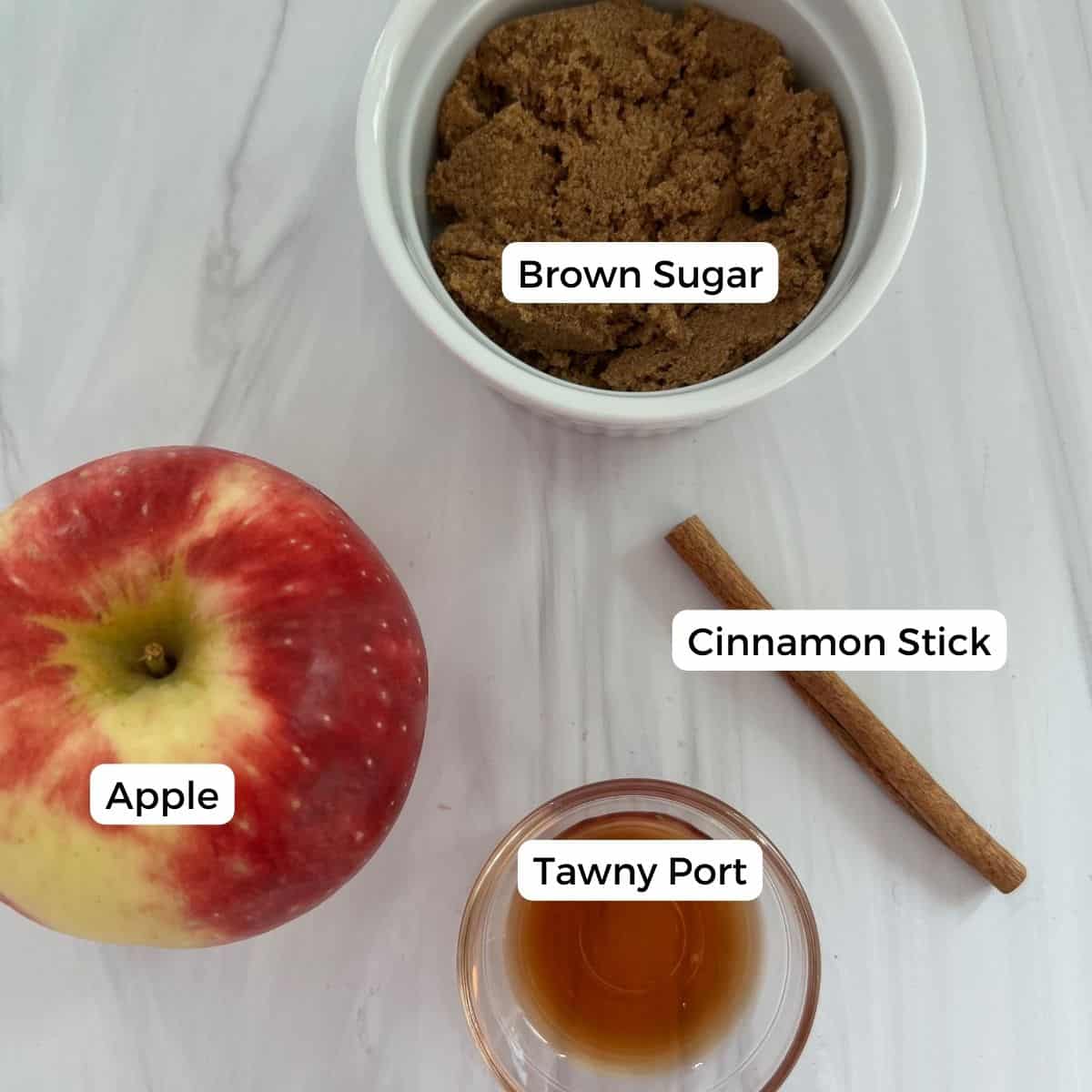 Sweet Apples
Brown sugar
Cinnamon
Tawny Port
See the recipe card for quantities.
How to make this Portuguese dessert recipe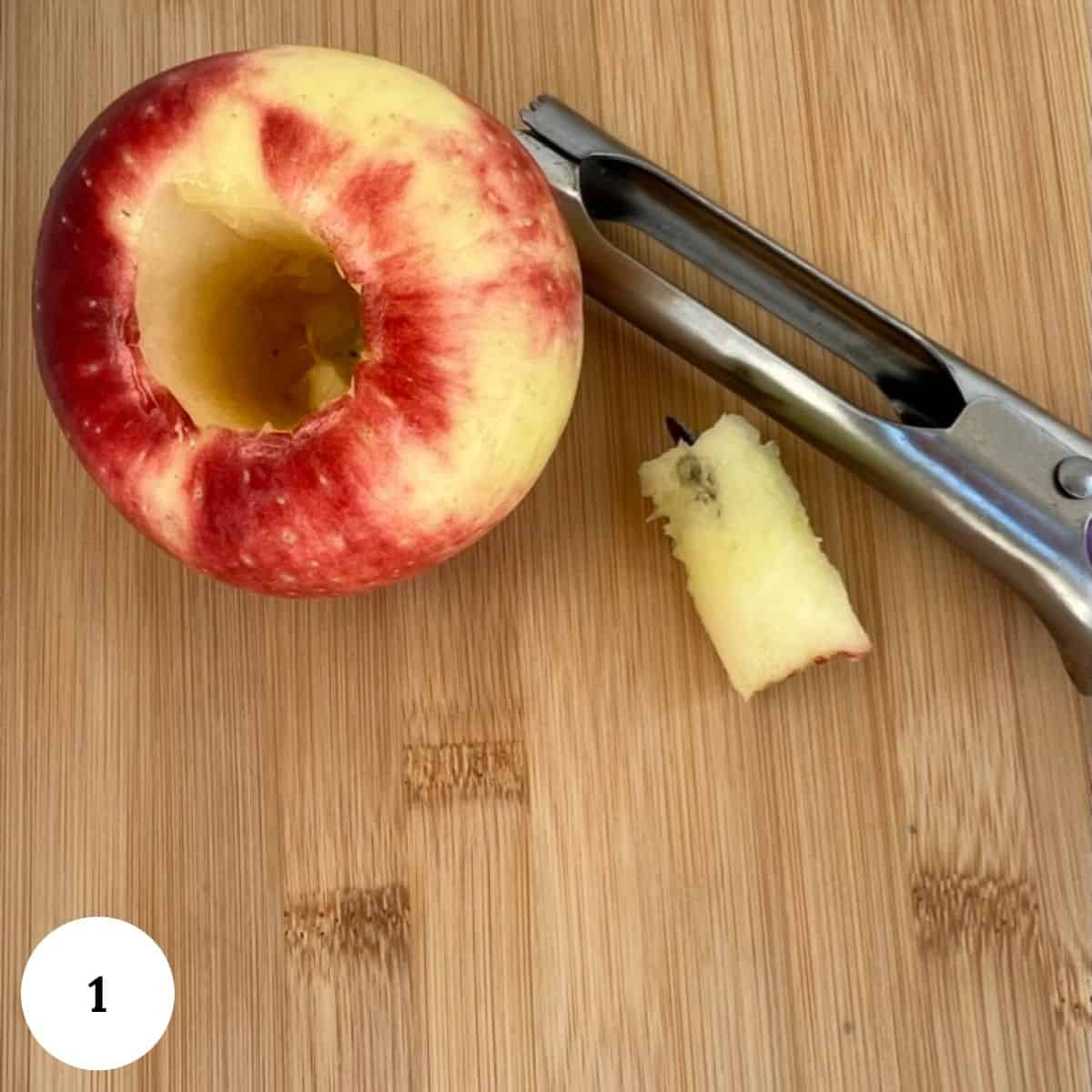 Preheat the oven to 350 degrees Fahrenheit. Using an apple corer, core each of your fresh apples making sure to leave the bottom intact.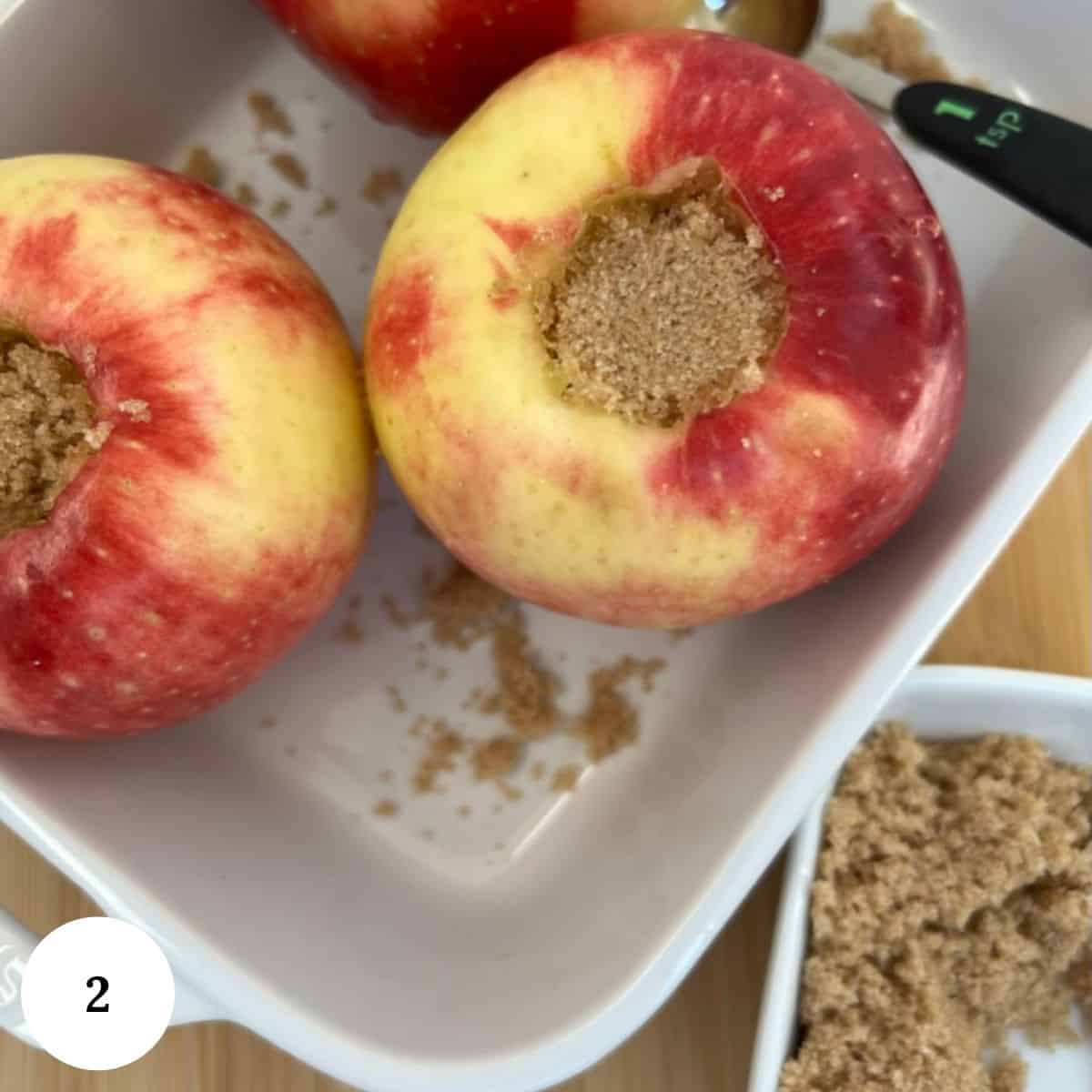 Place the apples into a baking dish. Place the brown sugar into the open core of the apple.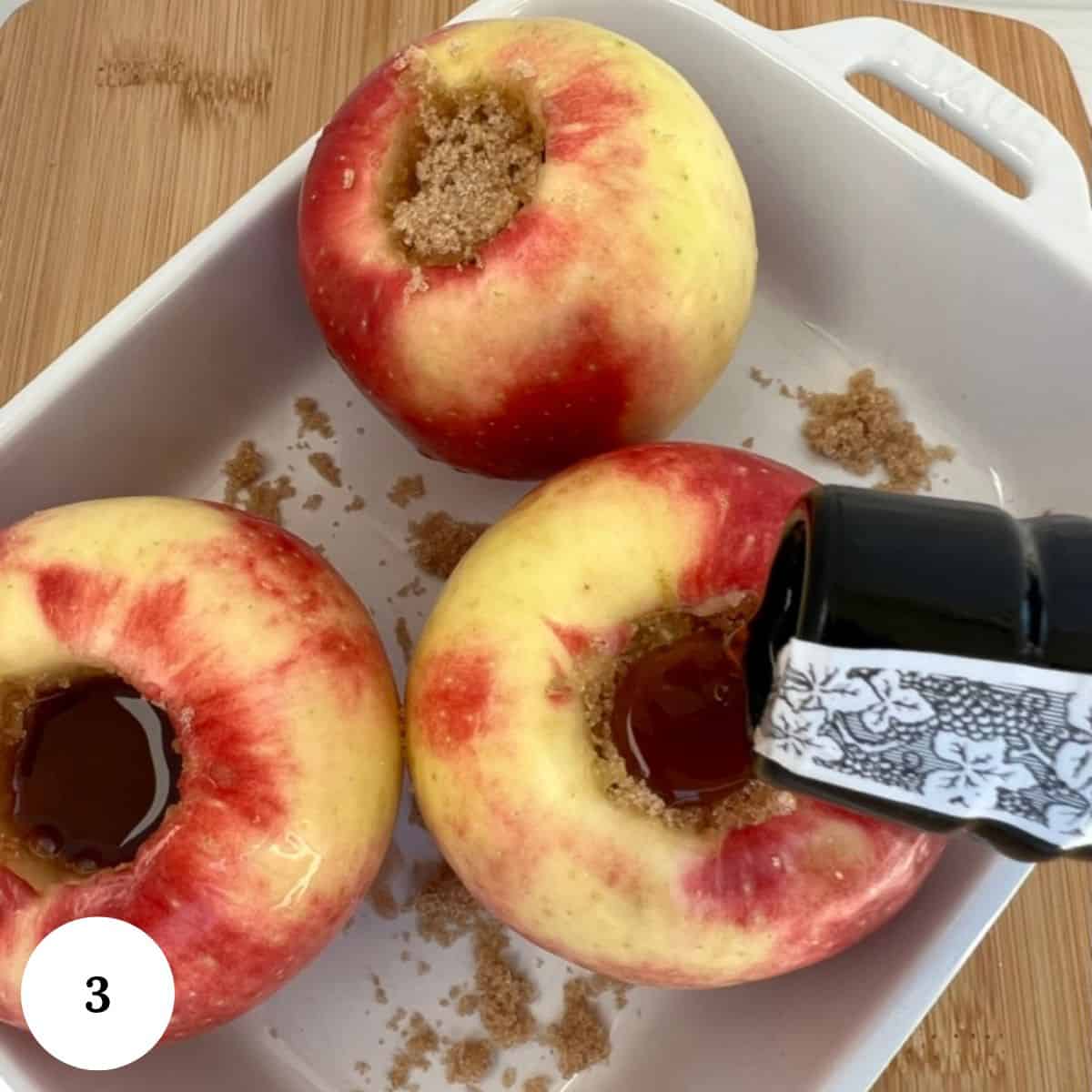 Pour Port wine into the center, filling the core. Add a cinnamon stick to the center.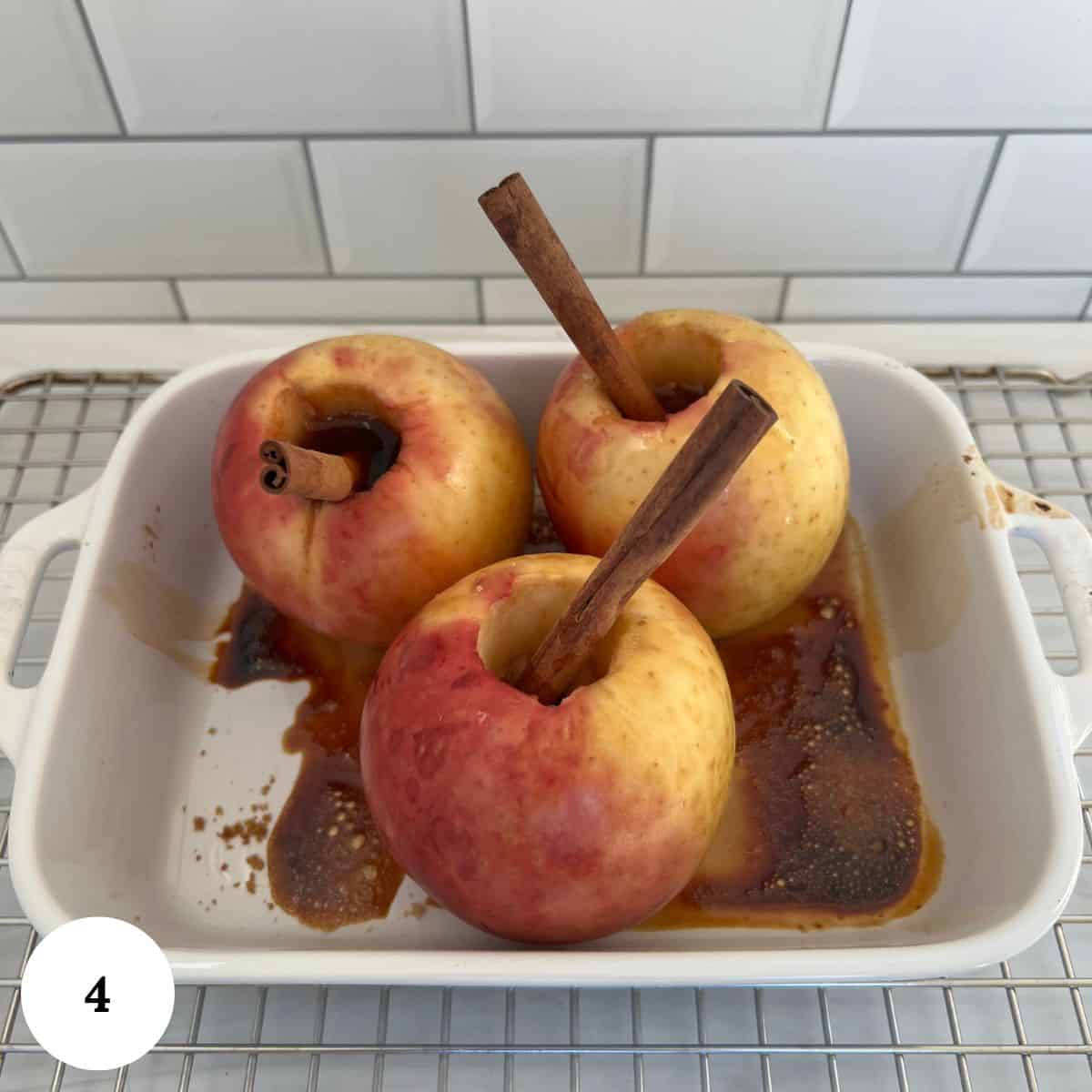 Bake the apples for 30 minutes.
Hint: An apple corer is best suited to prepare the apples. This is the one that I use.
Variations and Substitutions on this recipe for Baked Apples with Cinnamon
Sliced apples - You can easily convert this recipe to baked apple slices with cinnamon recipe. Simply cut up the apples, toss them with ground cinnamon and brown sugar, add the port, and bake. I would also add a touch of flaky sea salt at the end to ramp up the flavor.
Apple skins - not everyone loves the skin of the apple. You can take a sharp paring knife and cut the skin off before baking.
Fruit and Nuts - add some chopped pecans or dried cranberries at the end after you have baked the apples. While this isn't traditional, it is delicious.
Serve - My favorite way to serve these apples is with a scoop of vanilla ice cream. You can also serve these with delicious whipped cream.
Sugar - can you substitute white sugar or coconut sugar for the brown sugar? Yes, but it won't have the caramel flavor that the brown sugar will give this dessert. If you want even more caramel flavor, use dark brown sugar instead of light brown sugar.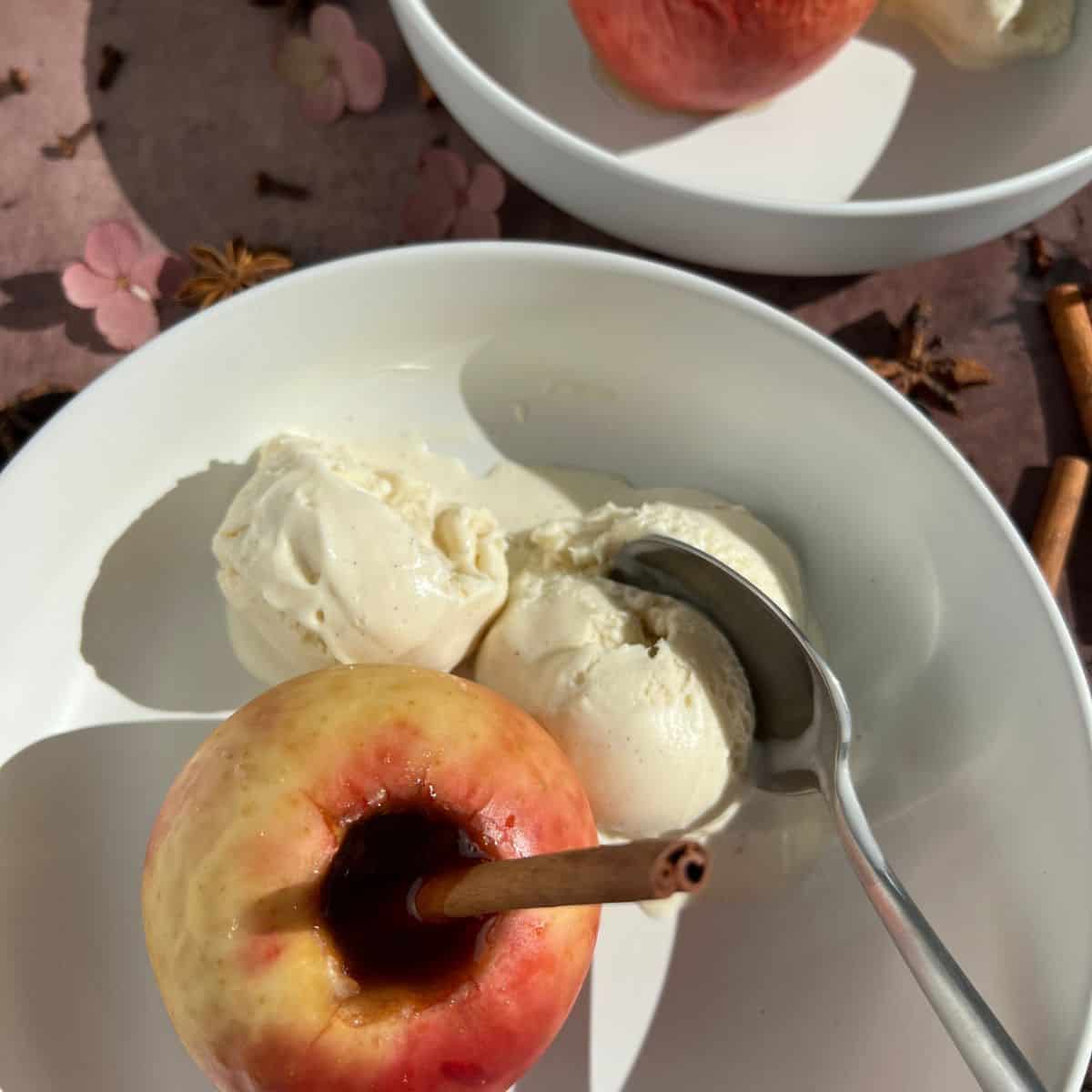 How to Store this Easy Baked Apple Recipe
After baking, let the apples cool slightly on the counter. Place them in an airtight container and store them in the refrigerator. You can warm them in the microwave for 30 seconds at a time and then serve them with whatever you wish.
Pro tip
This Port Baked Apple Recipe can be baked in advance but tastes better when slightly warm. You can also mix a dollop of whipped cream with a little sour cream to cut the sweetness. Leftover apples taste great diced and served with oatmeal.
FAQ's about Traditional Portuguese Baked Apples
How do you core apples without an apple corer? 
Coring is easiest with an apple corer however, a melon baller or sharp small paring knife works great. If you are using a knife, make sure that the knife is smaller than the size of the apple so you can remove the entire core in one go. If you don't have a corer stick with a paring knife and scrape away any parts of the core left behind after the initial cut.
Can you overcook apples? 
Yes. They will fall apart and become mushy if overbaked. 
How do I keep my apple from turning brown? 
Rub the inside flesh of the apple with lemon juice to prevent it from turning brown. 
Related
Looking for other recipes like this? Try these:
Pairing
These are my favorite dishes to serve with [this recipe]: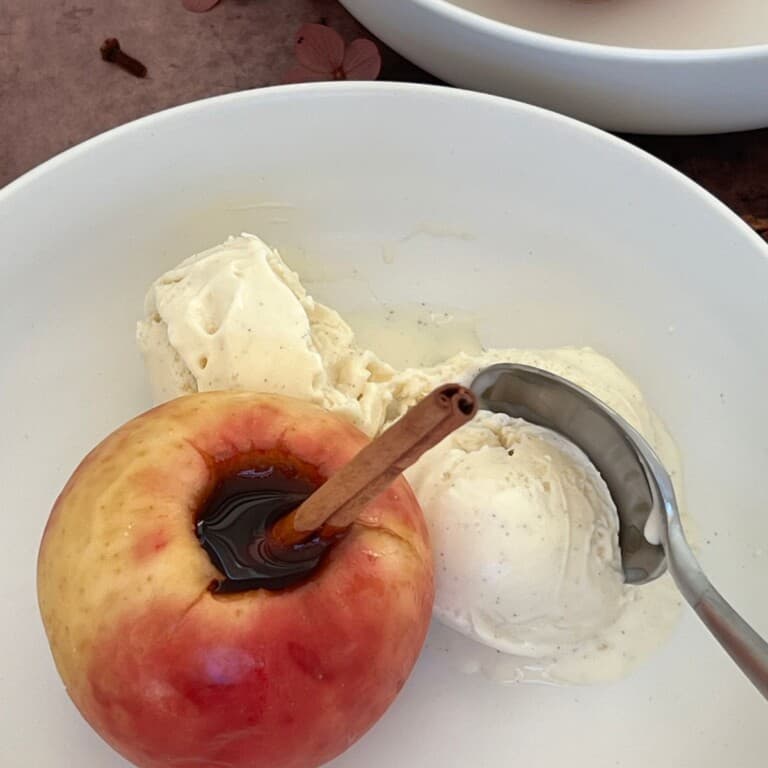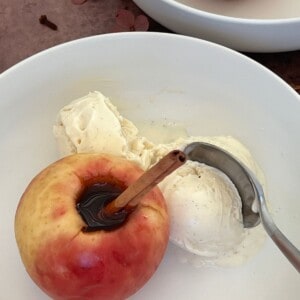 Easy Portuguese Baked Apples With Cinnamon Recipe
If you are looking for a baked cinnamon apple recipe, this Easy Portuguese Baked Apples With Cinnamon Recipe will be one that you make every fall. During the fall season when apples are plentiful, or when you have gone apple picking, this simple recipe will become a staple in your house. 
Print
Pin
Ingredients
4

apples

8

tablespoon

brown sugar

4

cinnamon sticks

4

teaspoon

tawny port

or more if needed
Instructions
Preheat the oven to 350℉.

Wash and core the apples.

Place into a baking dish.

Add 2 tablespoon of brown sugar into the center of the apple.

Add enough tawny port to fill the center.

Add a cinnamon stick into the center.

Place into the oven and bake for 30 mintues.
Notes
Serve the apples in a bowl with a scoop of vanilla ice cream or some whipped cream. Add candied or regular pecans or cranberries to garnish the apple if you prefer. 
Nutrition
Calories:
202
kcal
|
Carbohydrates:
52
g
|
Protein:
1
g
|
Fat:
0.4
g
|
Saturated Fat:
0.1
g
|
Polyunsaturated Fat:
0.1
g
|
Monounsaturated Fat:
0.02
g
|
Sodium:
9
mg
|
Potassium:
246
mg
|
Fiber:
6
g
|
Sugar:
43
g
|
Vitamin A:
109
IU
|
Vitamin C:
9
mg
|
Calcium:
66
mg
|
Iron:
1
mg
Print
Pin
Did you make this recipe?
Be sure to follow @asweetthyme on Instagram and tag @asweetthyme. You can also post a photo of your recipe on our Facebook page! I appreciate you soooo much!
If you are looking for dessert recipes that are baked cinnamon apples, this easy dessert recipe will be an easy and favorite way to use up apples that you have in your home. This recipe has become one of my easy apple recipes that is a go-to recipe for my family. Healthy baked apples that taste like a warm apple pie create this easy baked apples recipe.
Lastly, if you make this recipe be sure to leave a comment and/or give this recipe a rating! Above all, I love to hear from you guys and always do my best to respond to each and every comment. And of course, if you do make this recipe, don't forget to tag me on Instagram! Looking through the photos of recipes you all have made is my favorite!