If you want to kick up the flavor of your poultry dishes, give this Easy Homemade Poultry Seasoning Substitute Recipe a try! A classic blend of spices that pairs perfectly with any type of poultry or even a broader use, all without adding extra salt.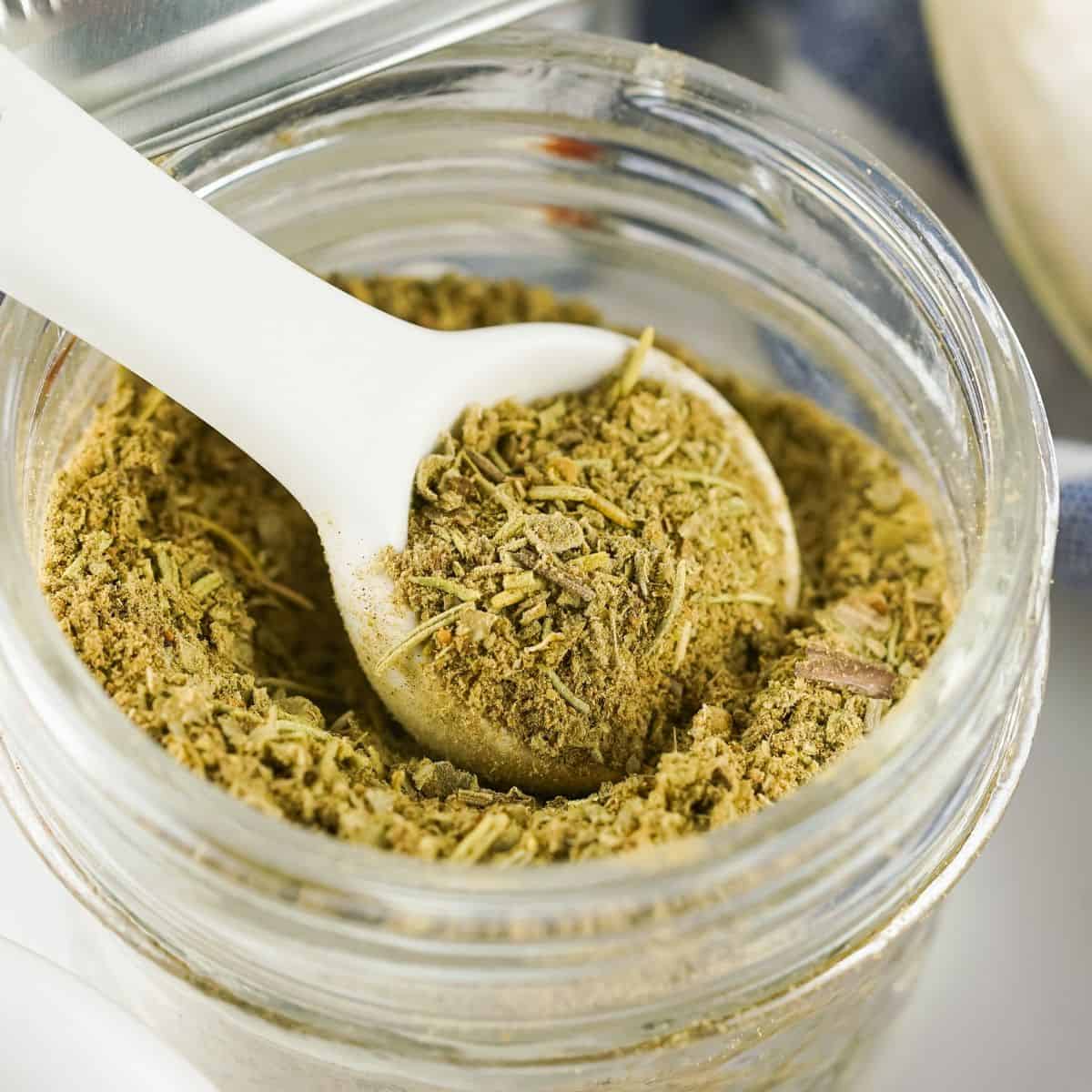 Whether you want to add some extra flavor to your Thanksgiving turkey, or you want your chicken to shine on your serving platter, this seasoning will kick up your meals. You can add it to a simple chicken breast that you serve with salad or use it when you are making a big family dinner; this seasoning helps to add flavor to what can be very boring proteins. Poultry seasoning can be also difficult to find in grocery stores so using a homemade blend is simple and better.
Let's be honest, a chicken or a turkey dish is often only as good as the side dishes and the sauce it might be cooked in. The proteins themselves are not full of flavor but, when cooked right, are juicy and tender, which makes them perfect to take on extra flavors. This seasoning is the perfect accompaniment.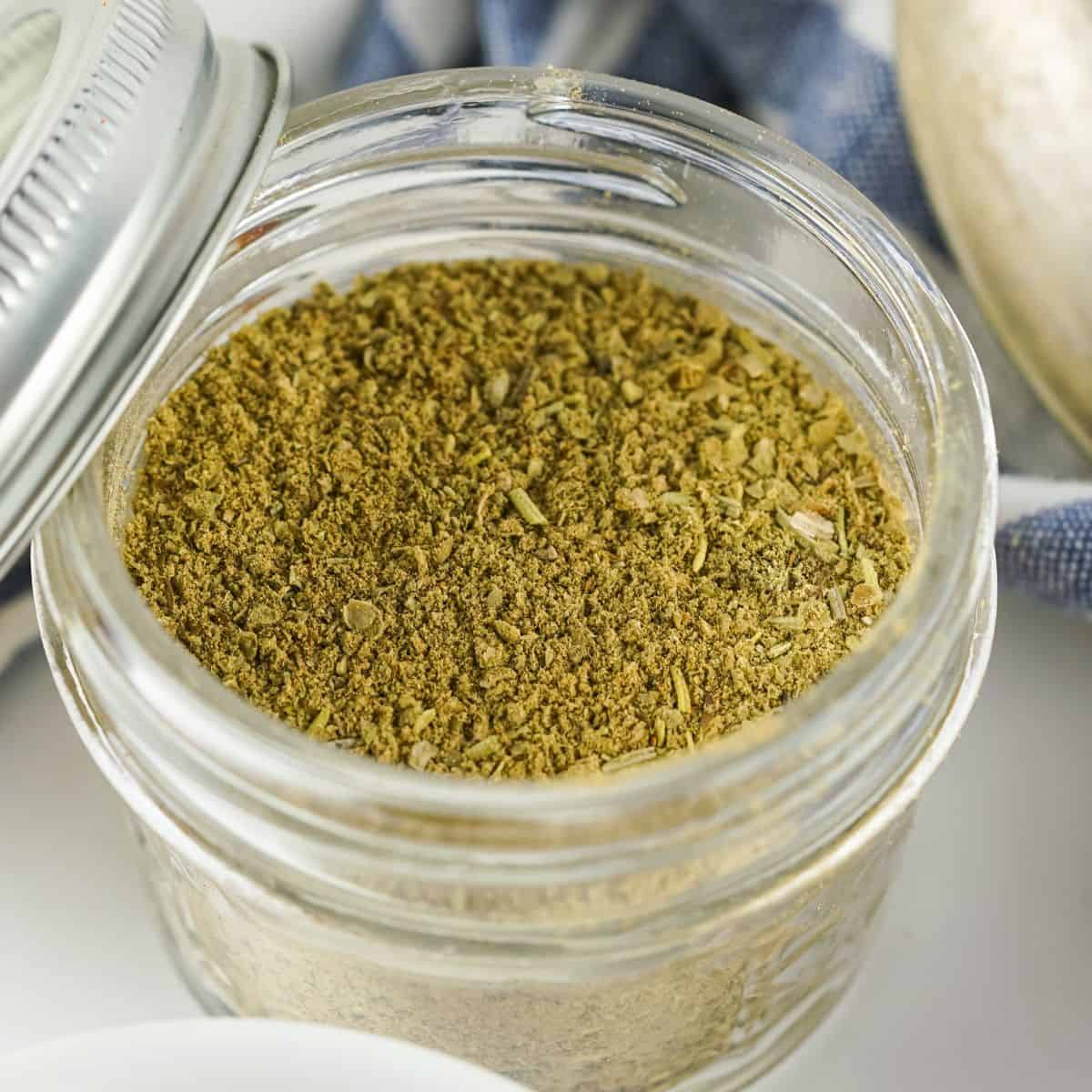 The combination of earthy herbs adds extra depth and is a versatile and easy way to elevate the flavor. I also think the nutmeg is a great addition to the seasoning as it adds an undertone of warmth and balances the earthy flavors well. This seasoning is a "go-to" for me now, and I find it doesn't just work with poultry but is also terrific on pork and lamb. Here is everything you need to know to make this simple poultry seasoning.
I use this blend around Thanksgiving and it reminds me of stuffing and Cornbread!
Jump to:
What is Poultry seasoning?
If you have a recipe that calls for poultry seasoning, your first question may be, "What is poultry seasoning?" This is not an uncommon question since poultry seasoning is not the ingredient, but it is made up of several common spices.
Poultry seasoning is a blend of herbs and spices that is used to flavor chicken, turkey, and other poultry dishes but is also delicious on pork and lamb.
The ingredients in poultry seasoning vary depending on the brand, but most blends include thyme, sage, rosemary, and black pepper. Some also contain marjoram, nutmeg, and cayenne pepper.
By making your own poultry seasoning you will be eliminating other ingredients like salt, which is common in most grocery store blends. The flavors in this recipe are not a strong flavor or an earthy flavor, and they appeal to the majority of people as it has a mild taste.
Ingredients In Poultry Seasoning
I find a lot of seasonings use ground spices as the main ingredients for a poultry seasoning or rub, and while there is nothing wrong with that, I think herbs are underrated. A combination of ground spices and herbs makes for an excellent rub, and using these along with the nutmeg makes a unique flavor combination. These are the key ingredients in a poultry seasoning: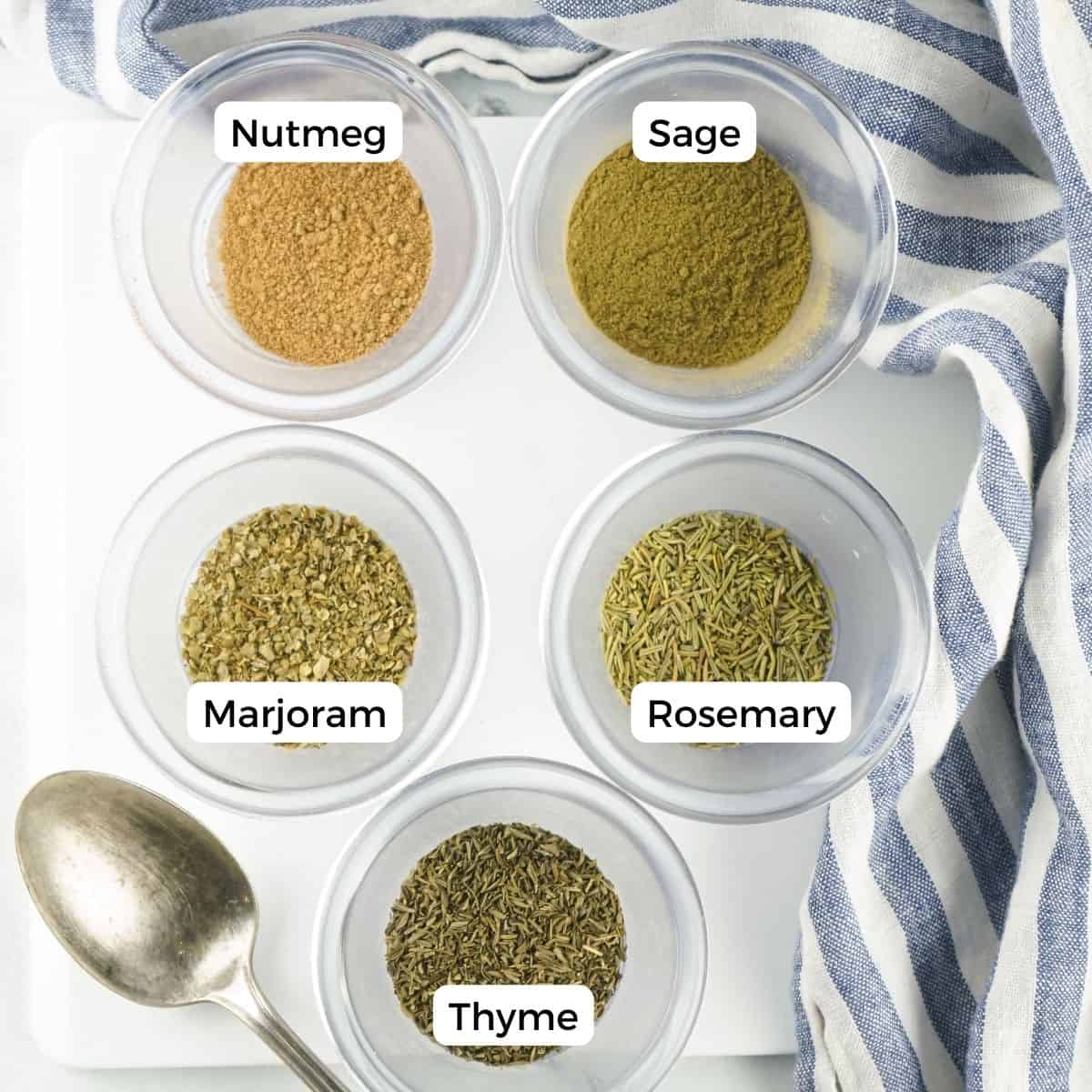 Sage
Thyme
Marjoram
Rosemary
Nutmeg
See the recipe card for quantities.
Instructions For Making Your Own Seasoning Blend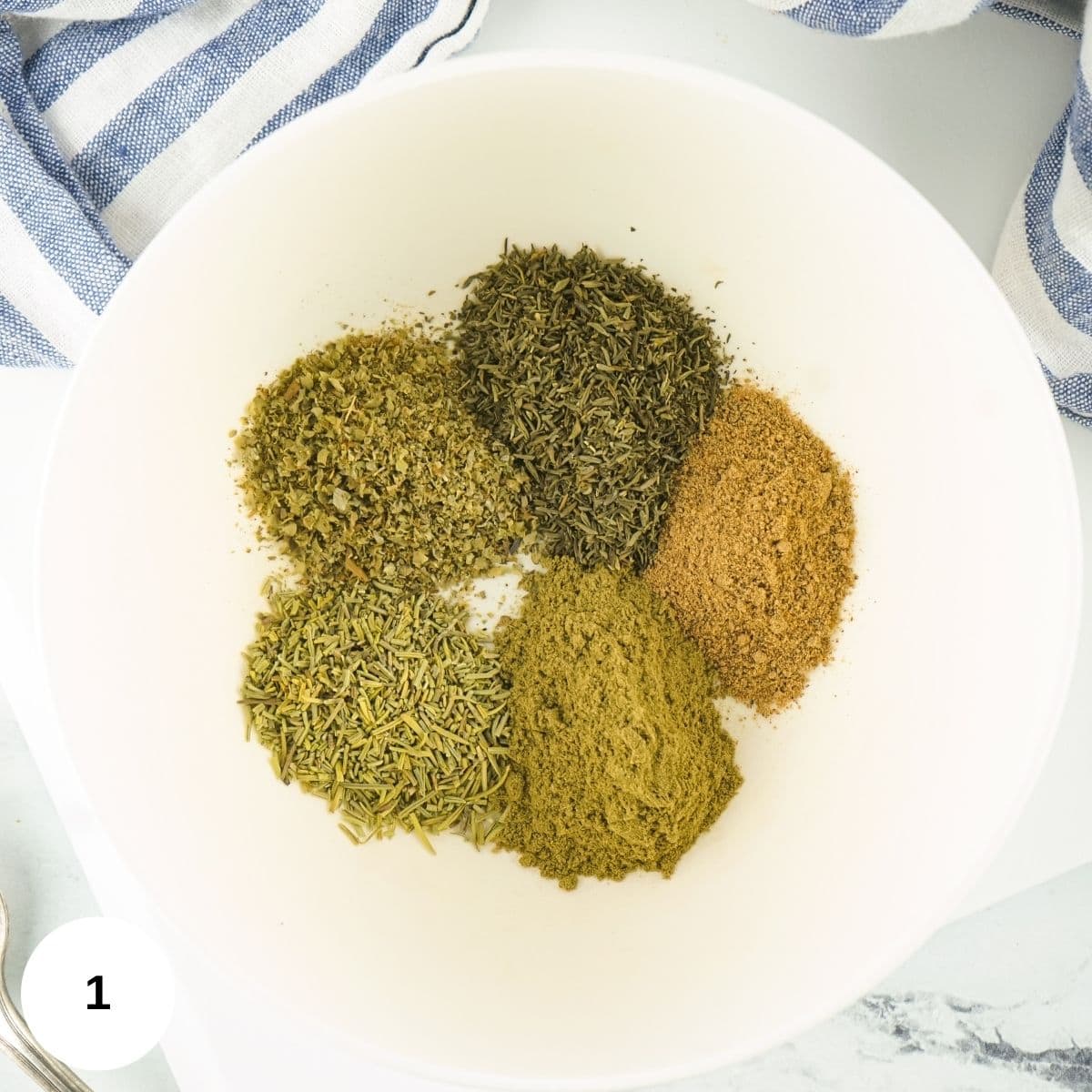 Combine the ingredients. Add all of the ingredients to a small mixing bowl and stir to combine.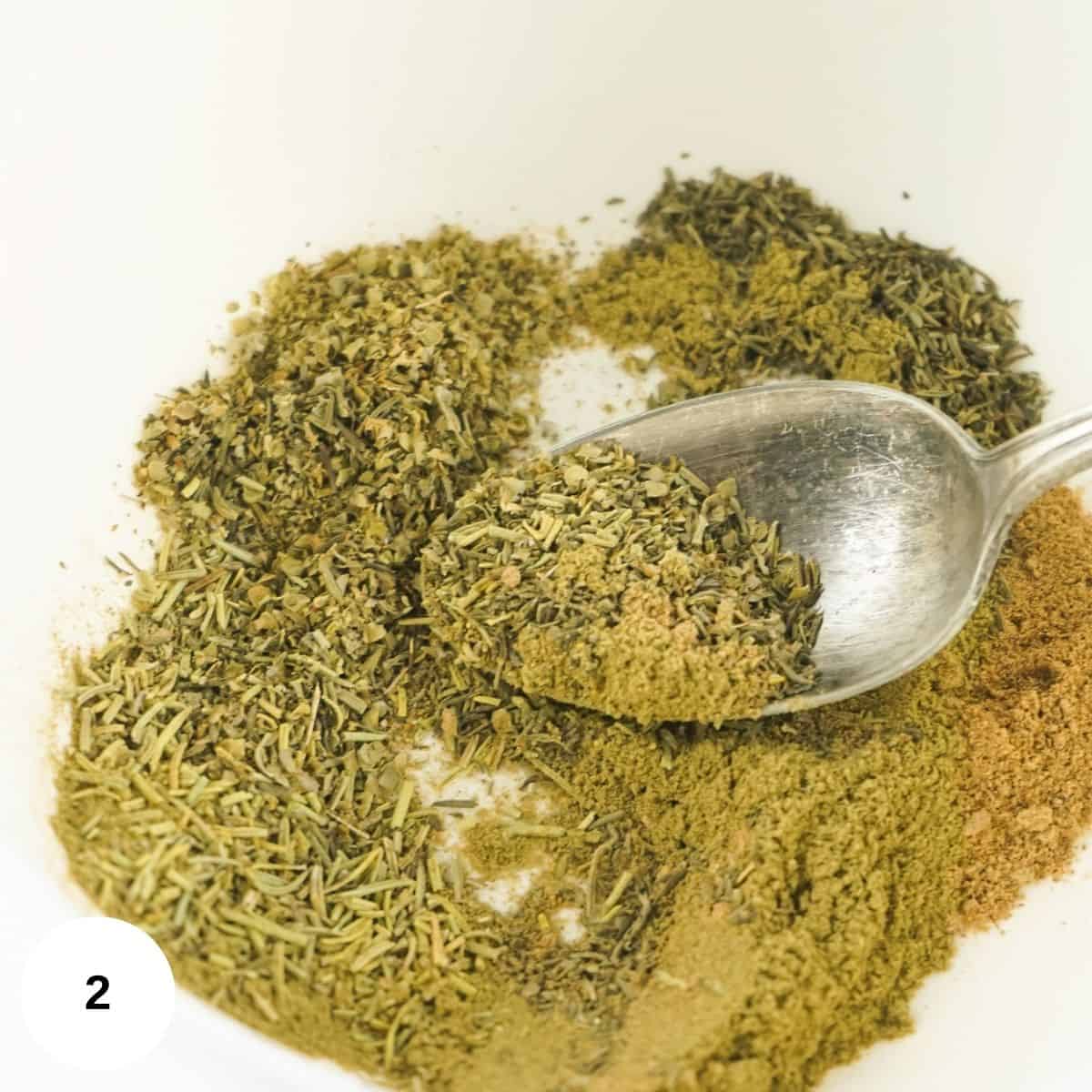 Use immediately or store in a sealed jar or dish in the pantry for up to a month.
Hint: You may have noticed I haven't added any salt or pepper, this is because you will want to add that yourself to taste per dish. The addition of salt and pepper will vary from one dish to the next.
Substitutions Or Variations For A Homemade Poultry Seasoning
Ground spices - You can add other ground spices to this seasoning mix if you wish. Paprika and Allspice would be excellent additions.
Make a spicier version - Create a separate seasoning with the addition of chili flakes, red pepper flakes, or chili powder to add some heat. This is ideal if you are making spicier dishes.
Nutmeg - Don't be afraid of adding the nutmeg, it is a common ingredient in many "ready-made" seasonings and adds a dynamic flavor profile. You can leave it out or substitute it for something like paprika instead. A great substitute for nutmeg would be allspice if you haven't got any to hand when making this poultry seasoning.
Thyme and Sage - Instead of using both of these herbs you could substitute them for Italian seasoning; however, they are the primary ingredients in a traditional poultry seasoning.
Other Ground Herbs To Try Adding To This Blend - Garlic powder, onion powder, celery seed, celery salt, and white pepper.
Try it in other recipes - This seasoning would work amazingly well with roasted vegetables and even firmer fish such as swordfish. It would also make a delicious base for a salad dressing mixed with oil and vinegar.
Herbes de Provence - This is a similar blend, with a similar flavor, if you don't have the above ingredients on hand. These herbs typically include thyme, basil, rosemary, tarragon, savory, marjoram, oregano, and bay leaf. Herbes de Provence is commonly found in Mediterranean and Middle Eastern cuisine, the Provence region of France, and used in French cooking.
Fresh herbs - You can easily use fresh herbs as a substitute for ground herbs. It will be absolutely delicious as a poultry seasoning substitute or as a dry rub before you cook your poultry.
How To Store This Poultry Seasoning Recipe
I like to keep a batch of this seasoning on hand for when I need to add extra flavor, especially on those busy days. It's perfect for meal prep as well.
Make a batch and then store it in an airtight container or glass jar in your spice cabinet. Make sure you label the container with what it is. The seasoning will last around six months when stored in a cool and dark place away from natural sunlight.
Pro Tip For this Spice Mix
You don't need to stick to the measurements suggested above. This is a guideline to help you create the seasoning but once you have made it you can adjust the levels to suit your own personal taste preferences. Add a little extra of one and a little less of the other. Do what works for you!
Frequently Asked Questions About The Best Substitutes For Poultry Seasoning
How do I use the dry rub?
Pat dry the turkey or chicken before adding the seasoning. You will likely need around one tablespoon per pound of chicken or turkey. Sprinkle the dry rub onto the chicken or turkey and then rub it in. While you can cook it immediately it is best to let it marinate for a while. 
Why should I make my own dry rub seasoning? 
The beauty of making your own seasonings is that you can control the flavor. We all have different taste preferences, and making your own means you can adjust the levels to suit. Buying a ready-made seasoning doesn't give you that luxury and the flavors will not be as pronounced.
Can I use the seasoning in other ways?
Sure! Add some seasoning to a little oil and then brush onto the chicken, turkey, or vegetables and let the poultry marinate. You could also add some to a sauce while it is cooking to give some extra flavor. This combination of ground herbs will also be a delicious salad dressing mixed with oil and vinegar. 

Store-bought poultry seasoning is difficult to find unless you are near the holiday season. This spice blend, however, with this mix of herbs, will become one of the essential ingredients that you use for your chicken or poultry all throughout the year. Making your own poultry seasoning blend is super simple to make and this blend is one of the best poultry seasoning substitutes that I have made. Your Thanksgiving turkey recipes will thank you!
Related
Looking for other recipes like this? Try these:
Pairing
These are my favorite dishes to serve that may use this poultry seasoning: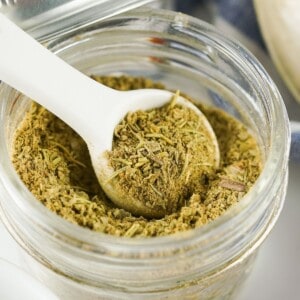 Easy Homemade Poultry Seasoning Substitute Recipe
If you want to kick up the flavor of your poultry dishes, give this Easy Homemade Poultry Seasoning Substitute Recipe a try! A classic blend of spices that pairs perfectly with any type of poultry or even white meat in general, all without adding extra salt. 
Print
Pin
Ingredients
2

tablespoon

dried sage

2

tablespoon

dried thyme

1

tablespoon

dried marjoram

1

tablespoon

dried rosemary

2

teaspoon

ground nutmeg
Instructions
Combine all of the ingredients by mixing them in a bowl.

Store in an airtight container or glass jar in a cool dark place.
Notes
This spice blend will last for up to six months if stored in an airtight container and in a cool dark place. 
Use this on any poultry for a wonderful dry rub, as a base for a salad dressing by mixing it with oil and vinegar, or on your pork chops. 
Nutrition
Calories:
11
kcal
|
Carbohydrates:
2
g
|
Protein:
0.3
g
|
Fat:
0.5
g
|
Saturated Fat:
0.3
g
|
Polyunsaturated Fat:
0.1
g
|
Monounsaturated Fat:
0.1
g
|
Sodium:
1
mg
|
Potassium:
29
mg
|
Fiber:
1
g
|
Sugar:
0.2
g
|
Vitamin A:
128
IU
|
Vitamin C:
1
mg
|
Calcium:
48
mg
|
Iron:
2
mg
Print
Pin
Did you make this recipe?
Be sure to follow @asweetthyme on Instagram and tag @asweetthyme. You can also post a photo of your recipe on our Facebook page! I appreciate you soooo much!