Flank steak is absolutely delicious when marinated in Cuban seasonings and then thrown on the grill. This recipe for Grilled Cuban Flank Steak with Sliced Mango is the perfect easy dinner in the summer and perfect for a low-carb lifestyle.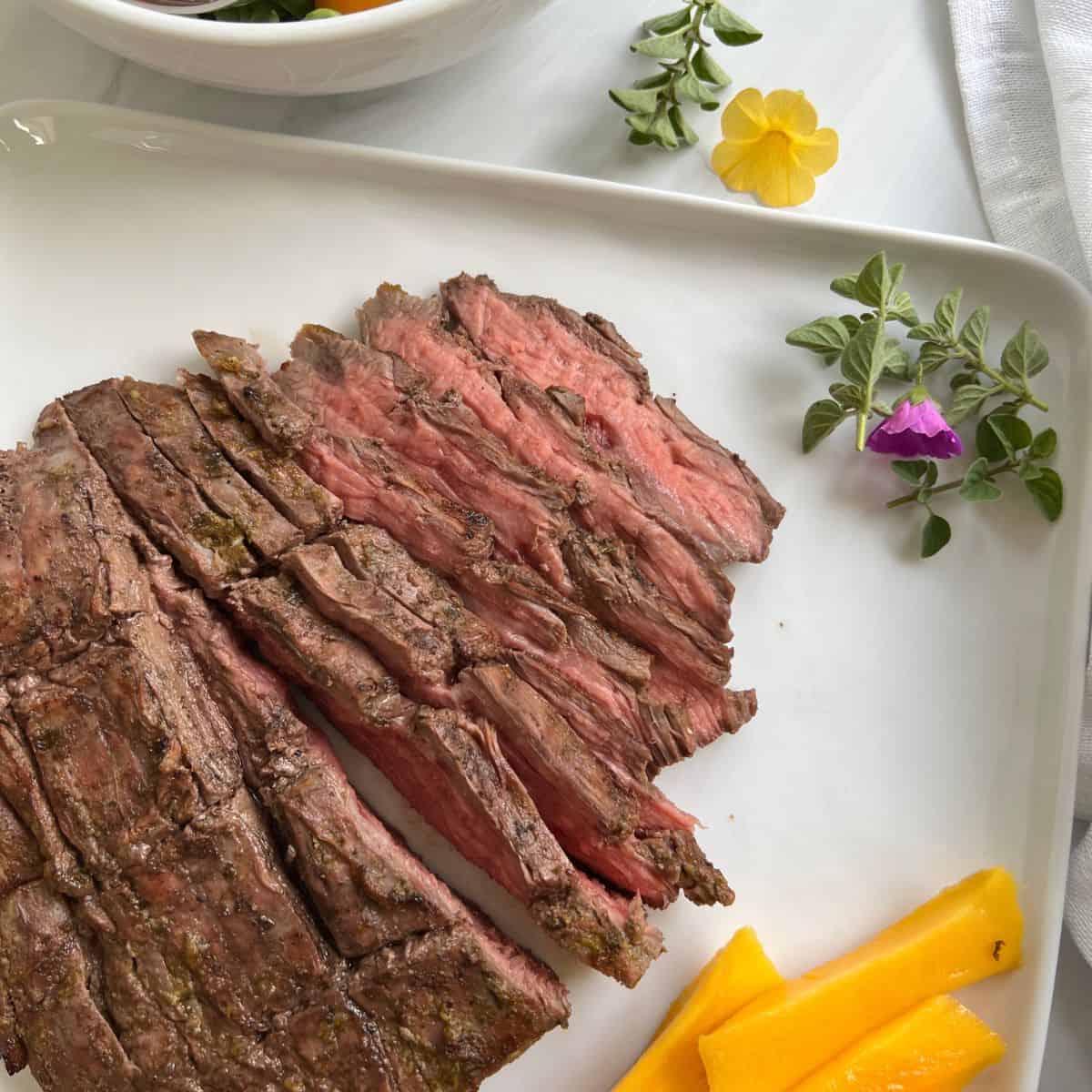 My husband had the good fortune to be able to retire from his job at an early age. We both love to travel and have traveled all over the world but one of our top destinations has been Cuba. We fell in love with the Cuban culture, the Cuban cuisine, Cuban flavors, and the people, who are hospitable and lovely.
The majority of our dinners revolved around tender steak or beef. While we had a lot of Ropa Vieja, which is shredded beef, we also had a lot of flank steak spiced with citrus juice and grilled over an open flame until fall-apart tender.
This was taken when we were in Cuba. Many years ago and 10+ pounds heavier, lol.
After we came home, I wanted to re-create a flank steak marinade that was similar to what we ate. Cuban food is not particularly spicy but it is extremely flavorful! They use what they have on hand or what they can grow themselves. This is the best flank steak marinade I have created.
This recipe was inspired by a recipe that I saw in Food & Wine and has quickly become the best flank steak recipe and one that I make often. This easy flank steak recipe pairs well with my grilled portobello mushroom recipe! This has quickly become my favorite way of making any flank steak recipe.
Jump to:
What ingredients do you need for this flank steak on the grill recipe?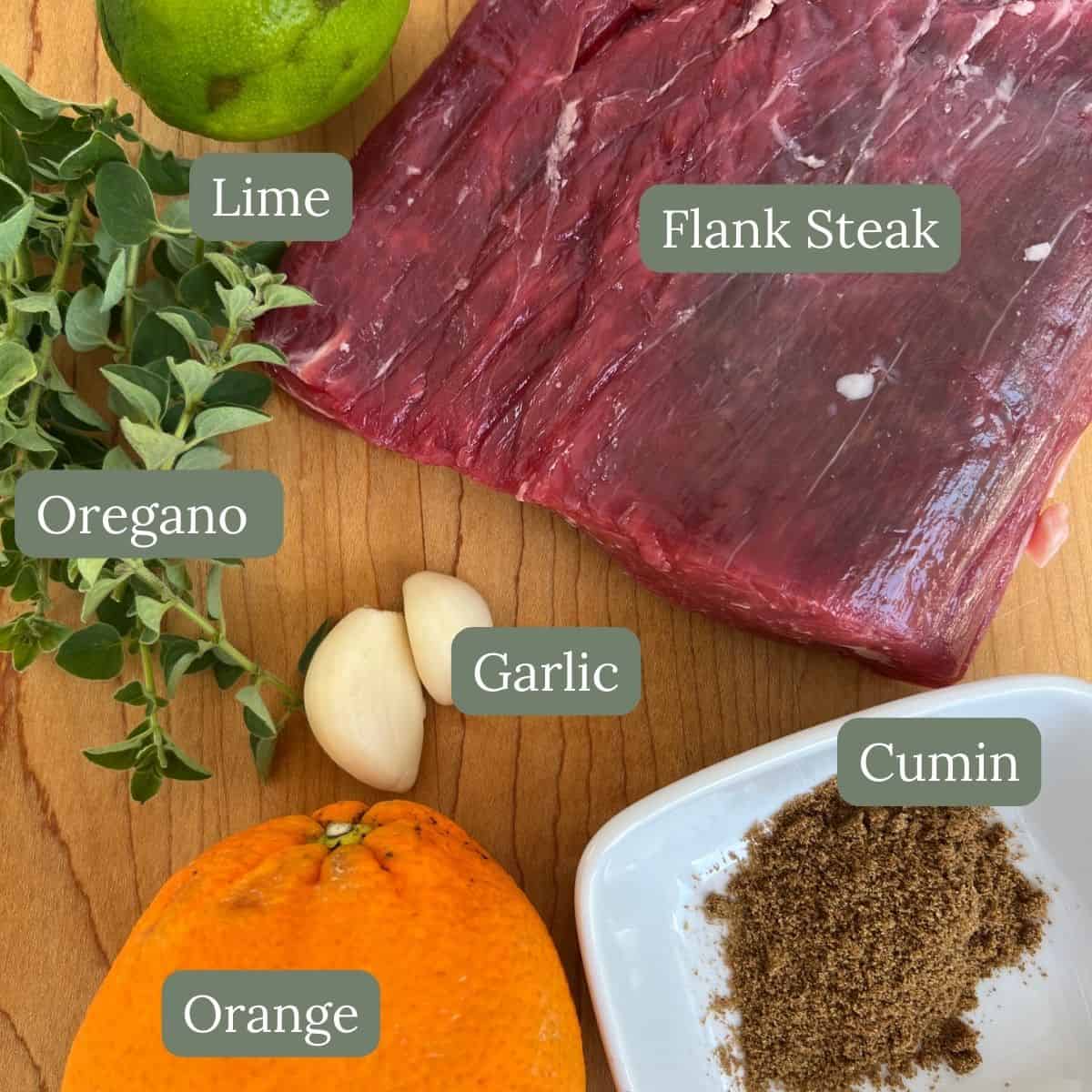 Flank steak
grated lime zest
fresh lime juice
Orange zest
Fresh orange juice
extra-virgin olive oil
garlic cloves
oregano leaves
ground cumin
salt
black pepper
mango slices
lime wedge
See the recipe card for quantities.
Skirt steak vs flank steak?
Skirt steak and flank steak are both popular cuts of beef, especially for grilling. They are known for their robust flavor and versatility, however, they come from different parts of the animal and are different in taste and texture.
Skirt Steak: Skirt steak comes from the diaphragm muscle of the cow. This muscle is located between the chest and the abdomen, near the ribs. Because this muscle is used quite a bit by the cow, skirt steak tends to be quite flavorful but can also be tougher if not cooked properly.
Flank Steak: Flank steak is cut from the abdominal muscles of the cow, specifically the flank area which also gets a fair amount of use and can result in a slightly tougher texture which is why marinating this cut of meat makes it more flavorful and tender. It is a lean cut of beef.
How to make a Grilled Cuban Flank Steak:
In a blender or food processor, combine the lime zest, fresh lime juice, 2 T of olive oil, oregano, cumin, 1/14 teaspoons, and ½ t pepper. Blend until smooth.
In a glass container or ceramic baking dish, pour the marinade, reserving a ¼ cup, over the steak and turn to coat. Let stand for a minimum of 15 minutes or cover and refrigerate for up to 24 hours.
Heat a charcoal grill, gas grill, or grill pan to medium-high heat and oil the grate. Remove the steak from the marinade and let the excess drip off.
Season with salt and pepper.
Place steak on the grill and cook, turning once, until lightly charred and an instant-read thermometer inserted into the thickest part registers 135 degrees, 10-15 minutes. 
Transfer to a carving board and let rest for 4-5 minutes.
Thinly slice the meat against the grain and transfer to a platter
Serve with sliced mango and the reserved marinade.
Hint: Make sure you set some of the marinade aside to use on the steak prior to eating it!
Substitutions or Variations for this Cuban steak recipe
1. Salad - Leftover grilled flank steak makes a terrific flank steak salad! Throw it on some lettuce with some tomatoes, onions, cucumbers, and a lemon or citrus dressing and you will have an easy lunch the next day.
2. Room Temperature - This flank steak can be made in advance and I have served at room temperature.
3. White rice - This is a delicious entree served with white rice. I even like to add lime and cilantro to my rice to make it taste even better!
4. Garlic and oregano - I have used garlic powder or dried oregano in this recipe when I didn't have fresh on hand.
5. Grill - You do not need to use a charcoal or gas grill to make flank steak. You can use a large skillet or sauté pan - just make sure to use a good cooking spray like this one. Cook this over medium high heat.
6. Marinade - This marinade also doubles as a wonderful salad dressing! Make an extra batch and use it on salads, chicken, and fish!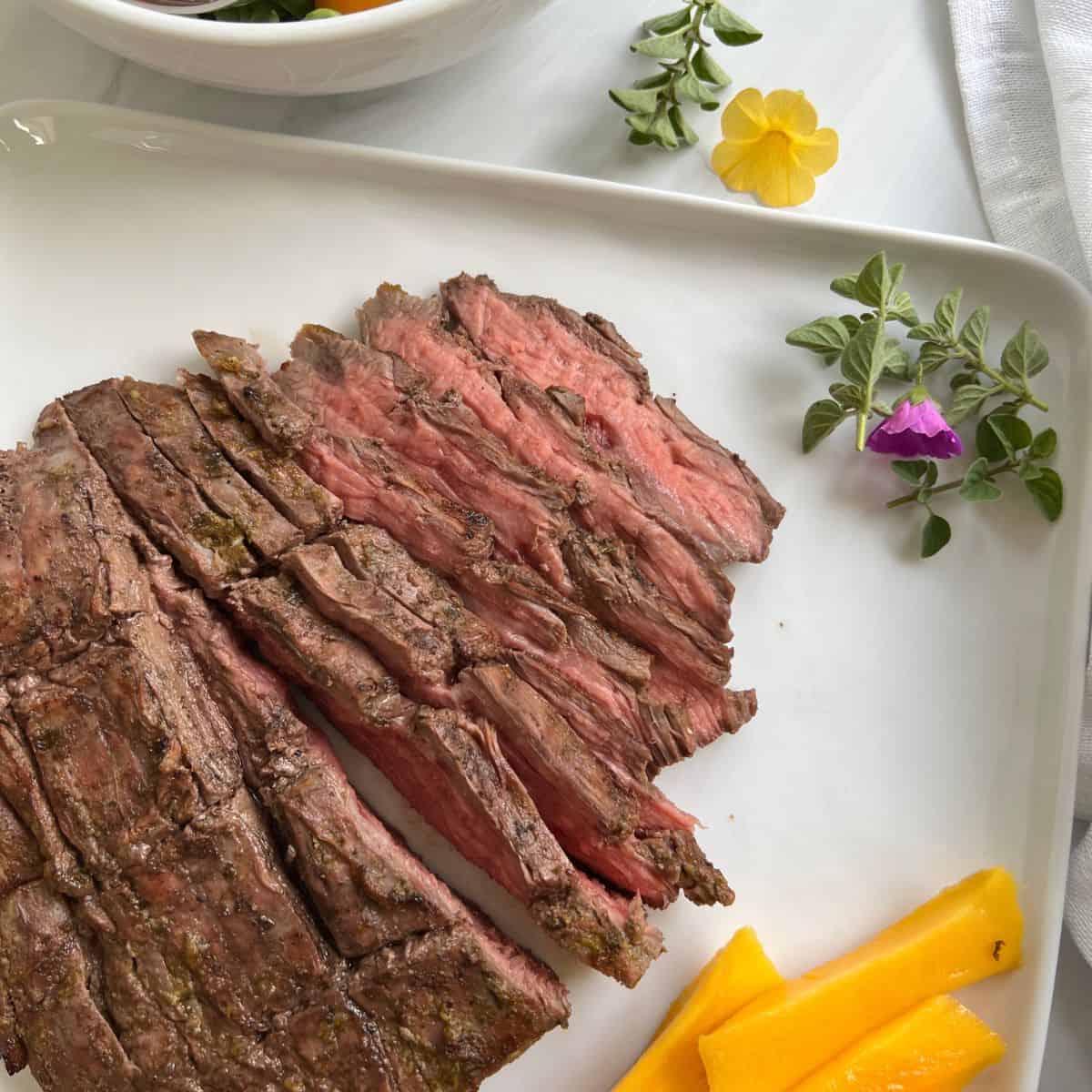 Storage
Store leftovers in an airtight container for up to three days. If storing only the flank steak marinade, store it in an airtight container for up to a week.
Top tip
Make extra marinade! It's delicious on other proteins or even salad!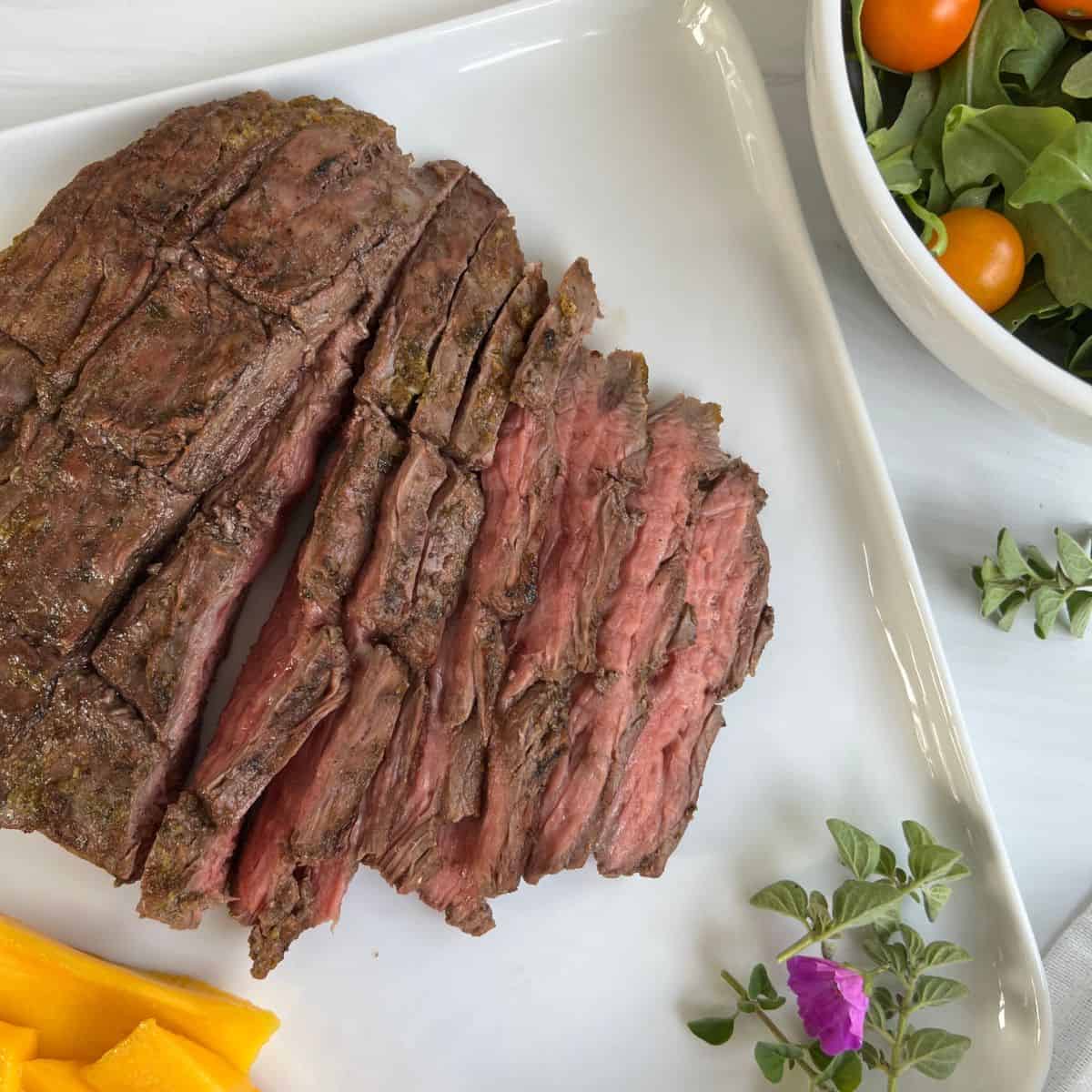 FAQ
Can you cook this without an outdoor grill?
If you don't have an outdoor grill, you can easily cook these beef flank steaks on your stovetop using medium-high heat. Use a grill pan or George Forman grill just as easily as a saute' pan or skillet.
Can you use a different cut of meat in this recipe?
Yes! If I can't find a good flank steak, skirt steak works well as a replacement.
Why is my flank steak tough?
Because flank steak is a lean cut of meat, it can be tough if you do not properly prepare it or slice it correctly. Marinating this cut of meat will help tenderize the steak.
Is it better to marinate or dry rub flank steak?
While there isn't a lot of difference in the end result on the steak, however, both will tenderize the flank steak. I tend to like marinades over dry rubs as I repurpose the marinades for other proteins or as a salad dressing.
Related
Looking for other recipes like this? Try these:
Pairing
These are my favorite dishes to serve with [this recipe]: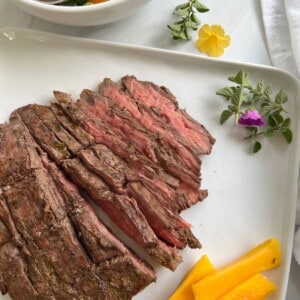 Grilled Cuban Flank Steak Recipe with Sliced Mango
A Cuban inspired beef flank steak recipe that has terrific flavor and makes wonderful leftovers!
Print
Pin
Ingredients
1 ½

limes

zested and juiced

1

orange

zested and juiced

¼

cup

extra-virgin olive oil

2

garlic cloves

1 ½

teaspoon

fresh oregano

1 ½

teaspoon

ground cumin

Kosher salt

black pepper

1 ½

lbs

flank steak

2

mangoes

ripe, firm, peeled, pitted, and sliced

lime wedge

for serving
Instructions
In a blender, combine the zest and juice of the lime and the orange with the 2 garlic cloves, oil, oregano, cumin, 1 teaspoon salt, and ½ teapsoon pepper.

Score the flank steak with a few vertical cuts.

Place the flank steak either in a large plastic bag or glass baking dish along with all but ¼ cup of the marinade.

Marinate for 15 minutes or refrigerate and marinate up to 24 hours.

Light a charcoal or gas grill and make sure to oil the grate.

Remove the steak and shake off the excess marinade.

Season with salt and pepper on both sides.

Turn once and grill until lightly charred and an instant-read thermometer registers 135°, approximately 10-15 minutes.

Place the steak on a carving board and let sit for 5-10 minutes.

Slice the steak thinly against the grain and transfer to a platter.

Serve with the mango slices, lime wedge, and reserved marinade.
Notes
Make sure to set aside extra marinade for serving! 
Nutrition
Calories:
444
kcal
|
Carbohydrates:
23
g
|
Protein:
38
g
|
Fat:
23
g
|
Saturated Fat:
6
g
|
Polyunsaturated Fat:
2
g
|
Monounsaturated Fat:
13
g
|
Cholesterol:
102
mg
|
Sodium:
94
mg
|
Potassium:
868
mg
|
Fiber:
4
g
|
Sugar:
18
g
|
Vitamin A:
1229
IU
|
Vitamin C:
63
mg
|
Calcium:
90
mg
|
Iron:
4
mg
Print
Pin
Did you make this recipe?
Be sure to follow @asweetthyme on Instagram and tag @asweetthyme. You can also post a photo of your recipe on our Facebook page! I appreciate you soooo much!