These Easy Homemade Gluten-Free Pumpkin Pancakes are something that will transform the start of your day. Super tasty, simple to make, and perfect when you want to make something ahead for busy mornings during pumpkin season. The whole family is going to love them and they will be a fall flavor on repeat when you want pumpkin recipes.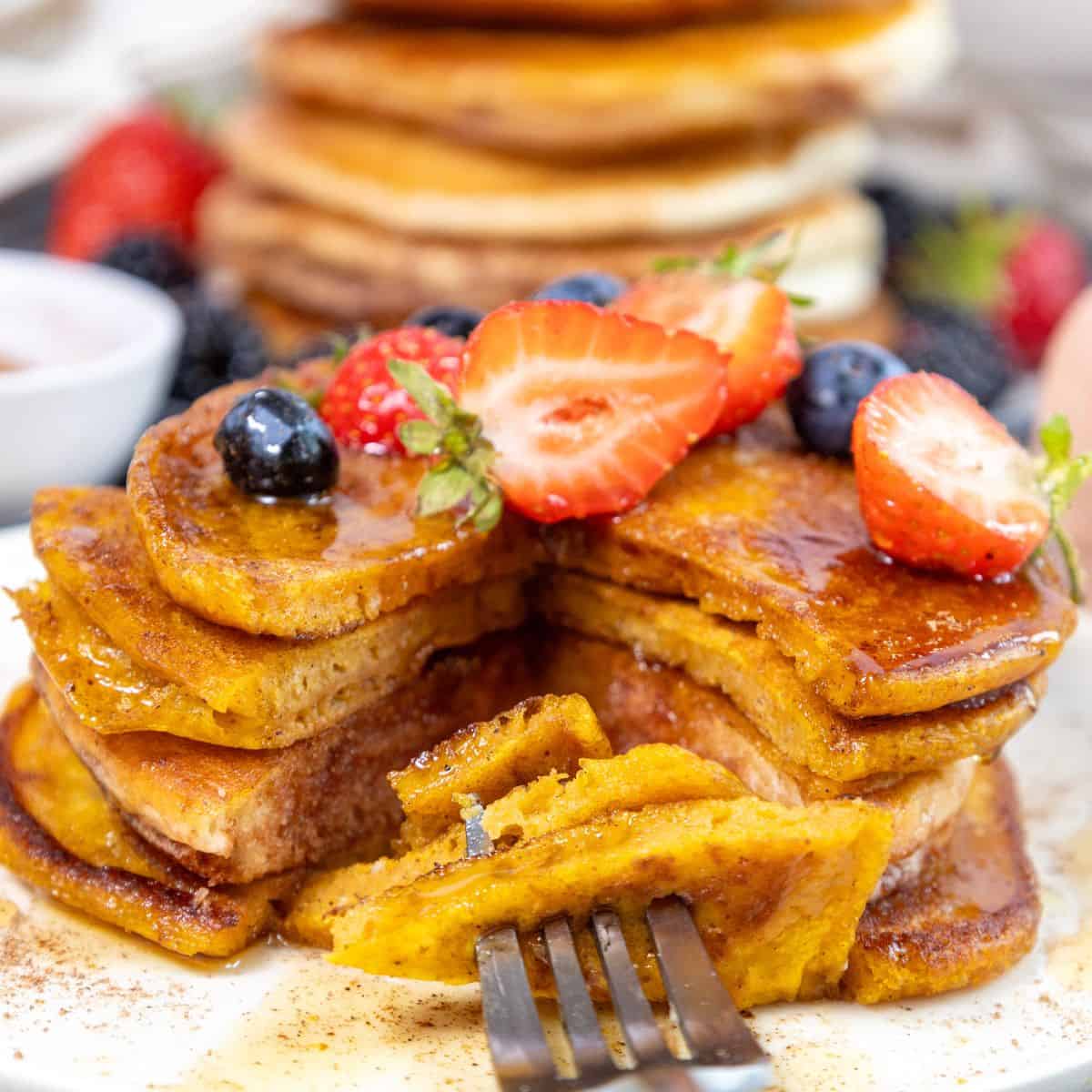 Pumpkin is something often associated with the fall and these fluffy pumpkin pancakes are going to be a wonderful breakfast alternative. I love how simple they are to make, and how so many of the ingredients are either easy to get hold of or are in the pantry already. A stack of these perfect pumpkin pancakes is not only a great breakfast option but they could also be a great alternative as a dessert.
You can top a stack of these pancakes with some fresh fruit, a drizzle of maple syrup, chocolate chips, or a pat of butter. I like them sprinkled with powdered sugar as well. These pancakes feel pretty special, so you could even plan to make them for a Thanksgiving or Christmas breakfast. You have to try them!
This was inspired by my French Toast recipe on this site and pairs well with an amazing fruit salad.
Jump to:
What You Will Need For These Easy Pumpkin Pancakes
With less than ten ingredients needed, these pantry staples along with some warming spices and pumpkin puree will make the most delicious fluffy pancakes.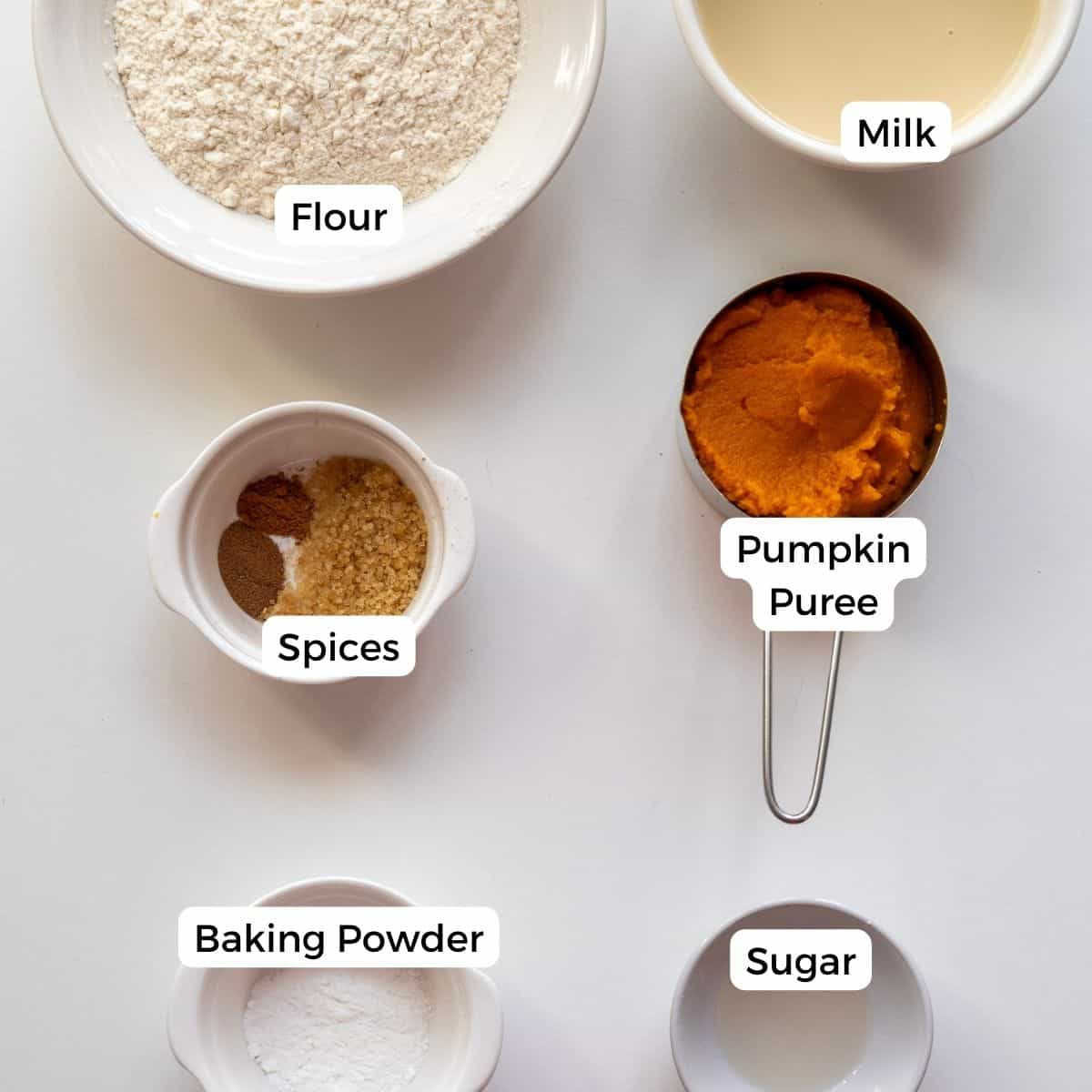 All-purpose gluten-free flour
Milk or almond milk
Baking powder
Pumpkin puree
Cinnamon
Nutmeg
Vanilla extract
Cane sugar
Cooking spray or Olive oil
Optional:
Fruit
Maple syrup
Chocolate chips
Powdered sugar
See the recipe card for quantities.
How To Make These Healthy Pumpkin Pancakes Recipe
Starting with your dry ingredients, add the flour, baking powder, sugar, nutmeg, and cinnamon to a large mixing bowl. Stir to combine everything.
Add the milk, vanilla, and canned pumpkin puree. Using a whisk or an electric mixer, combine the mixture for about 2-3 minutes until all ingredients are blended.
Lightly spray a pan or electric griddle with non-stick cooking spray, melted butter, or brush it with olive oil and pour in the batter to make medium-sized pancakes. You will want them to be about 2 inches in diameter.
Cook the first side until golden brown and the edges of the pancakes do not look wet, then flip, and cook until light brown underneath. Top with toppings of your choice.
Hint: It might be tempting to flip your pumpkin pancakes too soon but resist the urge. Make sure you leave those pancakes cooking as it will help them get aerated and delicious.
Substitutions and Variations for Pumpkin Pancakes That are Gluten-Free
Make it vegan - You can make these pancakes dairy-free and suitable for people who follow a plant-based diet. Just use your favorite plant-based milk or water.
Non-Gluten-Free - These pancakes do not need to be made suitable for people who have a gluten intolerance. Just substitute the gluten-free all-purpose flour for regular all-purpose flour.
Make it sweeter - Add some chocolate chips to the pancake mix for extra sweetness. Chocolate is always delicious, especially with pumpkin.
Topping - You can add fruit, whipped cream, a scoop of ice cream, maple syrup, or whatever else you want.
Pumpkin Pie Spice - Substitute a pre-made pumpkin pie spice for the spices in this pumpkin pancake recipe.
Pumpkin - If you prefer to make your own homemade pumpkin puree it will be delicious in this recipe. I personally don't have time and opt for a 100% pumpkin puree in a can.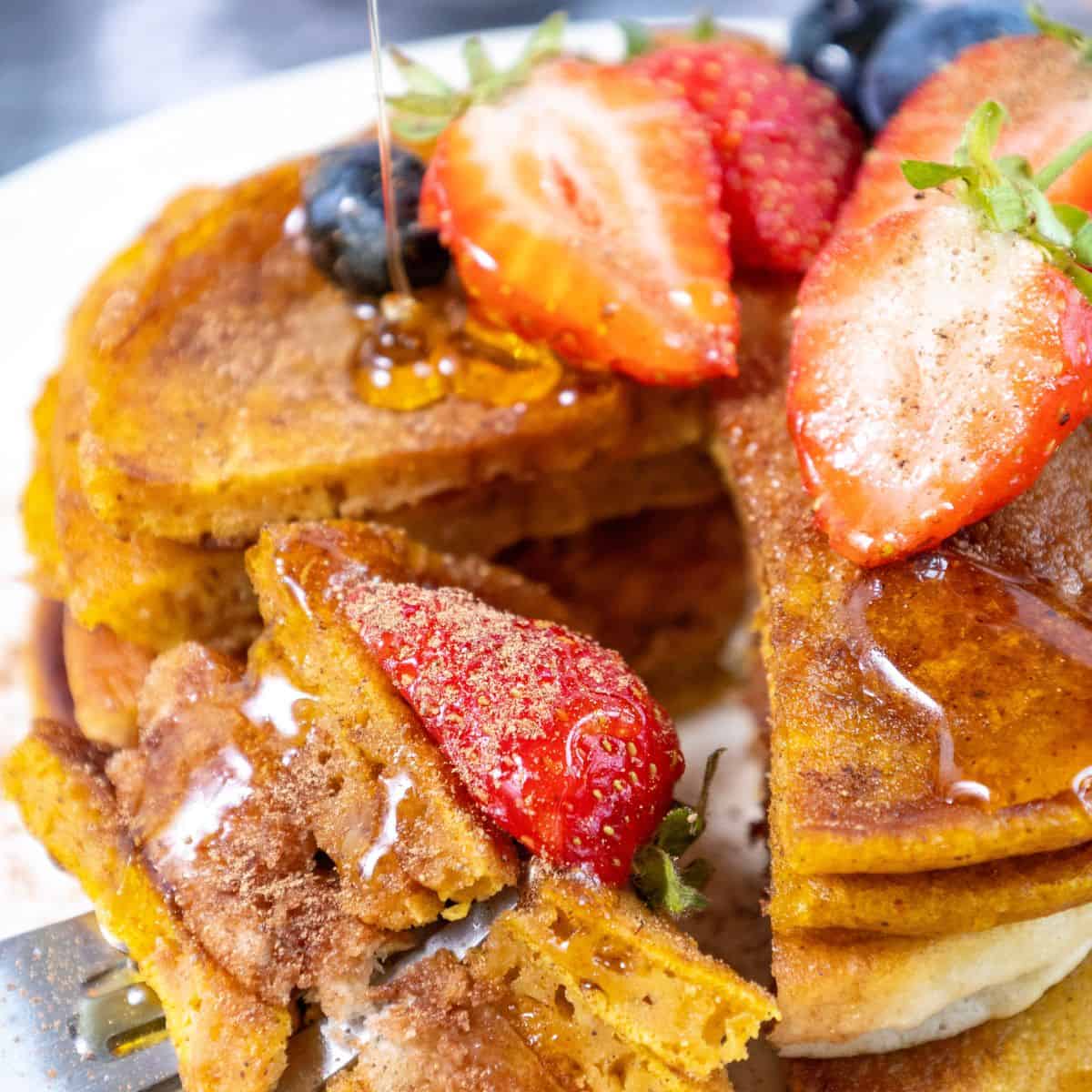 Equipment
You don't need special equipment to make this batch of pumpkin pancakes. A stand mixer or electric hand mixer will help you to combine all of the ingredients together. A decent non-stick frying pan will also ensure that the pancakes cook evenly.
Storage
For leftovers of your Gluten-Free Pumpkin Pancakes, if you have any, there are a couple of things you can do. For any leftover pumpkin pancake mix, cover it and store it in the refrigerator. It will last up to three days.
Any leftover already-cooked pumpkin spice pancakes can be stored at room temperature, but are best kept in the refrigerator where they will last longer. Add them to an airtight container or cover with plastic wrap and use them within four days.
Leftover cooked pancakes can also be kept in a freezer for up to 14 days. You can wrap them individually or freeze them on a tray and then add them to a freezer ziplock bag once frozen.
Top tip
If you have the time, let your pumpkin pancake batter mix rest before you add any to a frying pan. It isn't essential, but it will stop you from getting tough and chewy pancakes.
FAQ
What is the secret to fluffy pancakes?
The secret to getting a fluffy pancake is using baking powder. Don't omit that ingredient thinking it isn't important because it makes those pancakes fluffy and light. 
Why do you add milk instead of water to the pancake mix?

Milk adds richness and depth to the pancakes and is better than using water. Even if you use a pancake mix where the packet will tell you to use water, I highly suggest you use milk. You can thank me later!

Should you use butter or oil for frying pancakes?

Either is fine. However, oil will give an even color to your pancakes.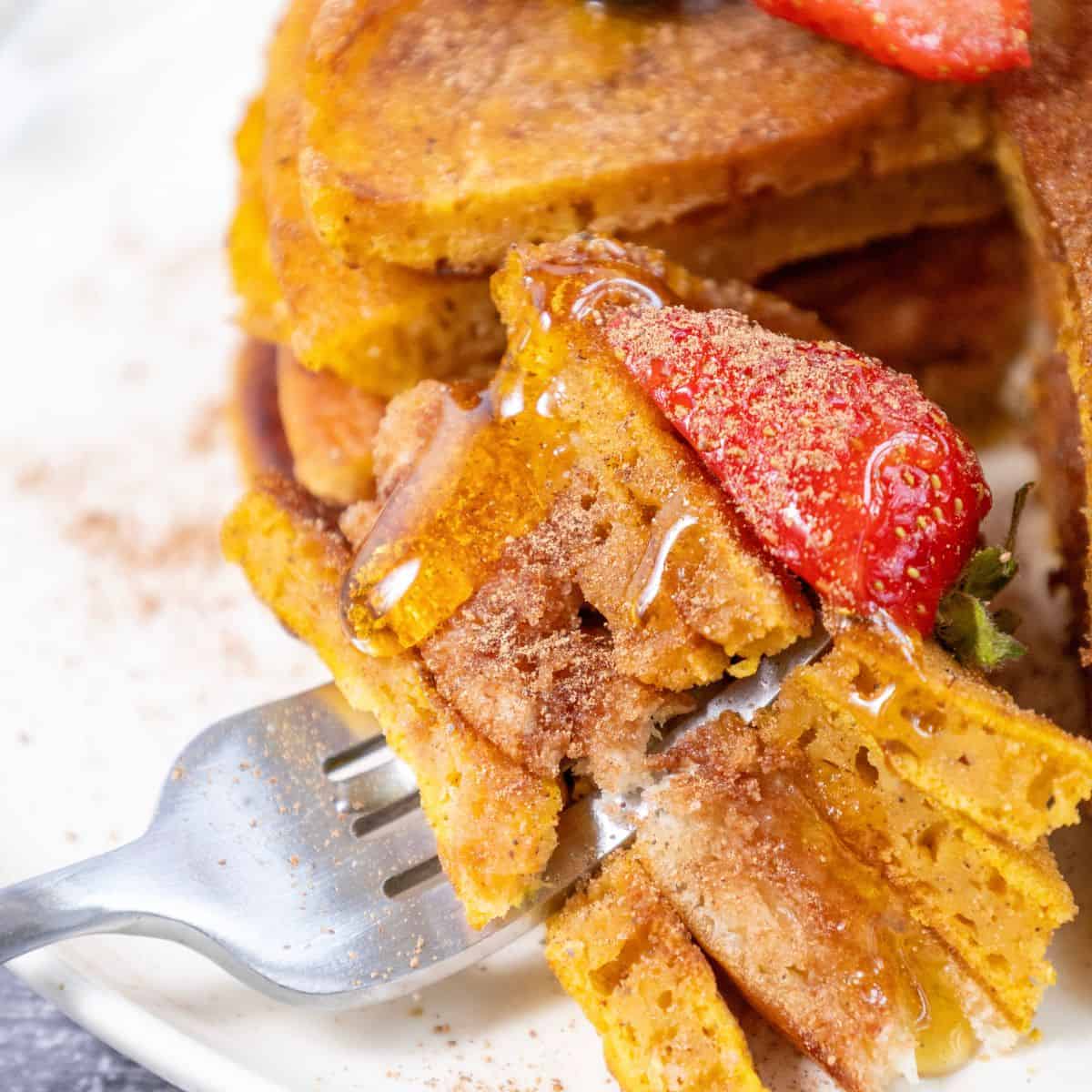 During the crisp fall mornings or any colder time of year, these homemade healthy pumpkin pancakes will delight you. They are the perfect pancakes to make for a fall breakfast! This easy recipe is perfect for all pumpkin lovers!
Lastly, if you made this recipe, be sure to leave a comment and/or give this recipe a rating! Above all, I love to hear from you guys and always do my best to respond to each and every comment. And of course, if you do make this recipe, don't forget to tag me on Instagram! Looking through the photos of recipes you all have made is my favorite!
Related
Looking for other recipes like this? Try these:
Pairing
These are my favorite dishes to serve with [this recipe]: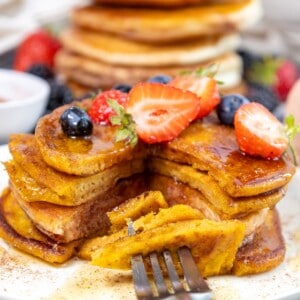 Easy Homemade Gluten-Free Pumpkin Pancakes Recipe
These are a simple gluten-free and healthy pumpkin pancake recipe that will be sure to please!
Print
Pin
Ingredients
2

cups

gluten-free all purpose flour

1

cup

milk

substitute any plant based milk

1

tablespoon

baking powder

1

teaspoon

vanilla extract

⅓

cup

pumpkin puree

½

tablespoon

cinnamon

½

tablespoon

nutmeg

1

tablespoon

sugar

cooking spray

or 1 tablespoon olive oil or butter
Instructions
In a large mixing bowl, stir together the flour, baking powder, sugar, nutmeg, and cinnamon.

Add the milk, vanilla, and pumpkin puree.

Using a whisk or electric mixer, beat the mixture for 1-2 minutes until blended.

Lightly spray or oil a non-stick pan or griddle.

Pour the batter into the pan making 2-inch in diameter round circles.

Cook until brown and then flip and continue cooking until brown on the other side.

Serve topped with fruit, chocolate chips, maple syrup or other toppings of your choice.
Notes
You can store leftover pancake mix in the refrigerator for up to 3 days or fully cooked for up to 4 days. These freeze really well. 
Nutrition
Calories:
178
kcal
|
Carbohydrates:
35
g
|
Protein:
6
g
|
Fat:
3
g
|
Saturated Fat:
1
g
|
Polyunsaturated Fat:
0.3
g
|
Monounsaturated Fat:
1
g
|
Cholesterol:
5
mg
|
Sodium:
228
mg
|
Potassium:
95
mg
|
Fiber:
5
g
|
Sugar:
6
g
|
Vitamin A:
2187
IU
|
Vitamin C:
1
mg
|
Calcium:
206
mg
|
Iron:
2
mg
Print
Pin
Did you make this recipe?
Be sure to follow @asweetthyme on Instagram and tag @asweetthyme. You can also post a photo of your recipe on our Facebook page! I appreciate you soooo much!